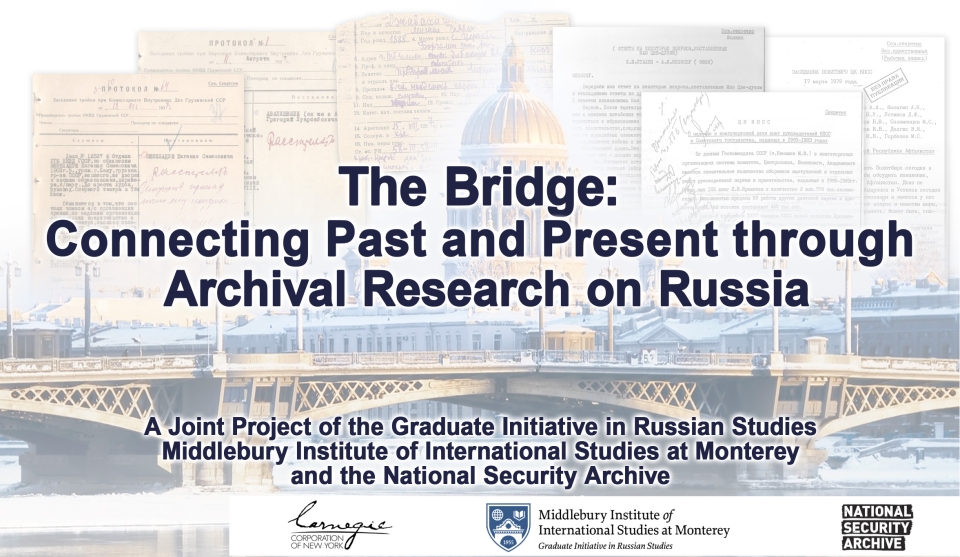 Despite all the indications to the contrary, many of the most important Russian archives are open and worth investigating. 
The goal of the Bridge is to illuminate archival sources and disseminate information about collections that are available for use by students and young experts in the field. Research based on original source material is of paramount importance to moving the field of Russian Studies forward. Some highlights of this project include how to access critical archives such as RGANI, GARF, and the Foreign Ministry archives; how to access archival material in regional archives that may be off-limits in Moscow; and how to access a variety of archival material online from the comfort of your own home or office.
The Bridge: Connecting Past and Present Through Archival Research on Russia is presented by the National Security Archive at George Washington University and the Monterey Initiative in Russian Studies at the Middlebury Institute of International Studies at Monterey. Carnegie Corporation of New York provided funding for this project.
Mariana Budjeryn, Ph.D.
Harvard University, Belfer Center
Ukrainian Archives for Researchers in Soviet and Post-Soviet History and Politics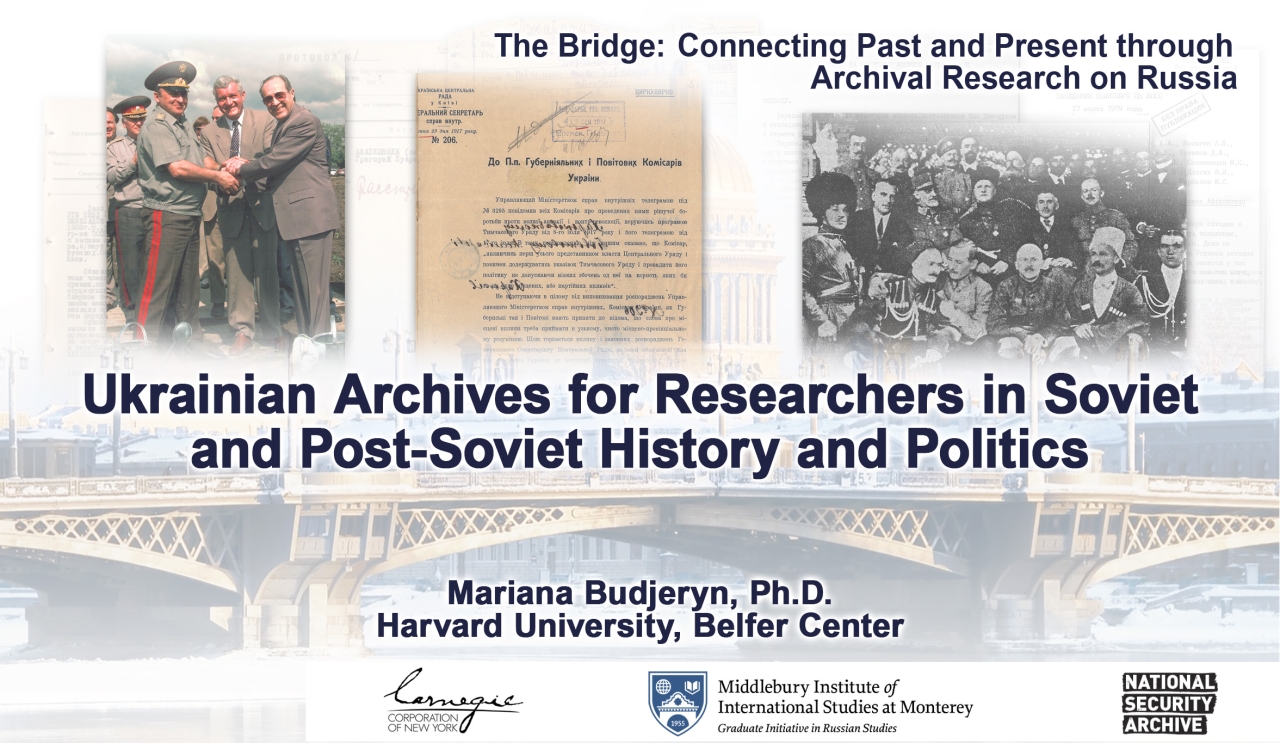 Anastasia Bonch-Osmolovskaya, Ph.D.
Higher School of Economics, Russia
Электронные архивы России и цифровые гуманитарные науки | Russian Electronic Archives and Digital Humanities (in Russian)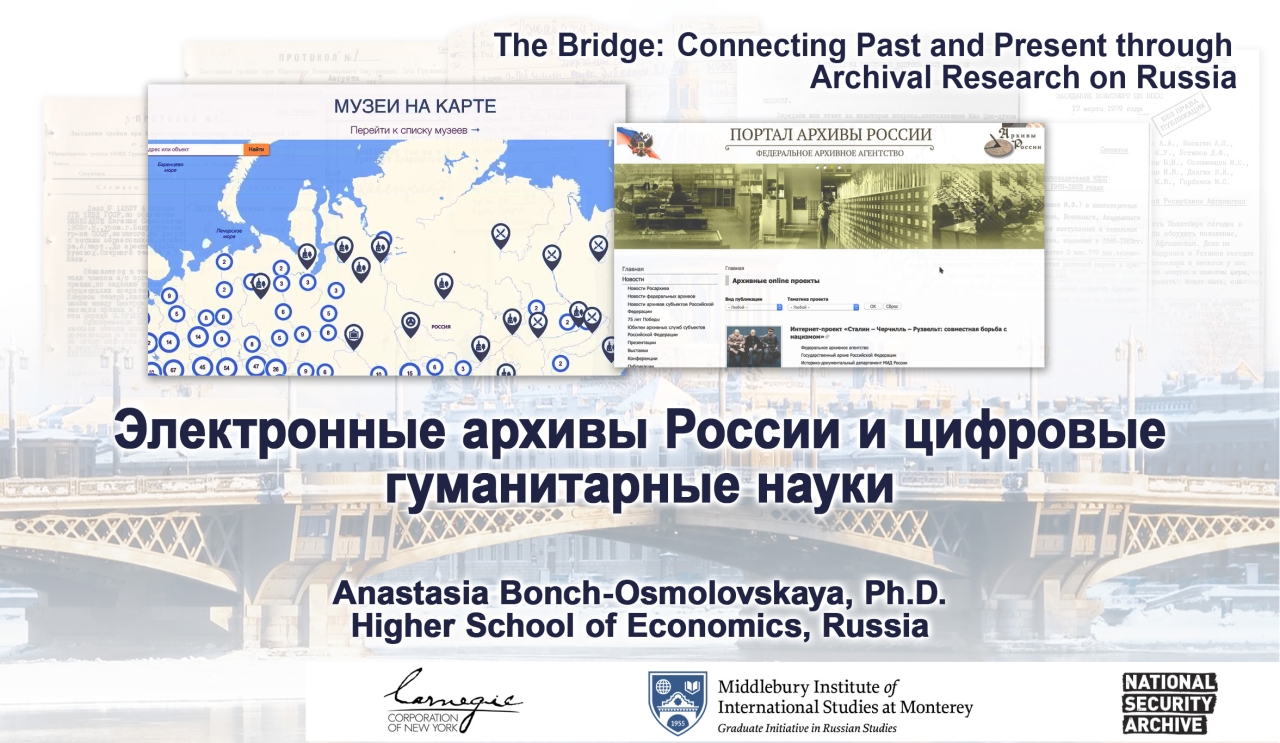 Giorgi Kldiashvili
Institute for Development of Freedom of Information, Tbilisi, Georgia
Archives and Soviet Studies in Georgia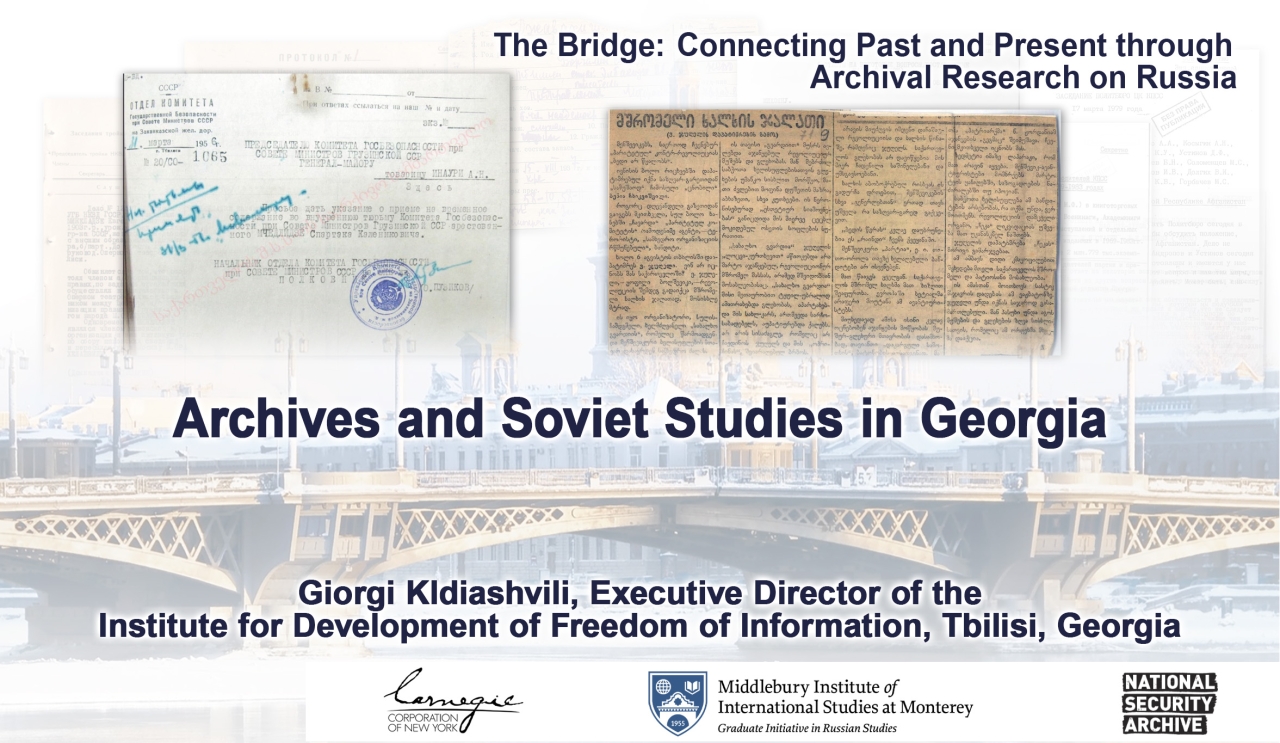 Vladimir Pechatnov, Ph.D.
Moscow State Institute of International Relations (
MGIMO

)

World War II and Early Post-War Archival Research
Pavel Polian, Ph.D.
Russian Academy of Sciences
Советские депортации и документирующие их архивы | Soviet Deportations and the Archives Documenting Them (in Russian)
Sergey Radchenko, Ph.D.
Cardiff University, Wales
The Russian Foreign Policy Archive (AVPRF) and Russian-Language Materials in the Archives of Former Soviet Allies
Vladimir Romanov, Ph.D.
Derzhavin Tambov State University
Work in Russia's Regional Archives: Tambov
Vladimir Dyachkov, Ph.D.
Derzhavin Tambov State University
Work in Russia's Regional Archives: Tambov
Peter Ruggenthaler, Ph.D.
Ludwig Boltzmann Institut, Austria
The Russian State Archive of Contemporary History (RGANI) and International Archival Projects
Svetlana Savranskaya, Ph.D.
National Security Archive, George Washington University
The State Archives of the Russian Federation (GARF) and the Gorbachev Foundation
Vladislav Zubok, Ph.D.
London School of Economics
The Russian State Archive for Social and Political History (RGASPI)