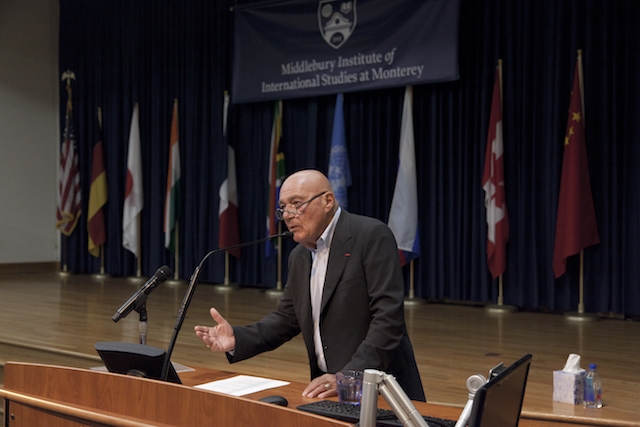 During a lecture in English, which was open to the public, Mr. Pozner shared his thoughts on the current state of bilateral relations between the United States and Russia. He expressed his fear that anti-Russian sentiments and anti-American sentiments, in America and Russia, are higher than ever before.
Mr. Pozner emphasized the importance of knowing and truly understanding Russian culture, specifically Russian language, history and literature, in order to transcend today's harsh political realities. He proposed that we strengthen and expand exchange programs for youth, free from media bias, which allow young minds to formulate their own opinions. He stated that implementation of such a program holds the potential for a 'reset' in Russian-American relations. 
Mr. Pozner also engaged in discussion in Russian with advanced speakers of Russian at the Middlebury Institute. He titled these lectures, "The Art of the Interview" and "Government Censorship, Corporate Censorship: If You Go Far Enough Left, You Come Out on the Right." In these sessions, he shared interview tactics which have made him successful. 
His visit is part of the Graduate Initiative in Russian Studies (GIRS) Visiting Experts Program - an initiative enabling students with advanced Russian language skills to engage on critical issues facing Russia and Eurasia, providing experiential learning and international opportunities for students interested in careers in intelligence, policymaking, NGOs, and global business.
GIRS will host Dr. Michael Kimmage on October 11, 2018. He is an Associate Professor of History at the Catholic University of America, where he researches America and the idea of the West, as well as the historiography of American conservatism. Dr. Kimmage will present "The Russian Question: Studying for Policy" on October 11, from 4:00 PM to 5:50 PM in McGowan 100.