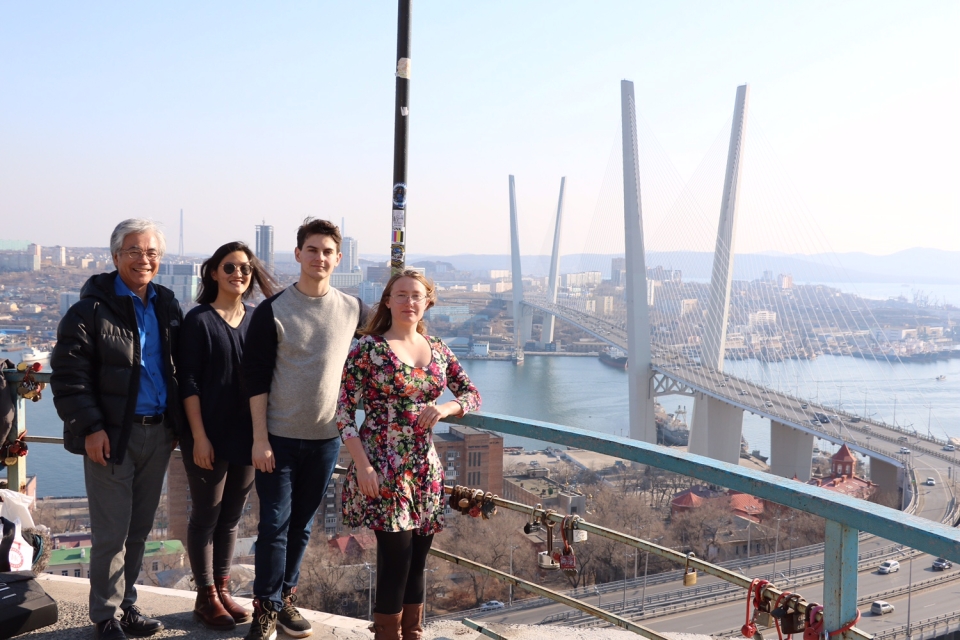 The field research trip to the Russian Far East was a fully-funded experience that took successful applicants to Vladivostok, Khabarovsk, and other cities in the Russian Far East.
In the Spring of 2016, students Michelle Kim, Katherine Baughman, and Daniel Bateyko, and Middlebury Institute professor Tsuneo Akaha traveled to Vladivostok and Khabarovsk from March 25 to April 1, as part of the Monterey Initiative in Russian Studies (MIR). The group had busy but productive itineraries in the two Russian cities, which included meetings with university faculty members, their students, researchers, journalists, regional government officials, and representatives of civil society organizations. Professor Akaha gave a lecture on "Japan's Policy toward Russia" at the School of Regional and International Studies, Far Eastern Federal University, Vladivostok, and at the Economic Research Institute, the two institutions that hosted the visiting team.
The students met, as a group and individually, with local experts to discuss their respective Russia Far East research topics:
Michelle Kim: Russia's relations with North and South Korea and the nature of relations among the various Korean communities in the Russian Far East
Katherine Baughman: The impact of the Ukraine crisis on Russia's relations with Asian countries
Daniel Bateyko: The relations between the Russian Far East and Japan with a focus on the role of mutual perceptions between Russian and Japanese partners in business and other ventures
They interviewed university professors, researchers, and other local experts from:
Vladivostok
The Far Eastern Federal University
The International Relations Department of the Primorsky Regional Administration
Ussuriisk
Khabarovsk
The Economic Research Institute
The Ministry of Foreign Affairs Representative Office
The International Association of Economic Interaction
Khabarovsk State University of Economics and Law
The Far Eastern Institute of the Russian Presidential Academy of National Economy & Public Service
The Khabarovsk Society of Friendship with Foreign Countries
The Association of Korean Organizations
The Association of Korean Families
The Japan Center
The students conducted some of these interviews in Russian. This was their first visit to the Russian Far East, so they took advantage of every opportunity available to observe the local scene, from North Korean and Georgian restaurants to the site of the 2012 APEC Summit in Vladivostok, and history and archaeology museums and other cultural sites in Vladivostok and Khabarovsk. They also enjoyed a night-train ride on the last segment of the Trans-Siberian Railroad between these two cities. Following the field trip, the students wrote a research report based on their field interviews and observations, as well as the reading of academic analyses they discussed with Professor Akaha in preparation for the trip.