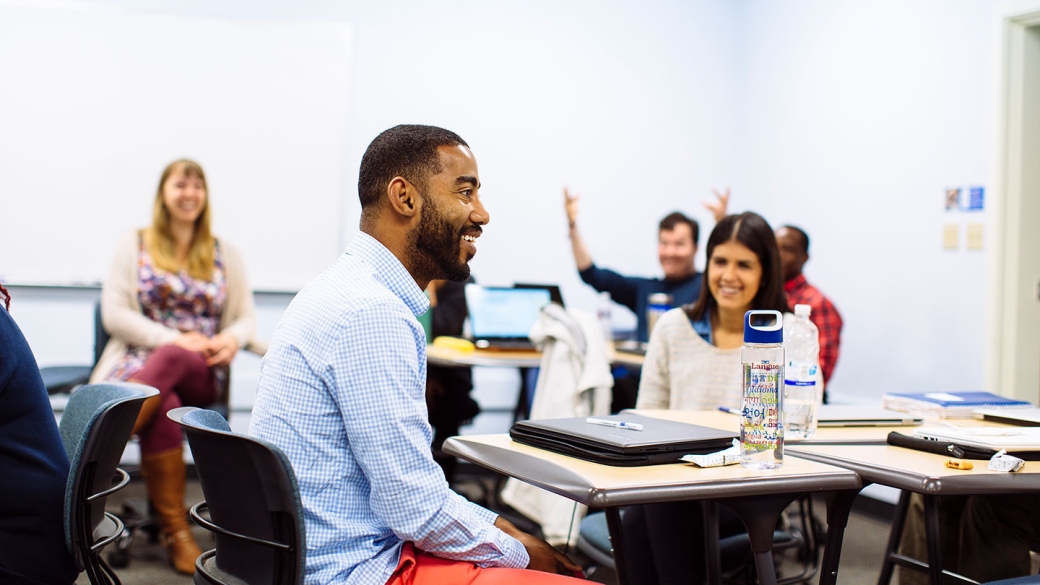 The concept behind the "Sprin­tensive" pilot project is deceptive­ly simple: instead of juggling four classes during the semester, 30 students enrolled in one class that met four hours a day, five days a week. After covering a full course's worth of material in just three weeks, the same group then repeated the process three more times, one course at a time; after 15 weeks they had completed a full semester's curricu­lum. (During this initial pilot, Sprinten­sive was offered only within the Development Practice and Policy program, and only for one four-course block.)
Students were drawn to the project for various reasons. Melissa Hewitt MAIPD '17 says she liked the idea of concentrat­ing on just one subject at a time and do­ing so with a group of people she'd get to know well. Oumar Amar MAIPD '17, an international student from Mauritania, says he specifically wanted to take two courses—Organizational Sustainability and Network Analysis—in the intensive format. And Andrew Larson MPA '17 says that he was particularly drawn to the group dynamic and the way such an ex­perience could mimic future professional interaction.
The three students also acknowledged potential downsides, including the isolat­ing effects of working with the same class of 30 students for an entire semester and the challenges of constantly working in small groups—not always with compat­ible partners. All three ended up feeling they learned valuable lessons while nav­igating these challenges, though. "It's a good experience that will prepare us well for the real world," said Amar, "because in the workplace you will have to deal with people from different cultures, with different perspectives about things, and you won't have a choice about whether to work with them." Program Coordinator Galen Anderson MAIEM/MPA '15 added, "As a professional, you're going to work with people you don't necessarily like and you're going to have to find strategies to accomplish a lot under deadlines. We're trying to represent that workplace reality."
By the end of the semester, Hewitt was also acutely aware of the differenc­es between the styles and tempos of the four participating professors. "The units all have different feels as classes; it got intense in the second and third units. Teachers' personalities really come out in a three-week intensive course." Hewitt also noted that she missed the chance for "cross-learning" between subjects being studied simultaneously. Opinions were mixed on the effectiveness of an effort to weave together the four courses' themes via a semester-long project around the theme of sustainability. "Since most of us were treating it as a side project," said Larson, "it seemed like most of the professors saw it in the same way. It wasn't really well-in­tegrated into the program."
The concept behind Sprintensive origi­nated with the Institute's development and social change certificate program known as DPMI (Design, Partnering, Manage­ment and Innovation). The pilot project, codirected by DPMI founder Professor Beryl Levinger and Associate Provost Amy McGill, essentially applies DPMI's modular curriculum design and intensive three-week schedule to a set of four cours­es. Participating faculty this spring includ­ed Levinger, Alfredo Ortiz, Fernando de Paolis, and Phil Murphy. The team plans to use the feedback gained through a thor­ough evaluation process to enhance the project's second outing in spring 2017.
"I think Sprintensive should be offered as an option," says Amar, "especially for students in their third semester. By then, students have already taken different sub­jects and can really contribute to discus­sions." Larson believes "it's a rewarding program. I think the planning team should focus on which classes to include, because that made a huge difference. These specific classes worked really well together."