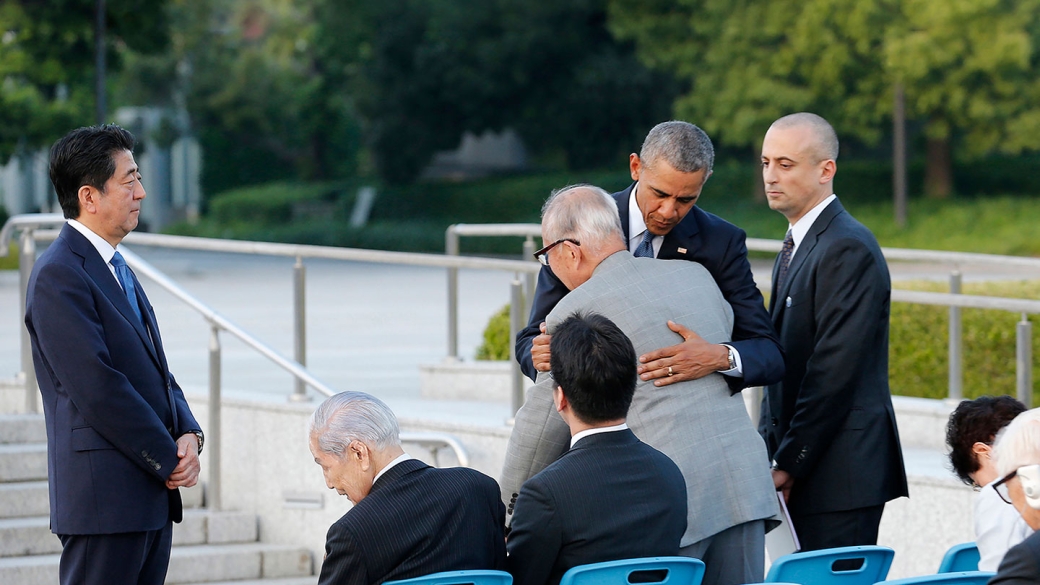 Lefteris Kafatos MACI '10 is an interpreter at the U.S. State Department Office of Language  Services, an agency founded by Thomas Jefferson to facilitate communication with non- English-speaking governments and people. He talks about how a second-generation Greek found himself interpreting for President Obama during his historic visit to Hiroshima, Japan in May.
 
At the Interpreting Division of the Office of Language Services, we provide interpreting services to government agencies needing to communicate with foreign entities. Working as an interpreter here can be really rewarding. You get to meet people from all walks of life and sometimes experience history in the making.
It was an emotional moment when the atomic bomb survivors met President Obama in Hiroshima. When I was assigned to the visit, I didn't fully realize the implications of it. Perhaps I still don't. That history is steeped in controversy and people were feeling a lot of raw emotions, not just locally but globally. Still, there was a genuineness to that moment that transcended words and certainly my minimal role as interpreter.
Being an interpreter in this environment can be stressful; there is a high-stakes element to the work. You have to find healthy ways to relieve stress. For me, the biggest challenge is to set aside my fears, breathe deeply, and focus on my task. When we interpret we provide a service, and I try to remind myself of that.
Our professors told us to look around at the other students in the interpreting practicum and said, "These are the people who will be your colleagues and your greatest network." I took that to heart and have found that to be the case. There are quite a few graduates from the Institute in my office and I meet former classmates all the time in the field. The connection is very strong.
You could say I am not the stereotypical Japanese interpreter who, in many people's minds, is usually a Japanese woman. This was not traditionally considered a male industry. But things are changing now.
I went to Japan as part of the Japan Exchange and Teaching (JET) program and ended up staying for nine years. My teachers at the University of Hawaii, who first introduced me to the beauty of the Japanese language, recommended it to me. I later furthered my studies at the Inter-University Center in Yokohama. After working as a translator for several years, I decided to make the jump to interpreting. Given the considerable financial and time commitments involved, I thought carefully about how to obtain the proper training. In the end, I am very glad I got trained at the Institute.
My parents are from Greece but I was born in the U.S. They always spoke Greek at home, and my mom taught me to read and write in the language. She actually gave me daily lessons when I was little. Sometimes it was a chore but it was also an exciting introduction to the world of language that has lasted a lifetime. Greek is not currently my strongest language, but it is closest to my heart.
Being an English native interpreter can be quite a strength at times. When the English speaker has a heavy accent I often have the advantage going into Japanese, just as my Japanese colleagues do when the speaker is speaking in a Japanese dialect. It is important to have diversity in the interpreter community.
Languages are constantly evolving and I keep up by reading a lot. I also listen to podcasts and lectures whenever I can. All the stuff we were taught to do at the Institute.