Cuba Trip Offers Students "Invaluable Opportunity" to Learn Outside the Classroom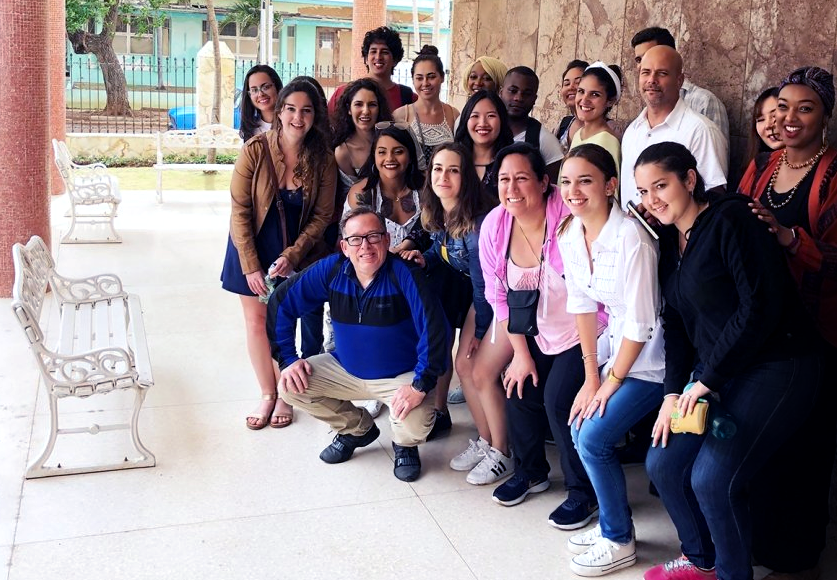 It's one thing to study a nation like Cuba from an American classroom; it's another thing entirely to walk the streets of Havana, speak with Cuban officials and educators, and break bread with everyday citizens—or so a group of 10 Middlebury Institute students, one alumna, and two faculty members discovered on an eight-day trip to Cuba over Spring Break.
"I went to Cuba hoping to learn a little more about Cuba's history, culture and the current state of affairs with the United States, but what I actually got out of this experience was much deeper," says International Environmental Policy student Isabel Zaragosa MAIEP '20. "I developed a connection with the best version of Cuba there is, the Cuban people. I didn't expect people to welcome me so warmly and be so eager to share everything about themselves with me. On a personal level, I was welcomed like part of the family."
The March 16-24 trip was led by Assistant Professor of Translation and Localization Management George Henson and included students Rose Allen MAIPD '20, Ianthe Duncan-Poole MAIPD '19, Amelia Evrigenis MATLM '20, Kimberly Hidalgo MAIPD '19, Xingting (Sophie) Huang MATI '20, Anab Mohamed MAIPD '20, Adriana Threlkeld MAIPD '20, Bailey Warren MAIEP '20, Zaragosa, and Yong (Summer) Zhao MATLM '20, plus alumna Vanessa Espina Romo MAIPD '18. Professor of Practice and Director of the Center on Terrorism, Extremism, and Counterterrorism Jason Blazakis also joined the trip.
The group's itinerary included a walking tour of Old Havana and visits to: the newly restored capitol building, for meetings with local officials; the Instituto Superior de Relaciones Internacionales, Cuba's diplomatic academy, highlighted by an introduction delivered by the Vice Dean Gerardo Hernández, as well as an exchange with students from the Instituto; Cenesex, Cuba's National Center for Sex Education; the Federation of Cuban Women; the Memorial de la Denuncia (Denouncement Memorial), an interactive museum dedicated to Cuba's resistance to U.S. aggression; the community art project Muraleando; the Presidential Palace; and the U.S. Embassy. One small group of students also visited ESTI (Cuba's state-run translation and interpretation agency) and ACTI (Cuban Association of Translators and Interpreters), while the other students received a guided tour of the University of Havana. Finally, the group enjoyed a day at the beach.
The value of the experience is clear to International Policy and Development student Ianthe Duncan-Poole. "Immersive learning experiences such as the Cuba trip enrich our educational experiences at MIIS by challenging the notion that learning can only happen within four walls, and highlighting the importance of intercultural competence. The best part of this type of learning is that it transforms thinking and challenges who you are as person, and equips you to have a greater impact on this world."
Zaragosa agrees, emphasizing the group learning aspect of the experience. "Conversations with my fellow travelers helped us connect our backgrounds in development, economics, and international politics to make sense of different situations. The MIIS delegation brought many different professional backgrounds and perspectives together, and our group had the opportunity to discuss sensitive subjects and ask challenging questions while talking face to face to a wide range of people."
This year's trip builds on two previous student trips to Cuba led by recently retired Professor Jan Knippers Black. "I could not have wished for a better group of students on this trip," says Henson. "They were excellent ambassadors for MIIS and for their respective degree programs." Dean of the Institute Jeff Dayton-Johnson added that "I would be delighted if this spring's successful trip leads to an even greater proliferation of MIIS activities in and about Cuba, in which faculty and students work with their Cuban counterparts on areas of mutual interest." 
Duncan-Poole says that "My hope had been to gain a deeper understanding of the political, social, and economic disadvantages that everyday Cubans have endured since the revolution. During my time in Cuba my expectations and reality converged and I got more than I could've imagined—the opportunity to learn about all of these issues both formally and informally, academically and personally with Cubans from different backgrounds." Duncan-Poole called the trip "an invaluable opportunity" and says she has been "forever transformed because of this experience."
The trip will continue to pay dividends to the greater campus community through the spring. The Cuba Forum will consist of two events: a May 2 table event titled "Sights and Sounds of Cuba" will offer a sampling of photos and students talking about their trip experience, and a May 3 event titled "Sights and Sounds of Cuba 2" will offer students on the trip the opportunity to deliver presentations with photos and videos from the trip. Finally, on May 4-5 Cuban translator and Vice President of ACTI Rodolfo Alpízar Castillow will attend the Monterey Forum at MIIS and present a public lecture and workshop for Institute students.