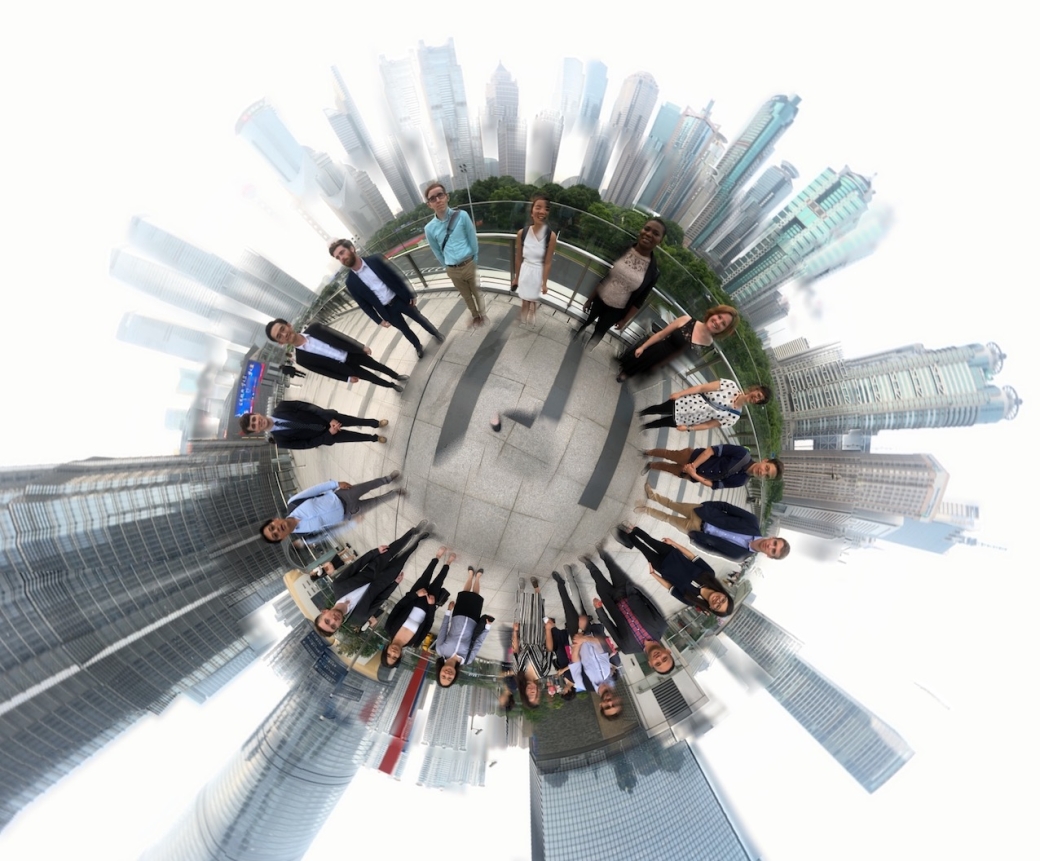 For two weeks this spring, 18 Middlebury Institute and Middlebury College students traveled to six different cities across China and spoke with over 50 people, including graduate students, policymakers, researchers, members of the business community, social entrepreneurs, and other stakeholders.
Through round-table discussions and lectures, the students attempted to answer the question – what is the "China Dream?" 
The group included 13 Middlebury Institute students from the US and China representing five graduate degree programs (MA International Policy and Development, MA Nonproliferation and Terrorism Studies, MBA, MA Translation and Localization Management, and MA Translation and Interpretation) and five Middlebury College students representing three undergraduate degree programs (Philosophy, International Politics, and Economics).
The practicum began in the spring with an in-depth study of Chinese domestic politics, foreign policy, and social science research methods. Each student was encouraged to identify research topics they were particularly interested in exploring. The group landed first in Beijing, and visited several universities across the capital to engage with their Chinese peers in far-reaching discussions. They also met with representatives from the Foreign Affairs University and Microsoft China, and learned about subjects ranging from citizenship and patriotism in the digital space to China's artificial intelligence development. To cap off their stay in the capital students attended a weekly press conference at the Ministry of Foreign Affairs and joined a round-table discussion with the manager of Investment Operations at the Asian Infrastructure Investment Bank (AIIB) Beijing, Dr. Ke Fang.
From Beijing, the group traveled to Suzhou and Shanghai where they spoke with the dean of Shanghai University of Finance and Economics on innovation and entrepreneurship in China, received a tour of the Shanghai Stock Exchange, learned about nonprofit incubation and social investing at the Shanghai Non-Profit Incubator, and even visited New York University's Shanghai campus.
Moving south, the students visited Kunming, capital of Yunnan province – which borders Myanmar, Laos and Vietnam – to study conservation efforts and China's grand Belt and Road Initiative. After Kunming, the group finally arrived in Shenzhen– just across the bay from Hong Kong, in the Pearl River Delta – and received instruction from several nongovernmental organizations on urban planning, conservation and the intersection of technology and charity.
Like the archetypal "American Dream", definitions of the China Dream differ depending on who you ask, as Professor Shi discovered.
"A key take-away was understanding the diversity in perception of the China Dream among the Chinese. We expected a more uniform talk, but people shared directly about how they are (or are not) thinking about the China Dream. Being on the ground and learning about the kinds of lives the speakers have lived helped us understand this diversity in perspective. You could not grasp this lesson in a classroom. We [the faculty] thought teaching about the China Dream by going to China was a better way to learn. I walked away thinking this is the only way you can learn about this topic."
This 2-week course in Prague offered during the winter term, offers students the opportunity to attend lectures at the Department of Nuclear Reactors at the Czech Technical University (CTU), conduct experiments on the research reactor, and go on site visits. 
To fulfill practicum requirements, some Middlebury Institute students choose to pursue long-term customized research projects, which may range from creating a non-profit organization in West Africa to improving South Korea's foreign aid programs.
"I never dreamed of living in Paris, but I really love it," says Middlebury Institute student Julia Kelley, who is completing the practicum requirement for her international education management degree at the Middlebury School in Paris, France.