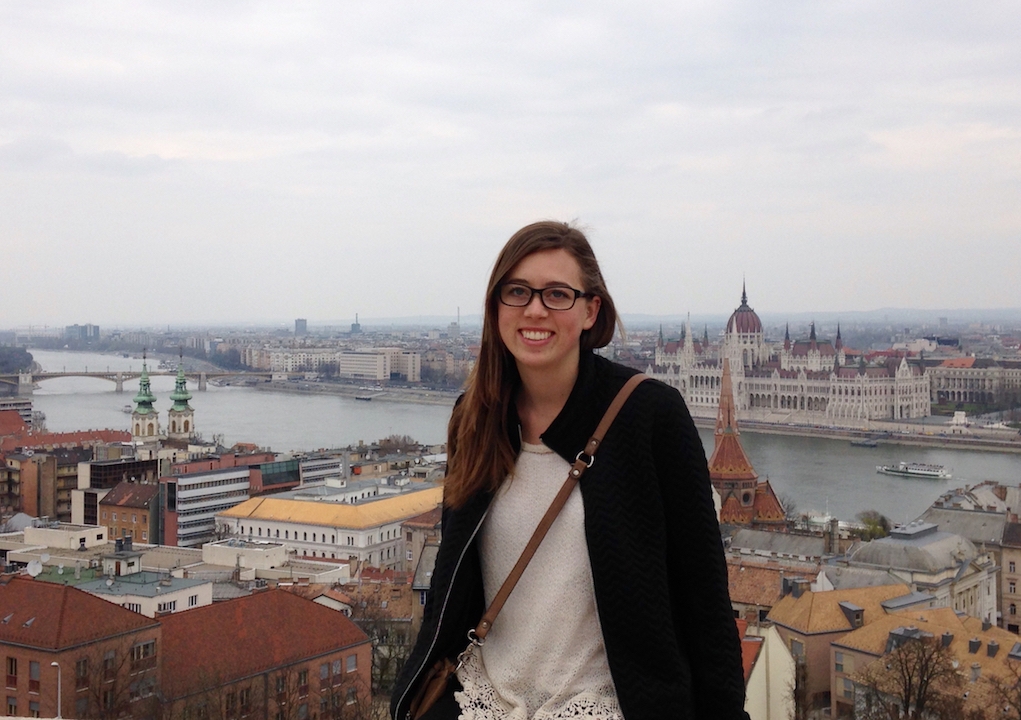 Kaitlyn Throgmorton MPA '18 shares her experience as a Frontier Market Scouts Fellow working with IMPAQTO in Quito, Ecuador.
Where did you complete your undergraduate education? 
Lewis & Clark College, Portland, Oregon, USA
What brought you to MIIS? 
While living and working in Madrid in the Auxiliares de Conversación program, I started to look at graduate programs. I knew about the Middlebury Institute and it's language programs but I didn't know much about the other graduate programs offered. Once I started looking at what the Institute offers, I knew I had to apply. I wanted a graduate program with a strong language component, to live and work in Spanish-speaking countries and that most of the job positions I was looking at strongly favored an MPA degree. 
Tell us about your FMS (Frontier Market Scouts) experience. 
FMS for me was a pivot in my education and career path. I had started my graduate program at the Institute with the intention of nonprofit or government policy work. I took a few classes in social entrepreneurship and Design Thinking out of pure interest. I applied to be part of the FMS program to add a bit of business to my MPA degree and to explore more of what social entrepreneurship had to offer. It was a great fit for me. What I learned in the 2-week program directly built off of and expanded on coursework I had done previously and added a new twist to my degree. FMS was intense and impactful. I learned a lot, had conversations with so many wonderful people, and started to explore new career opportunities that had otherwise not been available to me. 
How has the FMS training helped you in your internship? 
The FMS training gave me the language and tools to approach startups and incubators. The training gave me a broad range of exposure to the field and how it is developing and growing around the world. In my current internship, I am using skills I learned in my MPA program as well as things I learned during the FMS training. For me, the FMS training fit well with my MPA program and gave me a slightly different set of skills that I am able to use now in my work with IMPAQTO. I have a hybrid role in a hybrid, B-Corp company working on their impact measurement processes, evaluations, program management and resource development. We're even getting ready for an impact investing summit in September!
Do you have any advice for other students considering FMS?
My advice for students considering FMS is to take advantage of the contact with industry professionals and practitioners. It's a different learning environment than other courses I took while at MIIS because most of the people who came to work with us were no professors by trade. They are living and breathing what they taught us. They are actually running their own startups or investment funds. That is an amazing experience to have. Other students in the training also have a lot to offer and come from very different places around the world for this training. It is an experience unlike any other!
Middlebury Institute alumnus Brian Peckrill MAIEM/MPA '16 is senior program manager at WorldChicago where he oversees all youth programs and business development for the nonprofit organization. He shares his experience in the international education management degree program and beyond.
This 2-week course in Prague offered during the winter term, offers students the opportunity to attend lectures at the Department of Nuclear Reactors at the Czech Technical University (CTU), conduct experiments on the research reactor, and go on site visits. 
Ekshana Karki Chhetri MPA '18 is currently completing her Design, Partnering, Management, and Innovation (DPMI Plus) practicum as a Youth Workforce and Entrepreneurship Intern at World Learning in Washington, D.C.