Institute Students Win First and Third Place in Japanese Speech Contest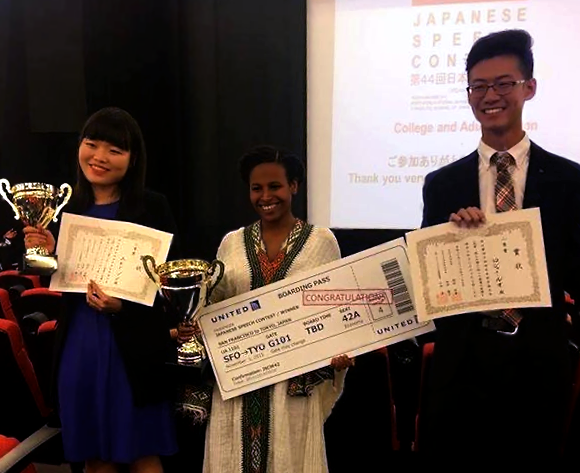 Middlebury Institute students won first and third place in the College and Adult Division of the 44th Annual Japanese Speech Contest held in San Francisco on Sunday, November 5th. Tangut Degfay MAIPD '18 won the contest with her speech, "Japan through the Eyes and Heart," and Jingyu (Ellen) Zhong MAIPD '19 took third place for her speech, "Why I could not say I like Japan." The prize for the first-place winner is a roundtrip ticket to Tokyo. This is the first time, in the last twenty years at least, that students from the Institute have participated in this competition.
"Everyone did amazingly well," says Degfay of her competitors. As a student at Middlebury College, Degfay took advantage of every opportunity to study Japanese as it was her language of study – she also took the language pledge in the Summer Language Program and studied abroad for then months in Tokyo. A big fan of K-Pop, she also studied Korean for one summer. Growing up in China, Zhong has been a fan of Japanese animation for as long as she remembers and taught herself the language over three years. She tested in at the 400 level this fall when she began her studies at the Institute.
Degfay and Zhong did not know each other before Professor Naoko Matsuo encouraged them to participate in the competition, but they quickly bonded over their shared love of Japanese culture and language. The Japanese Speech Contest was presented by the Consulate General of Japan in San Francisco, the Japanese American Association of Northern California (Hokka Nichibei kai), and the Northern California Japanese Teachers' Association. A total of 33 contestants presented their speeches before a panel of judges and an audience at the New People Cinema
Degfay wrote her speech about the experience she had preparing for and studying in Japan. Unlike what she feared from her pre-departure research, her "experience was wonderful," and she expressed her gratitude for "all the people who made my experience." Despite her best efforts, it was difficult for her to give that speech and not get emotional. "I cried a little," Degfay says and laughs: "the more I tried not to, the more difficult it got to hold back the tears."
Zhong's speech was about how difficult it was for her to admit her love of Japanese culture and language in China. "I kept it as a secret, because Japan is often viewed as the enemy." She adds that "Japanese and Chinese culture are intertwined. If we could shift the focus from historical animosities to cultural connections, the Sino-Japanese relationship might improve."