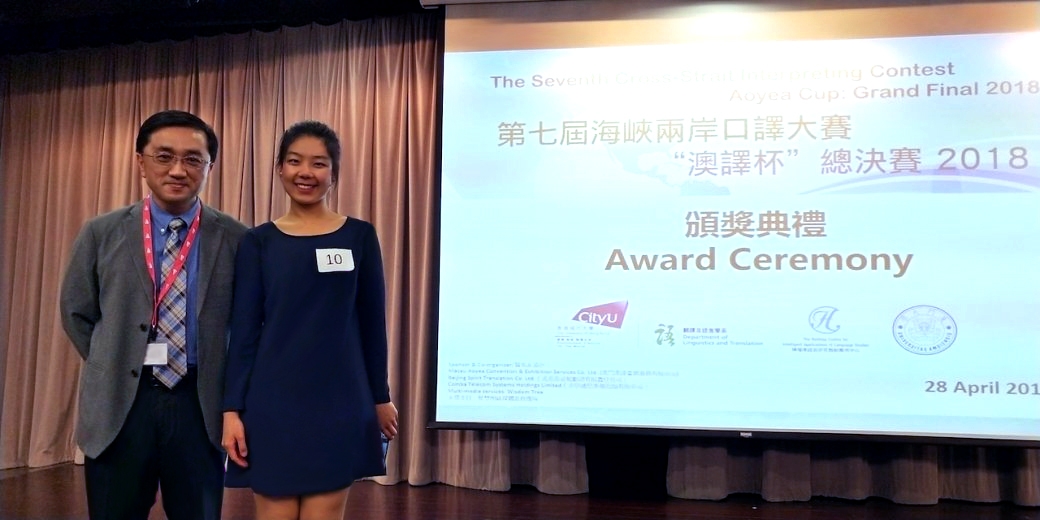 Middlebury Institute conference interpretation student Bella Wan MACI '18 won silver in the highly competitive 7th Cross-Strait Interpreting Contest in Hong Kong. Wan competed against 27 other students representing the top translation and interpretation programs from Macao, Hong Kong, Taiwan, mainland China, the United States, and the United Kingdom.
"It was an honor to represent the Institute at the competition," Wan shares. "I thoroughly enjoyed the experience as I was able to put everything I learned in my classes to the test. The Institute has prepared me well for the competition to say the least, and I couldn't have won silver without the support of all the wonderful professors in the Chinese T&I program and my classmates who tuned in to watch the livestream and cheered me on. Thank you!"
Interpreting competitions for the English-Chinese language pair started to emerge in 2007 in China. These events have been organized every two years and consecutive interpreting is the only mode of competition. Later in 2013 and 2014, the Newcastle University in England, UK organized two simultaneous interpreting contests with student participants coming from China, Taiwan, Hong Kong, Macao, England, and the US. The Institute has been sending contestants to these competitions since 2013 with the following results:
2013: Gold medal, simultaneous interpreting, England
2014: Gold, bronze and fifth place, simultaneous interpreting, England
2014: Bronze, consecutive interpreting, China
2016: Silver, consecutive interpreting, Taiwan
2018: Silver, consecutive interpreting, Hong Kong
"Over the past years, our students at these competitions have demonstrated the professional interpreting expertise that they developed at the Institute and received wide recognition for their all-rounded caliber and great communication skills to transcend language barriers," says Professor Wallace Chen, who traveled with and supported Wan in Hong Kong. "Their excellent performance is a showcase for our historical reputation in interpreter training and has attracted many prospective students to chat with me after the events about their interest in applying to the Institute for postgraduate study." 
Three Middlebury Institute alumnae served as interpreters supporting the State Dinner for French President Emmanuel Macron at the White House last week.
Middlebury Institute Adjunct Professor Esther Navarro-Hall MACI '85 organized an "interpreter brigade" with her colleagues to help victims of the recent devastating earthquakes in her native Mexico
Students from the Middlebury Institute's translation and interpretation programs hosted a series of multilingual discussions about the concept of "Home," including migration and homelessness, at the annual Fall Forum.