Middlebury Institute Alumni to Lead Interpreter Corps at Tokyo Olympic Games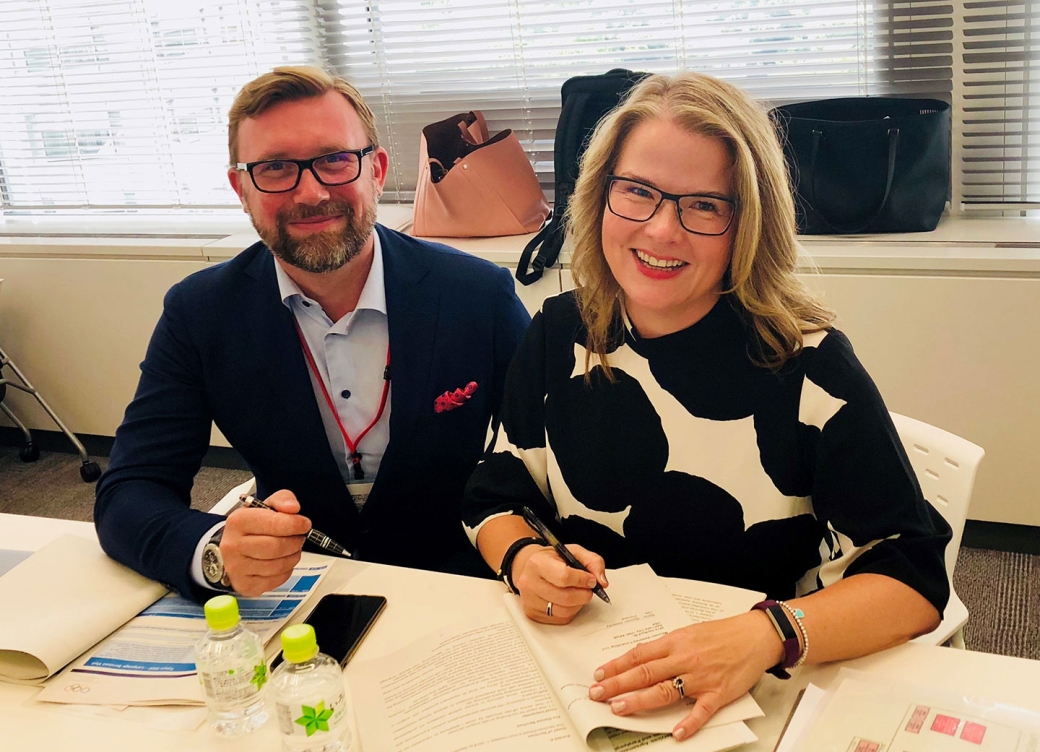 Middlebury Institute alumni Alexandre Ponomarev MACI '00 and Maureen Sweeney MPA '94 will serve as chief and deputy chief, respectively, of the interpreting staff for the Summer Olympic Games in Tokyo, Japan in 2020. In these roles, they will be responsible for recruiting, coordinating, and supervising a staff of paid professional interpreters and high-level language volunteers numbering in the hundreds and including Institute faculty, alumni, and students.
Assembling a team of interpreters to support a major international event like the Olympics means recruiting the best of the best. "As a consulting interpreter providing services for clients, I have developed over many years a list of top professional interpreters on every continent," explains Ponomarev. "For the Olympic Games we hire the best in the profession, nearly always with prior Olympic experience." Background knowledge and subject matter expertise is important as well, he says. "Some of the members of our team are former professional athletes who have in-depth knowledge of sports and related technical fields."
Interpreting staff will support communication among thousands of athletes, staff, and media representatives in up to 30 languages. The challenges of the work are obvious and extreme. "Interpreters must be capable of delivering high-quality interpretation during press conferences, working under tremendous stress," notes Ponomarev, adding that "Headlines used by the press are often coined by the interpreters who work at these press conferences."
Volunteers typically operate in less stressful but no less essential venues. Sweeney explains that "Volunteers interpret in situations such as interviews, medical situations, drug testing notification, security situations, etc. Backgrounds vary, but all are native or fluent speakers."
Sweeney and Ponomarev will be encouraging Institute students to apply for volunteer positions. "The Tokyo Organizing Committee for the Olympic Games (TOCOG) is excited to partner with the Institute and is very interested in having as many volunteers as possible from MIIS," says Sweeney. Volunteers must cover their transportation costs to Tokyo, but receive free lodging, meal service, uniforms, and access to public transportation when working at the Olympic venues. Each round of Games typically employs up to 75 language volunteers in addition to the paid professional interpretation staff.
"The Olympics offer an exciting and unique opportunity for Institute students," emphasizes Sweeney. "Their high-level training at the Institute allows us to recommend them for more challenging interpreting situations." Adds Pononmarev, "Joining the Games as a language volunteer is a truly unique chance for Translation and Interpretation students and recent graduates to get an invaluable experience working in one of the most demanding environments in this profession."
While Ponomarev served as an interpreter for the Games in 2008 and 2012 before being named chief interpreter in 2016, MPA graduate Sweeney's background is on the management side. "I started in the Language Services Department for the 1996 Atlanta Olympics as the coordinator of the professional interpretation program. Since then I've worked in language services for 12 Olympic organizing committees." Ponomarev and Sweeney have teamed as chief and deputy chief interpreter twice before, in Rio in 2016 and Pyeongngchang in 2018.
Both Sweeney and Ponomarev credit Adjunct Professor (and former dean) Wilhelm "Bill" Weber for mentoring them in preparation for their current roles. From 1984 through 2014, Weber served as chief interpreter for 15 Olympic Games, recruiting Institute faculty, alumni, and students to serve on the interpreting staff each time. For the 2016 Rio de Janeiro Games, Weber oversaw the hiring of the interpreting team before handing the chief interpreter reins over to Ponomarev.
"I am very proud that Alex and Maureen continue to carry the Olympic torch for MIIS," says Weber. "The tradition continues!"
This year's Olympics Games featured at least 10 interpreters who are faculty, former faculty, or alumni of the Middlebury Institute.

"Being here, being part of history in the making… is simply unbelievable," says Middlebury Institute alumnus Weihao Zhang MACI '14, part of large team of alumni, faculty and students interpreting at the Rio Olympics, continuing a tradition that has spanned fifteen Games.

As the Winter Olympics open in Vancouver tonight, no less than 14 Monterey Institute alumni, faculty and students will be working on-site, chiefly as interpreters and translators.