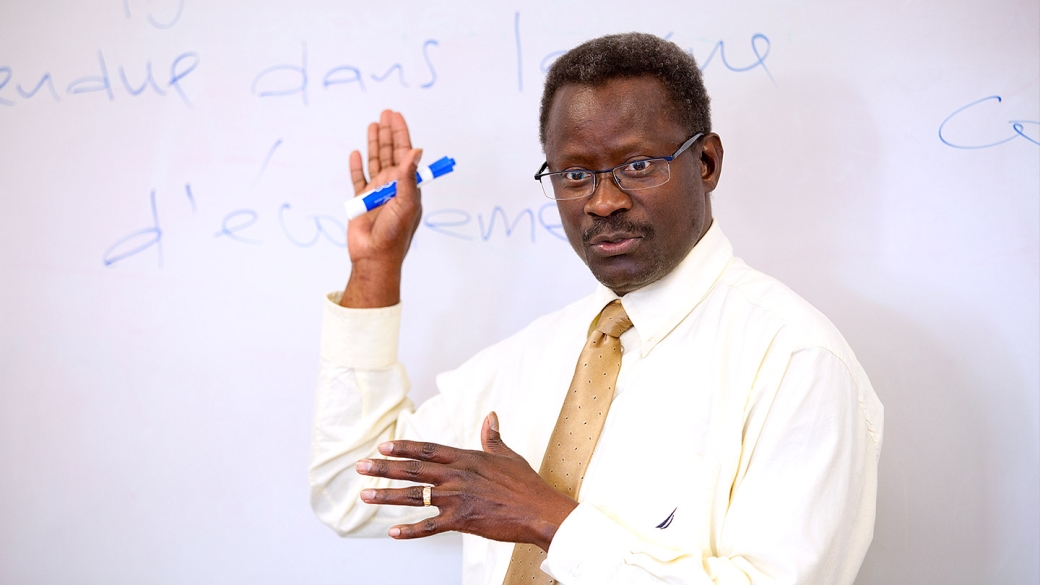 Today the Middlebury Institute announced the establishment of the Professor Edgard Coly Scholarship for African Students, honoring the beloved longtime Institute professor who passed away on March 19.
"This new scholarship is an important and tangible part of Professor Coly's tremendous legacy at MIIS," said Dean of the Institute Jeff Dayton-Johnson. The Coly Scholarship will provide financial aid to three categories of students: international students from Africa; students who were born in Africa or were African residents and now reside elsewhere; and students intending to pursue career opportunities in Africa. Students, alumni, faculty and staff colleagues, and friends may contribute to the Coly Scholarship fund via the Institute's online giving form.
Born in Senegal, Professor Coly met his wife, Shirley, while she was stationed there for her Peace Corps term and he was serving as a language instructor for the Corps. After getting married, they settled in the U.S., eventually finding a home in 2001 at MIIS, where for nearly 20 years Edgard taught French-language courses on African issues, with an emphasis on democracy, peacebuilding, international migration, environment, security, and public health, while Shirley worked in the Advancement Office.
"I can't think of a better way to honor his memory," said Shirley Coly. "He was a gifted, dedicated teacher who loved his time at MIIS. Through his classes, he worked to correct misconceptions about Africa and inspire interest and appreciation for its diversity and complexity. He had a particular affinity for his students from Africa as he knew how lonely it could feel here in the U.S. and especially in an academic setting. And the students helped him feel less isolated too—the gatherings we hosted in our home were as much for him as for the students."
Both teacher and students relished this dialogue. "Monsieur Coly's home became the de facto headquarters for all of us African students at MIIS," said alumna Maame Afon, MAIPS '05. "I can't count the number of times we gathered at his home to break bread and enjoy fellowship. We would have deep and lengthy discussions about our beloved continent—every voice and perspective had to be heard and expressed."
As recounted in his obituary, Professor Coly "loved American politics and often was a featured speaker on Voice of America, sharing his perspective on current political events." He earned a master's degree at American University in Washington, D.C., and his doctorate from the University of Colorado, Boulder, and found "deep satisfaction" in his teaching and mentoring of students at MIIS. In particular, "he took great pride in the progress of his students and was genuinely interested and excited about their futures."
Upon his retirement last summer, Professor Coly was granted professor emeritus status by his faculty peers. The Professor Edgard Coly Scholarship for African Students promises to continue his legacy of academic excellence, intellectual curiosity, and passion for his home continent of Africa.
The Middlebury Institute community is mourning the loss of beloved long-time faculty member Edgard Coly, who is remembered as an exceptional educator, and a patient and generous mentor whose influence transcended the classroom.