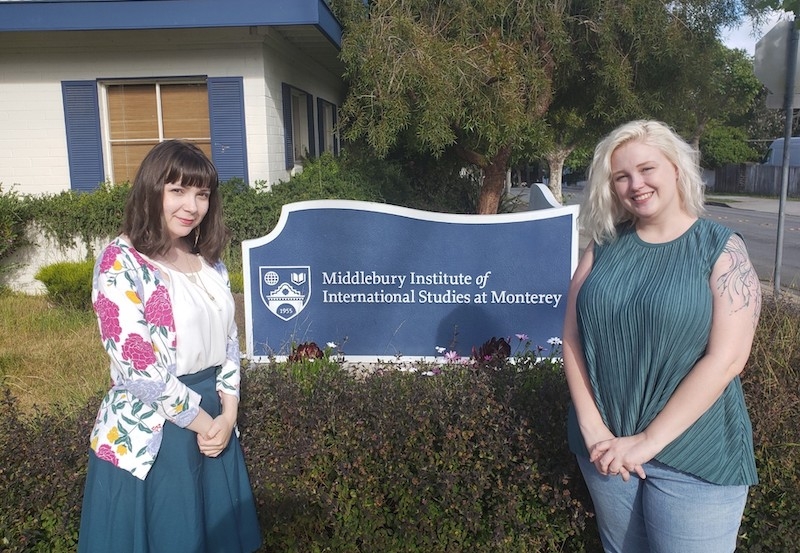 Associate Professor of International Education Management Katherine Punteney, Alexandra Roman MAIEM '20, and Carisa Crittendon MAIEM '20 have developed and launched an exciting new resource for the international education field. Case Studies in International Education is an online, open-access publication at CSIEpub.org.
The inaugural issue offers 16 thought-provoking case studies, designed for use by individuals, staff teams, and graduate classrooms. The cases raise complex issues of ethics, intercultural competency, crisis management, student support, and more.
Punteney, Roman, and Crittendon worked together over the past academic year to determine the goals and scope of the publication, format of the cases, guidelines for authors, peer review process, and publication criteria. Roman, in her role as Editor for Policy and Communications took the lead in developing the publication guidelines and encouraging authors through the publication process.
"We decided early on that that a collaborative peer review process was the best fit for CSIE," shares Punteney. "We aren't looking to weed people out of the publication process; instead we aim to support and nurture authors in order to share a diverse set of voices. Alex Roman was instrumental in imagining a process for authors to work together collaboratively as peer reviewers, networking across the international education field, as they helped each other to strengthen their case studies to be able to meet our publication criteria."
"Creating and launching CSIE has been an incredible learning experience," says Roman. "I've loved collaborating with Dr. Punteney and Carisa. Our weekly meetings were the best part. I learned so much from them. I also learned a lot about how much time and work goes into making an idea into a reality. It was a long process with some curve balls. I truly believe it's going to have a huge impact on the international education field and I'm so grateful that I was a part of bringing it to life." 
The team used open source software from the non-profit Public Knowledge Project to build their publication website. Crittendon, in her role as Editor for Operations and Design, took the lead in developing the logo, issue covers, website, and submission system. She also led the production process, moving articles from submission to review, and from acceptance to copyediting to layout and production.
"I am incredibly appreciative of Carisa Crittendon's design and technology skills which make it possible for us to share CSIE with a broad audience," remarks Punteney. "She has a talent for understanding how educators will interact with the website, what information they will need, and how to most clearly structure, manage, and communicate processes." 
Crittendon says it was a wonderful learning experience working with Punteney and Roman that she is really proud that their team managed to go from the brainstorming phase, to website creation, to an actual publication all in the span of one academic year. "Online resources are proving to be an integral part of the professional development landscape, and I hope our publication encourages critical thinking in the field of international education."
The inaugural issue attracted more than 800 unique viewers in just the first two weeks after launch. Authors in the first issue are: Katie Aker MPA/MAIEM '20, David Bidleman MAIEM '20, Carisa Crittendon MAIEM '20, Elizabeth Fiala MATESOL '20, Olivia Francis MAIEM '20, Cecilia Guldagger MAIEM '18, Maren Haas MAIEM '16, McKenna Hughes MAIEM '17, Erin Kelly-Weber MPA/MAIEM '19, Amy Marrion MAIEM '15, Rachel Muradyan MAIEM '15, Alexandra Roman MAIEM '20, Jessica Schrader MAIEM '16, Shayna Trujillo MAIEM '17, Randall Yamaoka MAIEM '20, and Dr. Punteney. The second issue is planned for Fall 2020 and all international educators are invited to submit cases.
International Education Management alumni Yuki Ueda MAIEM '17 and David Saide MAIEM '15 recently completed the 2019 Academy for International Education, an an intensive yearlong training program.
International Education Management faculty members Daniel Chatham, Chris McShane, Katherine Punteney, and David Wick, joined by current student Alexandra Ramos Lopez MAIEM '20, presented Research Updates 2019 at the NAFSA Region 12 Annual Conference.
Middlebury Institute students Beth Magyar MAIEM '20, Kathryn Murata MAIEM '20, and Thi Nguyen MAIEM '20 joined International Education Management professor Katherine Punteney to lead a workshop at the NAFSA Region 12 Conference in Pasadena, CA in November 2019.