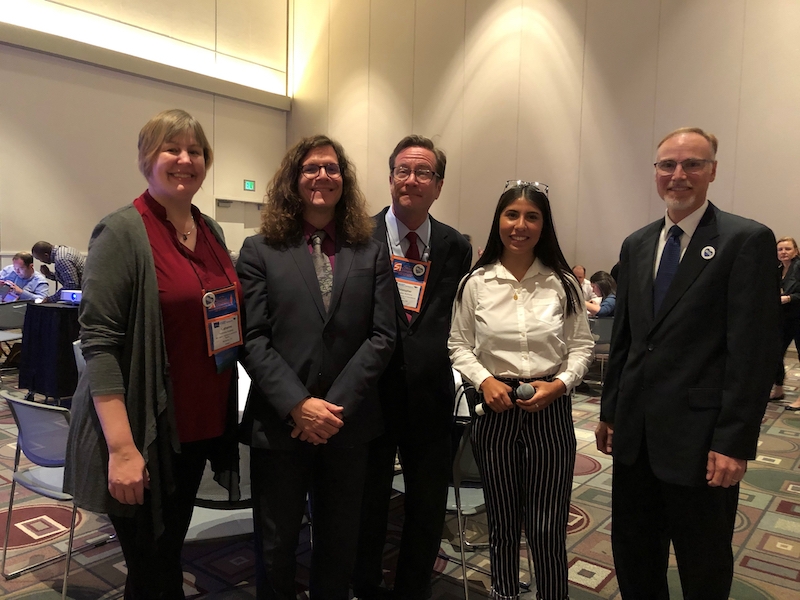 In what is quickly becoming an annual tradition, International Education Management faculty members Daniel Chatham, Chris McShane, Katherine Punteney, and David Wick, joined by current student Alexandra Ramos Lopez MAIEM '20, presented Research Updates 2019 at the NAFSA Region 12 Annual Conference.
Showcasing their "Top 10" list of recent publications, this session introduced participants to new research in four areas: Citizen Diplomacy, Internationalization, Equity and Inclusion, and Reimagining Qualifications and Credentials. Participants engaged in lively discussions about how each theme related to their work contexts and how the research might guide their practice. Dr. Punteney shared, "all of the International Education Management faculty have 15 or more years of experience as international education practitioners. We know how difficult it is to stay up-to-date on the research while juggling day-to-day responsibilities. Now, in our roles as faculty, we are constantly reviewing the literature as part of our own research, and as we continually update our course materials. We're pleased to be able to share new publications, and our analysis of the implications, with the international educators attending the conference."
In the third week of November each year, at universities across the United States, International Education Week showcases the diversity of cultures in our institutions and the benefits of global learning. We did a quick poll of some of our recent IEM alumni about what events they and their colleagues were organizing this year.
The Middlebury Institute's International Education Management degree program was well represented at the NAFSA: Association of International Educators Region 12 Conference in Pasadena, CA in November 2019.
International Education Management alumna Anna McCreedy (IEM '17) was awarded the Rising Star Young Leader Award at the NAFSA: Association of International Educators Region 12 Conference in Pasadena, California in November 2019.