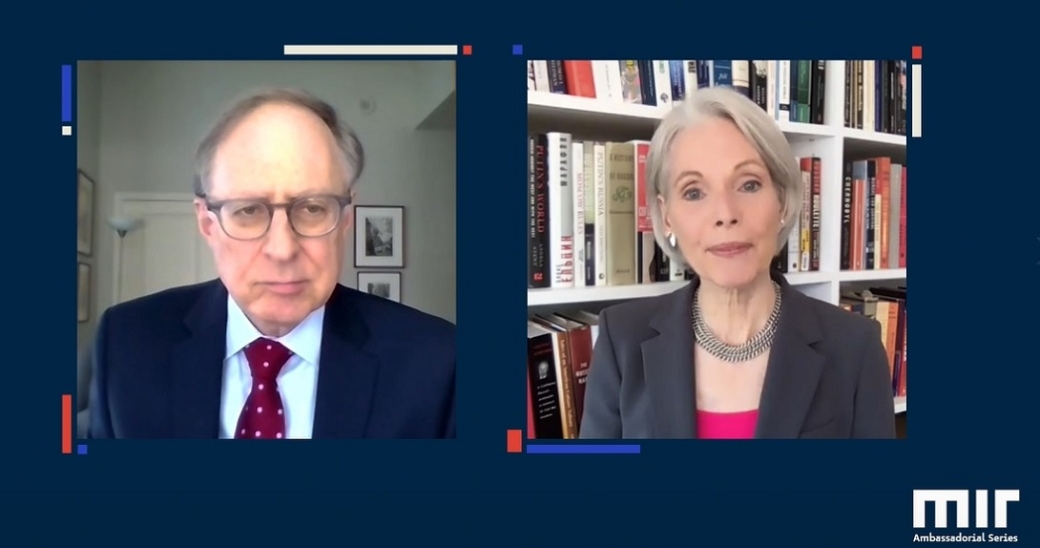 As U.S.-Russia rhetoric intensifies, new video series brings together eight former ambassadors to reflect on decades of complex relations.
Today the Monterey Initiative in Russian Studies (MIR) has released a one-of-a-kind docuseries featuring in-depth interviews with eight of the nine living former U.S. ambassadors to Russia and the Soviet Union. The Ambassadorial Series is the first-known set of such interviews. Only Ambassador William J. Burns, now director of the Central Intelligence Agency, did not participate.
The diplomats offer never-before-seen photos and firsthand stories from the time of their service, extending from the administrations of Presidents Reagan through Trump.
In eight hourlong videos, the ambassadors recall their experiences in strikingly personal terms. They share insights from high-stakes negotiations and reflections on the challenges and dangers they sometimes faced. The ambassadors discuss a range of geopolitical issues from their decades of experience, including the Soviet Union's breakup and the tense months that preceded it, the 1991 attempted coup, President Yeltsin's 1993 standoff, the early years of President Vladimir Putin, Russia's response to the 9/11 terrorist attacks, and the 2008 Russo-Georgian war. The ambassadors also discuss nuclear, cyber, and economic cooperation, the impact of sanctions, and how social media and other technology changed their ability to communicate with the Russian people, among much else.
The videos are hosted by Jill Dougherty, former CNN Moscow bureau chief, and include the following:
Amb. Jack F. Matlock (1987–1991)
Amb. Thomas R. Pickering (1993–1996)
Amb. James F. Collins (1997–2001)
Amb. Alexander Vershbow (2001–2005)
Amb. John Beyrle (2008–2012)
Amb. Michael McFaul (2012–2014)
Amb. John F. Tefft (2014–2017)
Amb. Jon Huntsman, Jr. (2017–2019)
Professor Anna Vassilieva, who led the project, is director of MIR, an academic initiative at the Middlebury Institute of International Studies. "This series has all the attributes of a potential classic," said Vassilieva. "Students of Russia and those in diplomacy and security around the world will have an opportunity to study and analyze this compilation."
"Never has there been a chance to see and hear the reminiscences of U.S. ambassadors to Russia, who served, one after the other, during one of Russia's most historic transformations," said Robert Legvold, a consultant on the series and Columbia University professor emeritus of political science. "Each of the interviews provides an intimate sense of what it felt like to be there."
The ambassadors' long-range insights raise important yet forgotten moments. For example, "the Ambassadorial Series is a reminder that U.S. relations with Putin's Russia began on a hopeful note, before falling victim to the values gap," said Ambassador Alexander Vershbow.
"As the highest political representatives of one nation to another, ambassadors are critical players in making, interpreting, and explaining foreign policy decisions," said Deana Arsenian, vice president of Carnegie Corporation of New York's international program, a supporter of the project. "Through their personal accounts in this video series, the U.S. ambassadors to Russia offer invaluable insight into the evolutions of U.S.-Russia relations. Their perspectives on the past moments of dangers and opportunities offer lessons learned for the future of this consequential relationship."
The Ambassadorial Series of videos are available on MIR's YouTube page and the websites of the Middlebury Institute and Kennan Institute. Transcripts are available at MIR's website. Audio versions will also be made available on Spotify and Apple podcast platforms. The transcripts will be released as an ebook at a later date.
About
Monterey Initiative in Russian Studies
The Monterey Initiative in Russian Studies (MIR) is an academic initiative at the Middlebury Institute of International Studies based in Monterey, California. MIR promotes a nuanced and clear-eyed understanding of contemporary Russia and U.S.-Russia relations. MIR funds students' research trips to Russia and provides them with opportunities to advance and hone their professional skills and portfolios through academic interaction with leading United States, European, and Russian experts in the field of Eurasian studies.
Carnegie Corporation of New York
Carnegie Corporation of New York was established in 1911 by Andrew Carnegie to promote the advancement and diffusion of knowledge and understanding. The corporation's work focuses on the issues that Andrew Carnegie considered of paramount importance: international peace, the advancement of education and knowledge, and the strength of our democracy.
The Monterey Initiative in Russian Studies (MIRS) congratulates 2019 and 2020 Monterey Summer Symposium on Russia (MSSR) experts Jon Finer and Jake Sullivan on their appointments to the Biden administration, and welcomes renowned Russian writer Lyudmila Ulitskaya to MSSR 2021.
Journalist, author and documentary filmmaker Vladimir Pozner spoke with students in 400- and 500-level Russian courses about the development of mass media in Russia, the deterioration of U.S.-Russia relations, and the changing nature of how information is received through technology.
 
The Graduate Initiative in Russian Studies (GIRS) recently hosted Matthew Rojansky, director of the Kennan Institute at the Woodrow Wilson Center, and Jill Dougherty, former CNN correspondent and instructor at Georgetown University, to lead a workshop entitled "How to Do a Television Interview."