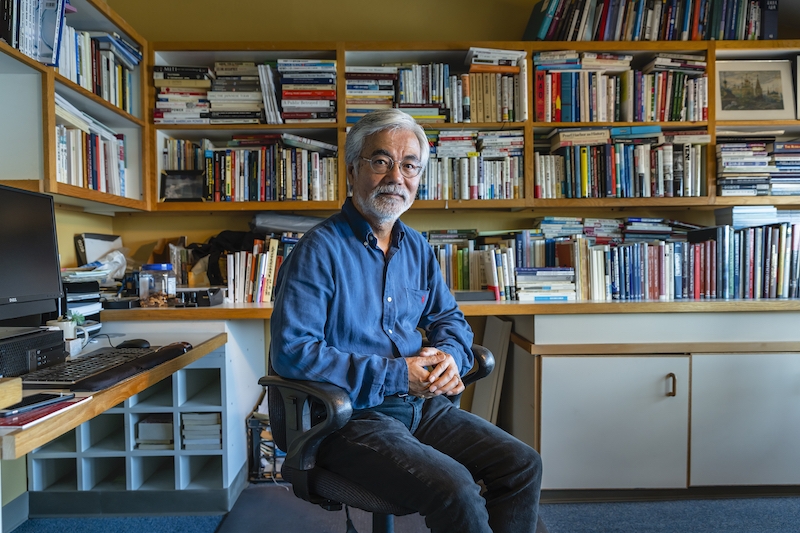 Vice President of the Middlebury Institute of International Studies Jeff Dayton-Johnson shared the following announcement on November 19, 2021.
 
Dear Friends:
I am writing to share the sad news that Emeritus Professor Tsuneo Akaha passed away on Wednesday, November 17, after a short illness. As many of you know, Tsuneo and his wife, Janet, moved to Hawaii following his retirement from the Institute in June 2020 so they could be closer to their two children, Mitzi and Yoshi. Tsuneo was a committed and beloved teacher in the classroom and beyond; he was equally effective leading students' academic discoveries in his intensive seminar discussions as he was on study tours that he helped organize in Japan and Russia. Tsuneo was furthermore an accomplished researcher and well-published author on a host of complex and timely topics, ranging from international relations in Northeast Asia to the experience of international migrants. His keen intellect, patient mentorship, understated humor, and generous friendship were deeply appreciated by all of his colleagues and many cohorts of students over the span of his career at MIIS.
Professor Akaha, a native of Japan, first came to the U.S. as a high school exchange student; his cultural immersion included playing American football. After graduating from Waseda University in Tokyo, he returned to the United States to pursue graduate studies at the University of Southern California. At USC, Tsuneo began his friendship with the late Ray Zilinskas of CNS, then a fellow graduate student, years before either would come to MIIS. Tsuneo earned his PhD in international relations from USC in 1981. Before joining the Institute in September 1989, he taught at the University of Southern California, Kansas State University, and Bowling Green State University (Ohio). At MIIS, Tsuneo taught courses focusing on human security, international migration, multiculturalism, East Asia, and Russia-East Asia relations. His insightful and original scholarship in these subject areas contributed to his capacity as a teacher. Tsuneo authored or edited 11 books and authored over 100 journal articles and book chapters; his coedited book, The U.S.-Japan Alliance: Balancing Soft and Hard Power in East Asia, received an Ohira Memorial Award Special Prize.
Professor Akaha received many grants and awards while at the Institute, including a Fulbright-Hays Faculty Research Abroad Fellowship, a Japan Foundation Professional Fellowship, and research grants from the U.S. Institute of Peace, Association for Asian Studies, Freeman Foundation, and Center for Global Partnership. He served as president of Asian Studies on the Pacific Coast (ASPAC), a regional affiliate of the Association for Asian Studies, during which time he brought the ASPAC conference to the MIIS campus. Over his academic career, he delivered invited lectures around the globe, including in Canada, China, France, Japan, Korea, Kyrgyzstan, Mongolia, Russia, Sweden, and Turkey.
Tsuneo's many extra-academic interests included international travel, photography, reading, and nature hikes. He was committed to promoting international cooperation in higher education and helped the Institute establish exchange programs with Waseda University. He also served as an Open Society Institute-funded International Scholar, acting as an academic mentor to young professors in Russia (Saint Petersburg, Perm, Ekaterinburg), and Kyrgyzstan (Bishkek). He served on the International Advisory Board for the School of Regional and International Studies of the Far Eastern Federal University in Vladivostok, Russia, and the Mongolian Development Research Center in Ulaan Baatar.
Memorial service arrangements are pending, but we will keep you informed as we receive more information. Messages of condolences to the Akaha family can be mailed to this address:
Janet, Mitzi, and Yoshi Akaha
46-065 Makena Pl
Kaneohe HI  96744
Sincerely,
Jeff
| by Eva Gudbergsdottir

Professor Tsuneo Akaha, an immigration scholar, explores the issue anew - by expanding his geographical focus.

Twenty-three students conducted field research into a variety of topics related to their interests during a spring break trip to Tokyo and Beijing as part a semester-long Middlebury Institute seminar on East Asia's foreign policy, trade, and security issues.

Three Middlebury Institute faculty members hosted a multilayered community discussion about refugees, migration and protecting the human right to move.