Second Annual Holiday Pop-Up Market Promotes Ethical Shopping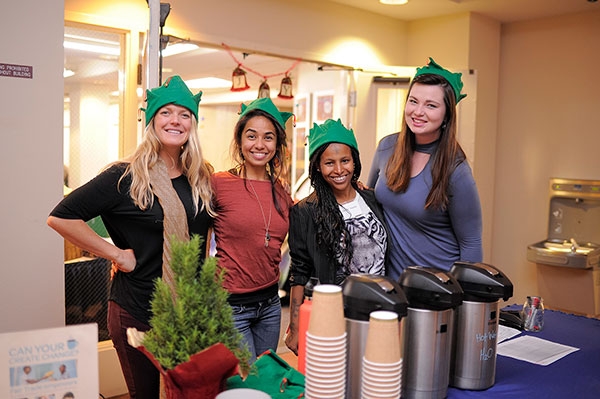 Students in the Middlebury Institute's student Fair Trade Club once again hosted a Holiday Pop-Up Market at the Institute on Friday, December 8. This student-driven event was created to raise awareness about socially conscious and environmentally friendly business practices and the role consumers have when they make a choice about what to buy and from whom. This year the theme was "Empower Impact, Shop Ethically." Close to 400 people participated in the event, which included a documentary screening, panel discussion, children's craft room, live music, and an auction fashion show.
"I think the pop-up market really exemplified what shopping ethically means," said vendor Anita Joshi MAIPS '11/MPA '16, creator of Chai Five, a fair-trade tea company that also works to improve standards of living in rural communities in India and Mozambique. "It was an opportunity to both support these businesses as well as create community around empowerment and impact. As a new entrepreneur, I felt an incredible amount of support through the level of engagement and encouragement at the event. That to me is also empowering."
"The pop-up market was such a unique experience because I was able to interact with students and community while educating them on the importance of knowing where your products come from," says Celina Lima MAIPD/MBA '18, vendor outreach coordinator.
Other vendors include Cat's Meow Fashion, Monterey Soaps and Sundries, Cocos Formations, Mata Traders and the Radical Grandma Collective. Food was available for purchase from vendors including Julia's Vegetarian Restaurant, International Market and Deli, Aqua Terra Culinary, Bakai Wine and Tapas, Sakura Japanese Restaurant, and Divine Chocolates.