Spring Break Takes Students to Washington D.C., Tokyo, Beijing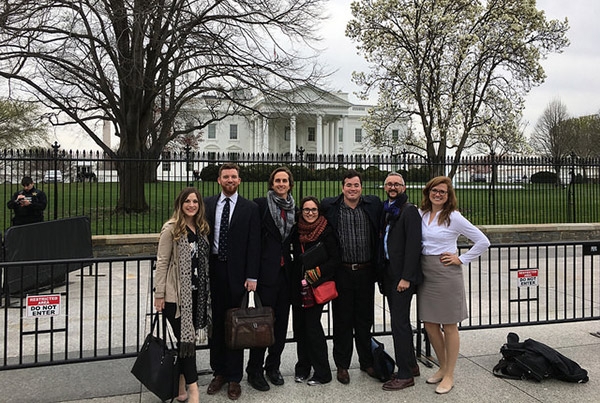 For some, the term "Spring Break" might inspire visions of sand between the toes and a cold beverage in hand, but for a number of students at the Middlebury Institute of International Studies, it's a nine-day window to take advantage of valuable outside-the-classroom opportunities spanning the globe from Washington, D.C. to Tokyo and Beijing.
For 90 students and recent alumni, Spring Break 2017 will be focused on networking with potential employers on the five-day DC Career Exploration Week coordinated by the Center for Advising and Career Services (CACS). The trip will include visits and networking opportunities with 46 organizations ranging from corporations like Accenture and General Electric, to nonprofits like Devex and the Natural Resources Defense Council, to government agencies such as the State Department and the National Aeronautics and Space Administration (NASA). Many of the information sessions during the week feature Institute alumni who are eager to share their knowledge and connections.
"This is a great opportunity for students to get directly in front of the employer and make connections for their next internship or job," said Director of Employer Relations Bryce Craft, one of the organizers of the trip. "Not only is this an chance for students to meet and network with professionals in their field, including MIIS alumni, it's also a chance for students to hear from hiring managers and department heads on what it means to be an employee at that organization and what they can expect with regard to career opportunities."
Half a world away, another group of students will be experiencing a whirlwind trip through Tokyo and Beijing packed with lectures and site visits. The trip is offered as part of the semester-long seminar "East Asia: Foreign Policy, Trade, and Security" co-taught by Professors Tsuneo Akaha and Wei Liang. Twelve students from that course will participate, conducting research for a research paper to be completed in the second half of the semester, along with two students each from the Institute's Chinese and Japanese Translation and Interpretation programs, who will provide interpreting services for the class.
"The students will to engage in face-to-face conversations with government officials, policy experts, university professors and students on the issues they are researching in the seminar," explained Professor Akaha, noting that they will also have the chance to visit historical and cultural sites in the two cities. Added Professor Liang: "This unique practicum course offers the opportunity for our students to develop, work and deliver a real policy-relevant research project from scratch. It develops professional research skills that they can't learn simply by sitting in the classroom and library."
A second, smaller group of students will be in Washington, D.C. to earn a Certificate in International Development and Social Change through the Institute's unique DPMI (Design, Partnering, Management & Innovation) training led by MIIS Distinguished Professor Dr. Beryl Levinger. Seven students will be split into three groups and embedded in three development-focused non-governmental organizations (NGOs)—Root Change, the Grameen Foundation, and FHI 360—as part of the certificate training.
Spring Break at the Middlebury Institute continues through Sunday, with classes resuming on Monday, March 27.