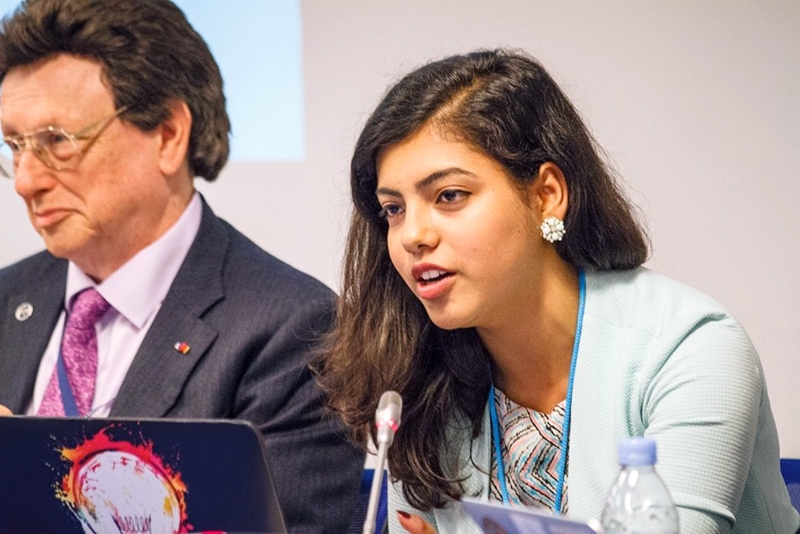 Middlebury Institute student Sylvia Mishra MANPTS '18 is one of three 2018 Scoville Fellows chosen from 180 applicants. The Scoville Fellowship is a highly competitive national fellowship program that provides recent graduates with the funding and opportunity to work with senior-level policy experts at one of more than two dozen leading think tanks and advocacy groups in Washington D.C. for six to nine months. 
Before coming to the Institute as a Visiting Fellow at the James Martin Center for Nonproliferation Studies (CNS) in the fall of 2016, Mishra worked on issues related to U.S.-India relations and U.S. policy in India at the New Delhi-based Observer Research Foundation. In Monterey, she says she was "completely struck by the impressive students and faculty" and decided to pursue a second graduate degree as an advanced entry student (she also has a MSc degree in International Relations History from the London School of Economics).
"I regard her as one of the most promising young scholars in the field," says Dr. William Potter, director of CNS, who recruited her for the fellowship. "Her work has the potential to be of great interest to scholars and policy makers who are only beginning to gauge the impact of disruptive technologies on the international nonproliferation regime and on global and regional stability."
"My time at the Institute was extremely intensive and rewarding," Mishra shares from Washington D.C., where she will be working with the Nuclear Threat Initiative as part of her Scoville Fellowship. She says she has always had an interest in the concepts of defense and security. Her father is a professor of international relations and she was exposed to the philosophical foundations of political science and thought from a young age. She has written extensively about Indian cooperation with the United States and was among only eight applicants selected for interviews as part of their Scoville Fellowship application. "It was quite terrifying," she says of the interview with a committee of 25 Scoville members, "but once it began I realized they were actually very nice." Mishra and two other applicants were notified directly after the interview that they had been awarded the fellowship. "I am very thankful for all the support I have gotten and excited to start working."
Mishra is a most unusual young scholar according to Potter. "In the first place, she is far more open-minded and ready to listen to alternative perspectives than one usually encounters among scholars from any region, including South Asia. This was reflected in her decision to attend a ministerial meeting of the Comprehensive Nuclear Test Ban Treaty Organization even though one senior Indian ambassador advised her against being associated with the organization. She similarly displayed remarkable tenacity and independence in coming to work with me at MIIS despite my reputation among some Indian government officials as a 'nonproliferation Ayatollah.' It is Sylvia's combination of intellect, empathy, curiosity, and diligence which accounts for her exceptionally prolific research and publication record. Her interests span a very broad spectrum of regional and international security issues, including topics, such as the CTBT, the NPT, the role of women in nonproliferation and disarmament, and emerging disruptive technologies."
Professor Philipp Bleek, himself a former Scoville Fellow, says he is thrilled to see another graduate of the nonproliferation and terrorism studies degree program get this very competitive fellowship. "Sylvia did great work as a student and I can see why she was a compelling candidate. I'm also excited she'll spend her fellowship working at the Nuclear Threat Initiative (NTI), an unusual blend of a foundation, a think tank, and what NTI staffers like to call a 'do tank' that's had a tremendous impact on the nuclear security field and that has a very close relationship with the Institute's own Center for Nonproliferation Studies."
Noah Mayhew, MANPTS '18, has been awarded the Alfa Fellowship. This program is a distinguished international initiative that each year offers up to 18 accomplished young Americans, Britons, and Germans the opportunity to complete a high-level professional development program in Russia.
Four recent Middlebury Institute graduates were offered a full-time, salaried one-year fellowship with the National Nuclear Security Administration.
Middlebury Institute students are among the winners of several highly competitive fellowships and scholarships for 2017.