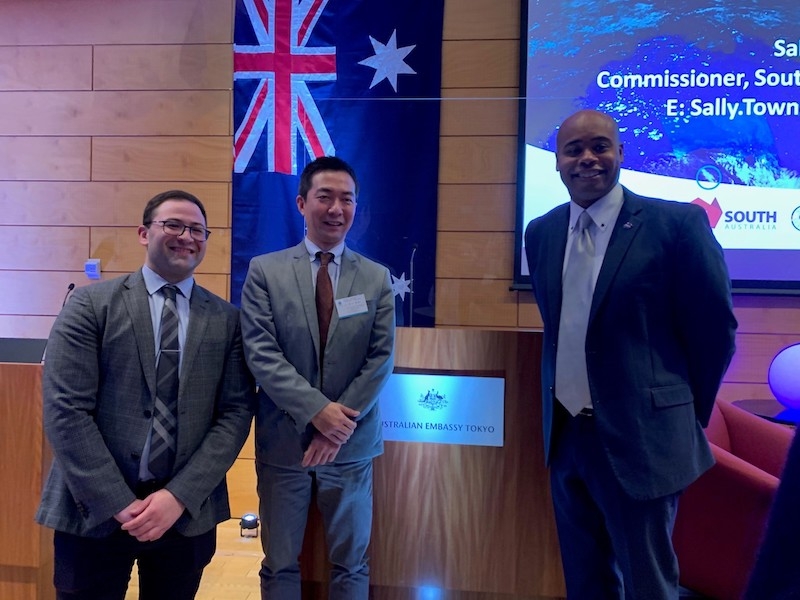 An international scientific collaboration to increase our understanding about the formation of our solar system brings three Middlebury Institute graduates together in Tokyo, Japan.
On the morning of December 6, 2020, the Japan Aerospace Exploration Agency (JAXA), which is NASA's counterpart agency in space, returned precious samples back to Earth from the Asteroid Ryugu after traveling over 3.2 billion miles and which took over 6 years. This is the second of Japan's asteroid retrieval missions, as the first Hayabusa mission returned samples back to Earth from the Asteroid (Itokawa)in June 2010.  Both Hayabusa1 and 2 samples landed in Australia.
To celebrate the collaboration between the United States, Japan and Australia and the successful recent mission to collect and bring back to Earth precious samples from the asteroids, the Australian Embassy in Tokyo hosted an event last December. Some of the key participants were three graduates of the Middlebury Institute: Masahide Kokubun MPA '12, director for the Office for Space Utilization Promotion Research and Development Bureau at the Ministry of Education, Culture, Sports, Science and Technology in Japan, Matt Colpitts MACI '13, Japanese interpreter for the Australian Ambassador Garvey McIntosh MAIPS '03, NASA Attaché at the U.S. Embassy Tokyo.
"It was truly a pleasure to have had the opportunity to be a part of this historic event to highlight this important trilateral cooperative effort," shares McIntosh.  "More importantly to have had the opportunity to work so closely with MIIS graduates in such key roles is truly gratifying."  
The return of Hayabusa2 is another example of the strong partnership between the U.S. and Japan in space.  To support the mission NASA sent two aircraft and a team of scientists to Australia to carry out airborne observation campaigns. NASA will also share actual samples in the future and has shared lessons learned between Hayabusa2 and NASA's OSIRIS-Rex mission, which has recently taken its own samples from a different Asteroid (Bennu) and will return them to Earth in 2023.
For more information on the Hayabusa2 mission please see the JAXA website:  JAXA | Asteroid Explorer "Hayabusa2"
The Middlebury Institute is celebrating the 2021 AmeriCorps Week with the news that AmeriCorps has recently designated the Institute a School of National Service. 
Three current Middlebury Institute Translation and Localization Management students, who recently founded the TLM Mentorship Program to help formalize connections in the field, say they are "completely blown away" by enthusiastic response by alumni.
Middlebury Institute alumni, Hilary Ancel-James MAT '03, and Kunyuan (Lawrence) Chen MACI '17, won first prize in the prestigious UN St. Jerome Translation Competition in the general category for their English and Chinese translations.