A "Transformational" Experience for Army War College Fellow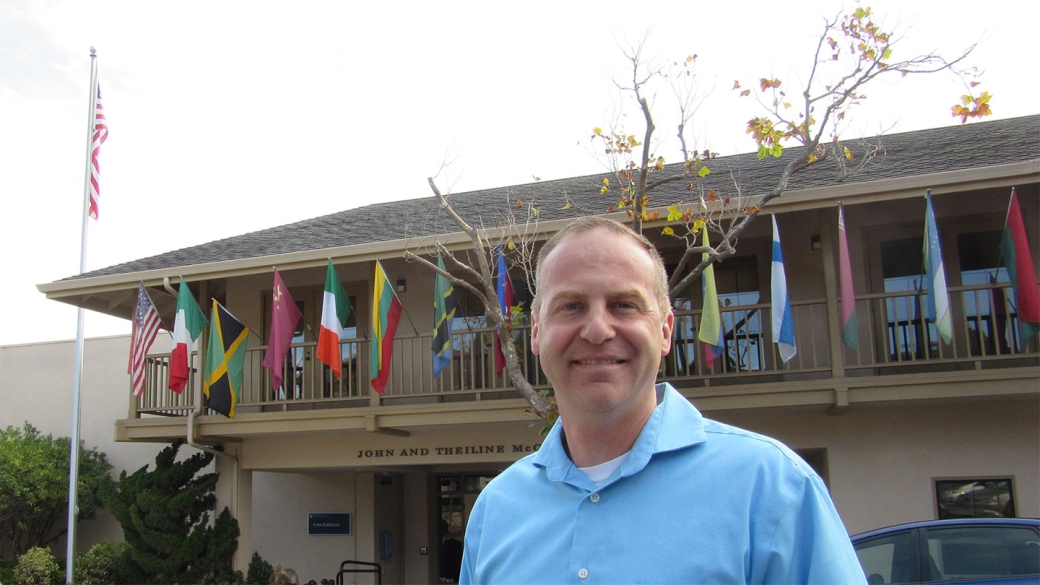 "Middlebury was my top choice," says Col. Timothy Zetterwall of the opportunity to spend a year at the Middlebury Institute as an Army War College Fellow. "The Army looks at these fellowships as a transformational period where we are becoming more of a strategic leader. To do that you really have to listen, to put aside some of your preconceived notions or assumptions and hear others' viewpoints."
The enthusiasm Zetterwall brings to his year-long fellowship assignment is palpable. "I want to be in this environment, and to be able to make a difference, and to serve the Army in a different capacity, where we're not wearing a uniform every day, but we're out here engaging, presenting, and listening." He cites the Institute's international students and faculty as a key part of what attracted him to MIIS. "The international perspective of students here makes it unique and gives you all sorts of opportunities to stop and think and listen, and then think again and maybe write about what you're hearing from your fellow students."
To date, Zetterwall's two-decade military career has included postings that had him spending time in Afghanistan, Azerbaijan, Estonia, Germany, Korea, Kuwait, Latvia, Lithuania, and Pakistan. "One of the things that really interested me about the opportunity to come to MIIS was the chance to focus on international relations, economics, and diplomacy." His coursework is focused substantially in the Institute's International Trade and Economic Diplomacy program.
As the Institute's fifth Army War College Fellow, Zetterwall is looking forward especially to hosting the International Strategic Crisis Negotiation Exercise (ISCNE) at the Institute in the spring. "The ISCNE is a great opportunity and the unique elements MIIS brings make this one of the best in the country. The translation and interpretation aspect is unique, plus this is one of the few host institutions that brings in students from other campuses. This year we anticipate participation from UC Berkeley, California State University Monterey Bay, the Naval Postgraduate School, and the Defense Language Institute, as well as MIIS itself."
The ISCNE was first held at the Institute in 2016. In 2019, the scenario will focus on the South China Sea with seven countries represented in the simulation: India, China, US, Japan, Vietnam, Indonesia, and the Philippines. The proceedings will be interpreted live by students in the Institute's Translation and Interpretation program.
Zetterwall has also enjoyed having the opportunity to interact with student veterans on campus. "One of the great things about MIIS is you have a very active Veterans Organization, with lots of volunteer opportunities and guest speakers, and chances to interact with fellow veterans on and off campus."
"The Middlebury Institute was founded by a professor from the Defense Language Institute," notes Jill Stoffers, senior director of institutional partnerships, "and the military has always had a strong presence in the community with DLI, the Presidio, the Naval Postgraduate School, and (until the 1990s) Fort Ord." Stoffers emphasizes the high value the Institute places on having a diversity of voices and viewpoints represented on campus. "Students with a military background, whether they are active duty or veterans, have unique perspectives to share. We believe the training and life experiences they bring to the classroom contribute to a richer and more valuable educational experience for all of our students."