FMS Faculty Spotlight: Alexandre Lazarow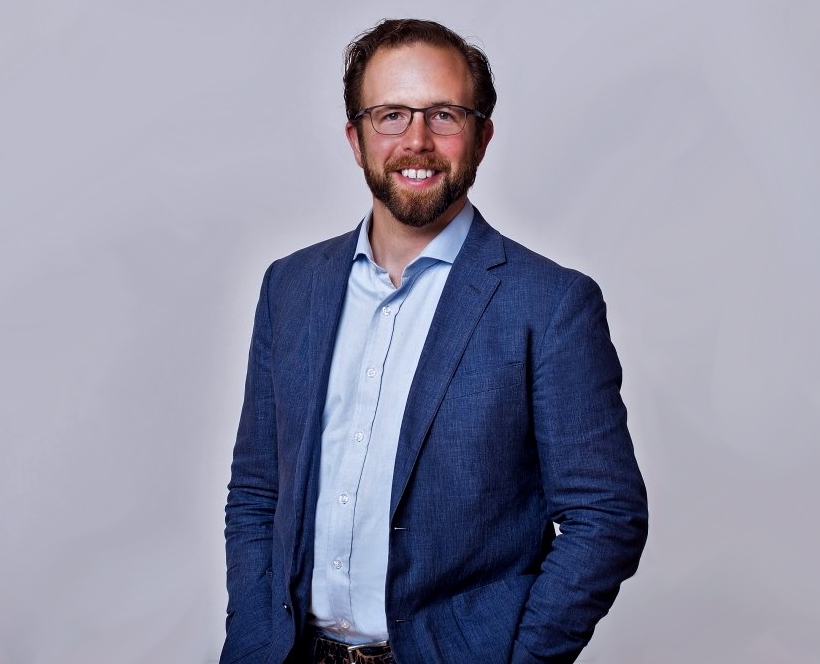 Middlebury Institute MBA Professor Alexandre Lazarow on his experience with Frontier Market Scouts, the future of impact investment, and his upcoming book, The Frontier Innovator's Playbook.
Please share a little about your background and your work with FMS
One of the things I look forward to most throughout the year is teaching. I have had the privilege of working with the Middlebury Institute for International Studies at Monterey for the last four years. I teach both the Scaling Startups module at the Frontier Market Scouts (FMS) two-week immersive program, as well as co-teach Building & Investing in Social Enterprises (BISE) with Yuwei in the MBA program.
By way of background, I have been focused on the intersection of investing, innovation, and economic development across the public, private, and social sectors for more than a decade. I am a venture capitalist with Cathay Innovation, a global venture firm. We are part of Cathay Capital, a global investment firm with over $2.5b in assets and offices across SF, NY, Paris, Munich, Tel Aviv, Shanghai and Beijing.
I'm a new arrival to Cathay Innovation. I spent the last five years with Omidyar Network, a philanthropic investment firm, founded by Pam & Pierre Omidyar (the founder of eBay). The firm invested over 1.3 billion around the world. I was investing principally in financial inclusion and energy, both in the US and emerging markets. Previously, I worked in strategy consulting with McKinsey & Co., financial regulation with the Bank of Canada, and M&A investment banking with the Royal Bank of Canada.
Teaching FMS is both a rewarding opportunity to share lessons I've learned, and to learn from a diverse set of students, with global experiences, spanning the public, private and social sectors.
Why are you so passionate about entrepreneurship in emerging markets?
I firmly believe that entrepreneurship can be a tremendous force for good around the world.
We are at a critical moment. Technology is at an inflection point. It provides an opportunity for us to radically rethink industries, and create entirely new business models that were unthinkable just a few years ago. It is already happening in a range of industries, including financial services, energy, education, healthcare, e-commerce, and transportation. This will only accelerate.
At the same time, it is much easier to start a business today than ever before. Cloud platforms and a range of entrepreneurship-focused services, have decreased upfront costs from hundreds of thousands to thousands. There is both more and more capital available to fund startups. And finally, attitudes towards entrepreneurship are changing, and more and more people are choosing this as their career of choice.
When entrepreneurship in emerging markets is focused on important challenges, it will lead to creative and impactful outcomes. In my FMS class, we explore real life case studies of entrepreneurs at the forefront of this movement. And of course, our class is but a small microcosm of what's possible.
What is the future of Impact Investing?
Larry Fink did something incredible earlier this year. His company, Blackrock is one of the largest asset managers in the world. In a letter to CEOs, he said "To prosper over time, every company must not only deliver financial performance, but also show how it makes a positive contribution to society."
I agree with him. But importantly, increasingly so does the rest of society.
Over the last few years, impact investing has been accelerating. Last year, TPG launched the Rise Fund, the largest impact investing fund globally with $2.0 billion AUM. Ford Foundation recently announced it earmarked $1 billion from its endowment for mission related investments.
I believe we are at a turning point in the industry. While historically, it was a niche sector, and in some cases even considered an asset class on its own, we will increasingly see it, as a core approach to investing and long-term value creation. Already, over $100 billion has been invested in impact.
This is only the beginning.
You recently worked with an FMS student in a placement. What were you focused on and what was your experience like?
In addition to my day job as a venture investor, and my weekend job as a professor, I am also writing a book (my late evenings job). I believe that building startups in Frontier ecosystems is meaningfully different than in Silicon Valley. Yet, everything we know about building startups is centered in a time and a place: Silicon Valley, today. The best global entrepreneurs are not only challenging conventional wisdom, but increasingly creating a new and incredibly important set of approaches.
My book The Frontier Innovator's Playbook will offer a new set of guidelines and approaches that reflect the on-the-ground reality and needs of these Frontier innovators. And of course, it will be mandatory reading for my FMS students :-)
I've had the privilege of working with Julia Turnbull as a part-time FMS placement over the last few months. She has been helping conduct research on emerging themes in global entrepreneurship, interviewing entrepreneurs around the world, and building case studies. Working with her has been a great experience, and look forward to many other opportunities with FMS students in the future.
What role does FMS play in the future of impact investing and social entrepreneurship?
In my opinion, FMS serves three critical functions.
The first is that it offers a unique forum for young professionals to learn from a range of folks, steeped in the industry. In that way, the curriculum is deeply rooted in practice, and engaging through the lived experience of the faculty.
The second, is that through the program, the FMS cohort forms a community of practice. Over time, it becomes a valuable network for the professionals who participate.
Lastly, and most importantly, since most learning (and impact) happens outside the classroom, through the placements, FMS offers the opportunity for students to work directly with high impact organizations around the world.
Through these, I look forward to seeing the impact of the FMS alumni in the world!