Learning Path Courses for Nondegree Students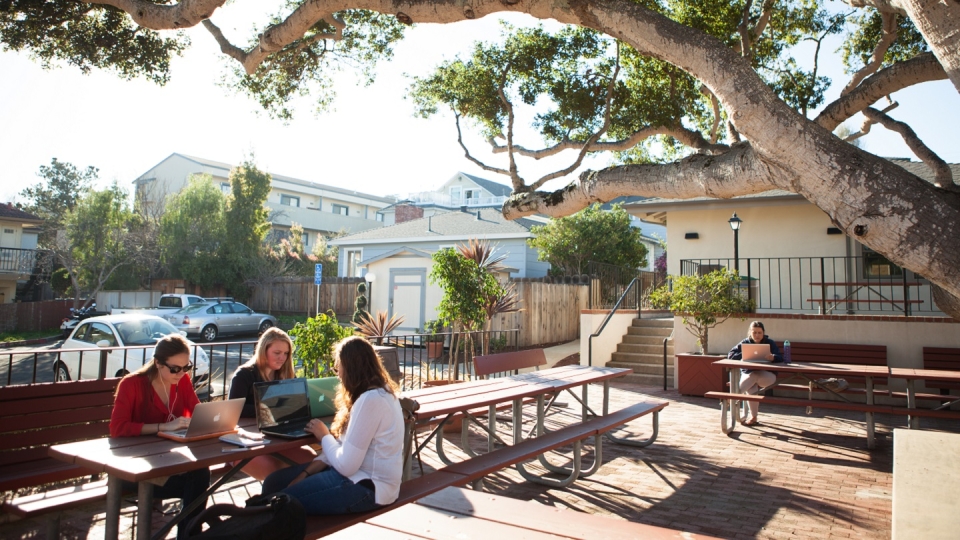 Gain the skills you need by taking one or more master's courses as a nondegree student.
Advance Your Career
Build your expertise in specific high-demand areas through our nondegree learning paths. You will also have the option to apply credits earned in these courses to one of our master's programs in the future. To get personalized advice on applying, financing your education, and your next steps please connect with your enrollment advisor.
Courses
See what courses you can take as a nondegree student and their corresponding programs. Courses are available in the following formats:
Hybrid: in-person courses that also allow remote students (require live class attendance)
Online: synchronous online courses that require live class attendance
Online (asynchronous): flexible online courses that do not require live class attendance
Live class times are all Pacific Time Zone. Note that other courses are available in each program—contact your enrollment advisor for more information.
Intro to Crypto, Web 3.0, and DeFi
Web3 promises new forms of ownership and transparency powered by blockchain technology. But it can be abused by criminal actors. Explore cryptocurrency, blockchain essentials, bitcoin, Ethereum, NFTs, Decentralized Finance (DeFi), crypto crime, and more.
Instructor: J. Barragan
Corruption
Explore corruption's causes, economic and political models vulnerable to it, and possible solutions. Gain an understanding of corruption's effects on international development, security, domestic politics, and financial systems.
Instructor: Katherine Petrich
Introduction to Terrorism
Gain a critical introduction to the often misunderstood subject of terrorism. Clarify definitional and conceptual problems, examine organizational and operational methods, survey a range of ideologies and themes, and assess the threat posed to global security.
Instructor: Jason Blazakis
Public Policy and the Environment
Get an introduction to public policy theory and practice with an emphasis on international environmental topics. Gain the foundational knowledge and skills needed to understand and work effectively in the policy arena. This is a half-semester (6-week) course.
Instructor: Jeff Langholz
Managing International Migration, Security & Human Rights 
Study the intricate links between the ever-increasing flows of peoples across borders, the national and international security dilemmas facing states and regions, and the urgent need to redefine and implement domestic and international laws pertaining to human rights.
Instructor: William Arrocha
Organizational Development & Leadership
Learn what it takes for organizations—a group of people with a shared goal—to work together and get things done. You will engage in analysis, diagnosis, and problem-solving exercises focusing on one organization of your choice.
Instructor: Mahabat Baimyrzaeva
21st Century Trade Issues
Investigate the changing structure of international commerce underlying and driving the trade relations evolving across the world and focus on the most pressing trade issues that are looming for the next 5 years.
Instructor: Robert Rogowsky
Principles and Practices of International Education
This foundational course will introduce students to the breadth of the international education field. Course content will emphasize fundamental principles of international education through a focus on seminal literature in the field. Additionally, the course will emphasize exploration of career specializations through interactions with practitioners and individual course assignments.
Instructor: Katherine Punteney 
Sociolinguistics
Explore the interplay between language and society. Discusses regional and social dialects as well as the role of linguistic attitudes and language variation in language learning and teaching.
Instructor: Netta Avineri
Localization Learning Path Courses
Build your expertise in specific localization areas like project management, program management, internationalization engineering, media localization, and more through a wide range of courses grouped into learning paths. Learn more.
Costs
Nondegree students in our learning paths pay the same per-credit price as our degree-seeking students. 
The per credit rate is $1,600 for the 2022–23 academic year.
Many employers have tuition assistance programs to help cover the costs of professional development opportunities like these courses so we encourage you to reach out to the appropriate contact at your organization to see if tuition assistance is available.
How to Apply
We encourage you to apply at your earliest opportunity, as a limited number of nondegree seats are available for each course. In your application, choose the corresponding program that houses your course(s) of interest. If your application is approved, you will be introduced to your advisor(s) and register for your course(s) during orientation.
Start Term
You can take classes in the fall, summer, or spring semester.
Admission Prerequisites
These courses are designed for both U.S.-based and international professionals who either:
Hold a bachelor's degree OR
are current undergraduate students at Middlebury College or one of our partner colleges/universities.
Please note that our localization learning path courses have different admission requirements.
Application Checklist
The online application requires the following information:
Personal information
Financial support
Education background
Professional background
Career goals
Proof of English proficiency
$65 application fee: waived for Institute alumni and employees of our partner organizations
Select Non-Degree or Certificate in the key questions section
Select the appropriate program for your course(s) of interest
International Students
Please be advised that the Learning Paths do not make international students eligible to obtain a visa to study in person in the U.S.
Convert to Degree-Seeking
As your career goals evolve, you may decide you would benefit from a full master's program. As a degree-seeking student, you will have access to the Institute's full range of resources, including professional development and career fairs. Once you have taken a nondegree course, you will have a simplified application process to enter the degree program. You will receive credit for any nondegree courses that you have taken, allowing you to waive those classes. Please visit the How to Apply page for your program of interest to review the degree admission requirements.