An Exploration of Spanish Language and Wine in Rioja - Fall 2022
Notice: The Rioja Program has been postponed due to the COVID-19 outbreak. We are planning on offering the program again next fall. We hope to see you then! 


Join us on an 8-day educational trip as we explore Spanish language and wine in Rioja, Spain. Gain insider perspectives from local wine experts and network with industry professionals and wine enthusiasts from around the world. 

Middlebury has partnered with the University of Rioja's Fundación Universidad de La Rioja to create a program designed for wine-industry professionals and experienced enthusiasts to gain skills and knowledge of this rapidly growing wine region. Local experts in viticulture and oenology will work together with qualified Spanish language faculty to lead participants through an exclusive wine appreciation experience not found elsewhere. Speak the language of the culturally rich Rioja region and gain an in-depth understanding of its distinctive wines and the industry that supports them.

Register Here
Highlights:
Visit the Rioja Valley and enjoy comprehensive tastings of some of the regions most prized wines, as well as the up-and-coming "signature" wines
Hone your Spanish language skills and cultural savvy to interact socially and professionally with the people of Rioja*  
Take part in private tours and exclusive experiences designed specifically for wine industry professionals and experienced enthusiasts
Experience the changing trends in Rioja's industry from family-run wineries, to exclusive-production vintners, to renowned global exporters
Meet the innovators and change-makers in the Rioja wine industry
Converse with the people responsible for the strategic direction of the appellation
Learn how local growers are approaching sustainable viticulture and organic wine production
Appreciate the pairing of local cuisine with regional wines 
Earn an official program certificate recognized and signed by both the Middlebury Institute of International Studies and the University of Rioja.  
*For lower-level Spanish speakers, afternoon site visits and excursions will be conducted in English or supported by English-speaking faculty.
**All professors, facilitators, and program support staff are bi-lingual (Spanish-English).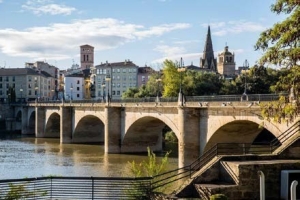 Enjoy 8 days/9 nights in the historical city of Logroño, Spain with daily visits to local bodegas and other cultural sites throughout the Rioja wine country, plus an optional overnight trip to experience Basque cuisine and culture in the beautiful seaside town of San Sebastián.
Program Description
In this program, you will have the unique opportunity to develop or refine your Spanish language skills* through wine! You will not only gain a better understanding of the language around wine and wine-making in Spanish, but you will also get an insider's look at Rioja, its people, culture, food, and wine industry. You'll taste top-quality wines at a variety of carefully selected bodegas, experience high-end food and wine pairings at elegant and historical wineries, and dine in the vineyards with breathtaking views of the Rioja Valley. 
You will also learn about the evolution of wine making in the region, from family wineries to cooperatives and onto the sophisticated industry that exists today. You'll meet the people that are creating Rioja's strategic plan and talk to cutting-edge winemakers about how they are navigating the ever-changing trends in this dynamic and global industry. You'll discuss innovations in sustainable viticulture with organic farmers and find out how the growers are tackling the challenges of climate change in the region. You'll meet the innovators, such as the oenologists and scientists that are working to diversify grape varieties and studying flavor characteristics of known and lesser-known varieties through DNA analysis.
This program is assured to tantalize your taste buds and stimulate your appetite for Spanish food and wine while satisfying your professional and intellectual yearnings for the language and culture of Rioja and its wine industry.
*various language levels accepted
  
Program Cost: $4,400* (airfare not included)
Optional Trip to San Sebastián: $950
Early Bird Discount of $250 if registered and paid by February 29!
Rioja Program Terms and Conditions
To Register, click here.
For more information, contact Alicia Brent at abrent@miis.edu.
What's Included: 
Single room at a highly-rated Hotel Calle Mayor in the historic section of Logroño with Spanish style breakfast for 9 nights*
8 engaging Spanish language sessions on wine-related themes by a qualified Spanish language instructor from the Middlebury Institute (3 hours/day)
8 afternoon site visits facilitated by experts in various wine-related fields (3-4 hours/day)
8 mid-day meals (each one designed to showcase Spain's culinary culture)
Two exclusive evening food and wine events in Logroño 
Transportation to and from all site visits and events
      *inquire about self-arranged or double-occupancy accommodations
 
Optional Trip: San Sebastián
Transportation from Logroño to San Sebastián
One night with breakfast at the beautiful Arima Hotel right next to the Basque Culinary Center
Food and wine pairing by master sommelier and Basque Culinar Center chef at the Basque Culinary Center
Evening excursion in the old town, "Donostia", to some of San Sebastián's most trending "pintxos" bars for a Basque-style gastronomic experience
Lunch at a top-rated Basque restaurant 
Transportation to and from excursions
Transportation to nearby Bilbao airport (optional)
Daily Itinerary
Day 1 (Sunday, May 24): Arrival in Logroño
Check into Hotel Calle Mayor in the historic section of Logroño; relax and get adjusted. 
Day 2 (Monday, May 25): Overview of La Rioja
Morning Spanish Session in Palacio de Herrerías
Experience a gourmet lunch in the vineyards overlooking the beautiful Rioja Valley and taste Rioja's finest wines as you "breath in" the local terroir. 
After lunch, visit the governing institution of Rioja, Consejo Regulador

DOC

, for an overview of the region and its appellations, engage in conversations with committee members about how policy and laws have shifted to meet changing trends and demands, and learn about efforts to re-envision Rioja's wine industry through the government-sponsored 5-year strategic plan.
Spend the evening exploring the streets of Logroño, discover the local wines and gastronomic delicacies of the region, and learn to navigate your way around the "pinchos" culture of northern Spain. 
Day 3 (Tuesday, May 26): "A Visionary in the Vines"  
Morning Spanish Session in Palacio de Herrerías
Enjoy a traditional lunch with organic viticulturist Juan Carlos Sancha at his bodega and taste some delicious lesser-known varieties of the region.
Learn about the innovations and challenges in sustainable viticulture and discover how some growers are working to recover previously lost varieties of the region and diversify the wine industry in Rioja.
After lunch, explore the vineyard and winery of Juan Carlos Sancha with a personal tour and conversations with the owner.
Practice your Spanish skills with Juan Carlos and his colleagues.
Day 4 (Wednesday, May 27): "The Roots of Innovation"
Morning Spanish Session in Palacio de Herrerías
Lunch at one of Logroño's signature restaurants.
Visit the Institute of Vine and Wine Sciences to learn about how Rioja is conducting state-of-the-art research to stimulate technological development and innovation in the viticulture and oenology sectors.
Day 5 (Thursday, May 28): "From Local to Global"
Morning Spanish Session in Palacio de Herrerías
Experience a traditionally cooked Riojan meal over a vine-wood fire at one of the most historic bodega's in the Rioja region.
After lunch, take an exclusive tour with the owners of one of the oldest family-owned wineries in the region, Bodegas Lecea, visit the caves, and learn about the families and bodegas of the historic San Asensio neighborhood.
Visit a wine cooperative and learn about the evolution of the wine industry in Rioja.
Visit Bodega Marques de Riscal  and discover Spain's next-level global wine industry while appreciating the unique and powerful architecture of Frank O. Gehry. 
Day 6 (Friday, May 29): "Elegance and History" 
Morning Spanish Session in Palacio de Herrerías
Visit Bodegas Viña Real for a pre-lunch tasting on the terrace overlooking the patchwork landscape and terraced vineyards of the Rioja Valley.
Take a walk through the vineyards of one of the finest wineries in Rioja's Alevesa region and the first Chateau in Rioja, Viñedos del Contino.
Experience a gourmet lunch in the private dining room of Contino's historic and elegant winery as their sommelier walks you through a tasting of their most exclusive wines.
After lunch, take a custom tour of Contino's historic winery and learn how their winemakers are mixing tradition with innovation.
Day 7 (Saturday, May 30): "Tantalizing the Senses"
Morning Spanish Session in Palacio de Herrerías
Lunch with local experts in Viticulture and Oenology at the University of Rioja. 
After lunch, visit the University of Rioja's Oenology department, experimental vineyard, facility and sophisticated tasting room and experience a customized and comprehensive tasting "aula sensorial" of carefully selected Grand Reservas from Rioja and gain knowledge of Spanish wines from various regions across Spain by two of Rioja's most highly-regarded professors of oenology.
Day 8 (Sunday, May 31): "A Pilgrimage of Wine" 
Day 9 (Monday, June 1): "Las Bodegas"
Morning Spanish Session in Palacio de Herrerías
Lunch at a local restaurant in historic town of Haro.
Visit Bodega López de Heredia-Viña Tondonia for an exclusive tasting and tour of this well-known Rioja heritage site.
Visit the caves of Roda, one of Rioja's most trending high-end wineries, experience a vertical tasting on their picturesque balcony overlooking Haro Station. Tasting includes some of their most sought after wines, including an annotated tasting of four vintages of "Roda I", three of them historic, as well as the extra virgin olive oils "

L'A

mo" and "Aubocassa".
Final evening event: Experience an exclusive food and wine pairing in the elegant and historic caves of the Calado in Logroño.
Day 10 (Tuesday, June 2): "¡Nos vemos!"
Check out of Hotel
Leave for Sebastián (Optional Trip)
 
Day 10 & 11 (Tuesday & Wednesday, June 2-3): Optional Trip to San Sebastián
*The above itinerary is subject to minor changes
Rioja Program Terms and Conditions