All SILP students are required to attend both days of orientation as we will be covering important program policy information and academic requirements. A light breakfast will be served on Thursday morning.
Orientation also serves as an opportunity to meet other SILP students from your language as well as other language programs.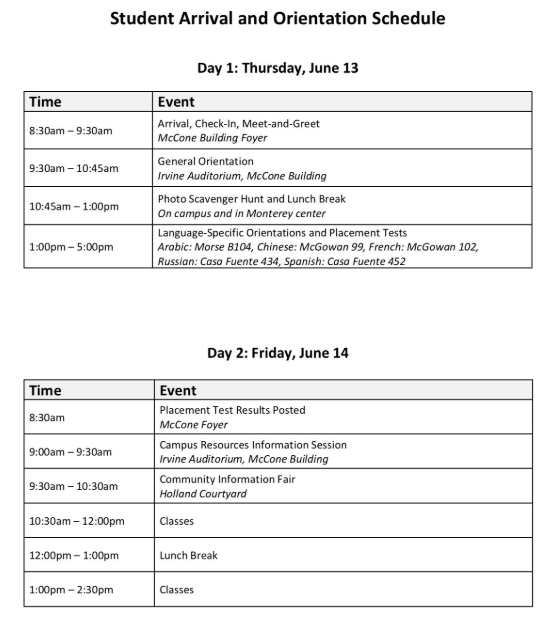 Language-Specific Orientation Session
On day one, there will be a language-specific orientation session during which you will meet your program coordinator, instructors, tutors, and activity facilitators. At this time, you will have the opportunity to ask specific questions regarding your program and to become familiar your language's team.
Placement Test
A key component of orientation is the placement process. Although you may have taken a pre-arrival diagnostic test and/or an oral interview by phone, you will still need to attend the placement test on the first day of orientation, no matter what your language level is. This test will be facilitated by your language program coordinator.
Results from the placement test will be posted at 8:30 am on the second day and of orientation. All questions regarding placement should be addressed to your language program coordinator.
Campus Resources Information Session
On the second day of orientation, representatives from MIIS Student Services and Career for Advising and Career Services (CACS) will present some of the resources at MIIS available to you as a SILP student. For additional questions about Student Services or CACS, you may visit their booths at the Community Information Fair.
Community Information Fair
Before your first class, stop by the Community Information Fair to learn about campus and community resources. Get connected with local vendors and resources to learn about what you have access to as a SILP student, as well as food and recreation in Monterey!
For a preview of some information that will be covered during orientation, please click the links below: