Learning Path Courses for Nondegree Students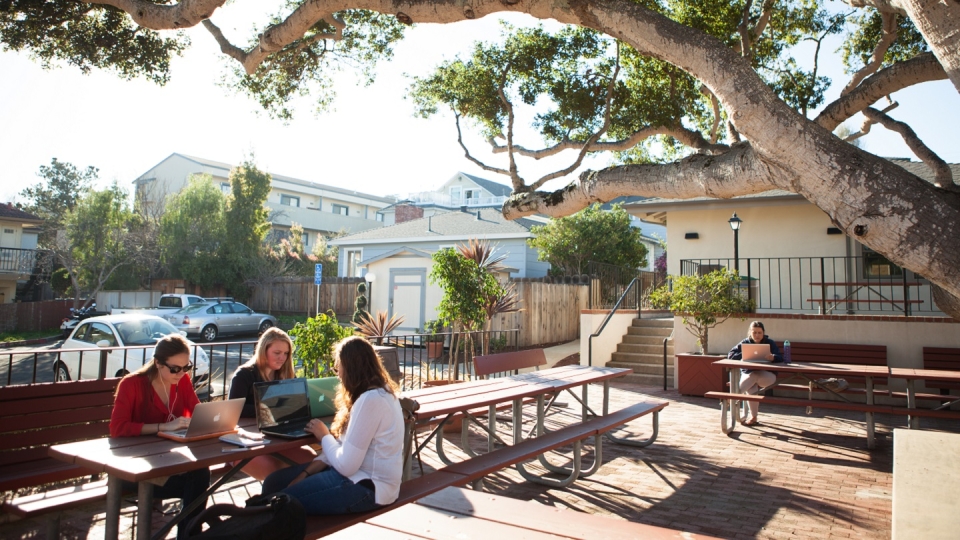 Gain the skills you need by taking one or more master's courses as a nondegree student.
Advance Your Career
Build your expertise in specific high-demand areas through our nondegree learning paths. You will also have the option to apply credits earned in these courses to one of our master's programs in the future. To get personalized advice on applying, financing your education, and your next steps please connect with your enrollment advisor.
"As a foundational step, I am currently enrolled at the Middlebury Institute in Public Policy and the Environment as a learning path course. Taking this course has been an incredible opportunity to introduce myself to the International Environmental Policy program and has further grounded me in my career goals."
—Melissa Ashley (Learning Path Student)
Courses
See what courses you can take as a nondegree student and their corresponding programs. Live class times are all Pacific Time Zone. Learn more about the different course instruction modes.
Principles and Practices of International Education
This foundational course will introduce students to the breadth of the international education field. Course content will emphasize fundamental principles of international education through a focus on seminal literature in the field. Additionally, the course will emphasize exploration of career specializations through interactions with practitioners and individual course assignments.
Instructor: Katherine Punteney 
Comparative International Education
This course offers an introduction to the breadth of educational systems and structures around the world, and the cultural, historical, philosophical, and economic forces that shape these systems. Additional topics to be studied include the effects of globalization on education systems; the role of international organizations and NGOs in the provision of formal and non-formal education; and issues of diversity, access, and inclusion as they manifest internationally.
Education and Development
The course aims to introduce students to perspectives and debates relevant to understanding the relationship between education and development (economic, political, social, etc.) and the politics of education development, with a focus on less developed countries. Students will examine international education initiatives (e.g., the Sustainable Development Goals, the Education for All goals, Poverty Reduction Strategies) and the work of multilateral (e.g., UNESCO, UNICEF, World Bank), bilateral (e.g., USAID, DFID) and international non-governmental organizations (e.g., Save the Children, Plan International, others), including debates on aid modalities in education development.
Managing People and Resources in a Cross-Cultural Context
This course prepares students to manage people and financial resources in programs, departments, or projects of moderate size and complexity. Course activities examine the complexities of staff and budget management in international and cross-cultural contexts. Specifically, students will learn about job description development, advertisement, inclusive selection processes, inclusivity, and ethics, managing remote teams, theory and practice of budgeting, and cost analysis. To manage resources effectively, managers must be able to establish trust, motivate staff, make difficult decisions, and communicate across cultural and organizational contexts. These critical skills are emphasized in this course.
U.S. National Security Policymaking
This course introduces students to the formulation of U.S. national security policy. It summarizes the roles played by different governmental actors, including the President, Congress, and relevant bureaucratic departments and agencies, and describes the interagency process. It then covers the influence of domestic politics on national security policy, including the impact of interest groups, the media, and public opinion.
Security and Arms Control in Northeast Asia
This course will examine contemporary issues relating to nuclear arms control, disarmament, and nonproliferation in Northeast Asia. Topics to be examined include China's strategic modernization, North Korea's nuclear and ballistic missile programs, and US extended deterrence commitments to Japan, South Korea, and Taiwan.
Political Violence in Latin America
Why is Costa Rica politically stable with little domestic violence while Colombia has struggled with eighty years of civil conflict? Why are drug cartels a problem in Mexico but not in Argentina? This course is an introduction to the dynamics and intricacies of political violence in Latin America. Understanding why political violence occurs, how it is used, what its effects are, and how it can be countered, is crucial to a clear understanding of the problems facing states and non-state actors, as well as the dynamics of a conflict-ridden global environment. Latin America has been particularly challenged by a high level of domestic violence, perpetrated by criminal, non-state, and state actors, but has attracted less public and policymaker attention than other regions. We will cover numerous subjects, including: why non-state actors and states use violent means to pursue political ends, as well as state repression and terrorism, riots, coups, revolutions, civil wars, communal conflict, and violence by insurgents, criminals, and terrorists.
Digital Extremism
In recent years, the Internet has provided extremists and terrorists revolutionary new ways to organize, radicalize, and recruit in pursuit of their aims. No longer confined to fringe communities, online extremism is a profound issue across every major social network and has played a role in political conflicts across the globe. In the first half of this course, we will explore the growing corpus of academic research on online extremism. In the second half, we will use open-source tools to collect, process, and analyze data on Internet-based extremists.
Terrorism in Southeast Asia
Various parts of South-East Asia have been plagued by terrorist violence in recent decades. South-East Asia refers to the region eastward from Burma/Myanmar till the Philippines. This course studies the phenomenon of terrorism in countries of the region such as Thailand, Indonesia, Malaysia and the Philippines. Some of the groups that this course examines include – Jemaah Islamiyah, Abu Sayyaf, Moro Islamic Liberation Front – their objectives, characteristics, composition, ideologies, tactics and fund-raising. Apart from these cases, the course also examines thematic issues such as the prospect of WMD terrorism and proliferation of WMD materials, maritime terrorism and piracy, and U.S. policy on counter-terrorism in South-East Asia. We also discuss connections between groups in South-East Asia and regional and global terrorist groups elsewhere, such as Al Qaeda and the Taliban. In order to have a comprehensive picture of non-state security threats in the region, the course also examines the various insurgent movements in Myanmar. Finally, given the close security dynamics between Australia and South-East Asia, this course also looks at terrorism-related issues in Australia.
Organizational Development & Leadership
Learn what it takes for organizations—a group of people with a shared goal—to work together and get things done. You will engage in analysis, diagnosis, and problem-solving exercises focusing on one organization of your choice.
Instructor: Mahabat Baimyrzaeva
Program Management and Analytics
This course will introduce you to the methods of effective program management, drawing on analytics and implementation science. We will look at program management through the lens of different social sectors and development priorities. This course is designed to deepen your analytical abilities so that you can better understand the complexity of program implementation, place programs and policies in context, and understand how interventions interact and affect stakeholders. And, we will develop your managerial skills so that you can translate evidence to effective practice.
Taking Measure of the Unmeasurable
Many of the problems that students at MIIS want to work on are structural, complex (meaning non-linear), have long success horizons (i.e., no 1-5 year project can truly solve them), and are only partially amenable to standard approaches and methodologies for assessing impact. Indeed, the difficulty of "measuring" structural progress in things like racial, economic, gender, and climate justice incentivizes projects and programs with short time spans, highly quantified "outputs" and "outcomes" which can be successful during their life spans but frequently fail to produce long-term impacts. Our class will a) unpack the reasons for a reliance on project modalities in social development work (spoiler: it's not because donors or public officials or NGO leaders are stupid), and b) introduce learners – at a conceptual level – to 8 approaches to assessing impact in complex, nonlinear, emergent contexts, approaches that can help us avoid "dumbing down" projects to measuring that which can be quantified, or counted.
Policy and Data Analytics
This course is a guided introduction to conceptualizing problems and making sense of quantitative information in the policy sphere. The course begins by introducing the theory and practice of policy analysis. The stages of the public policy process and methods for structuring policy inquiry are introduced to provide a means for deconstructing policy problems and asking relevant and practical questions in a policy context.
Next, the class is introduced to how such questions are addressed using quantitative tools. Topics to be covered include sampling, estimation, hypothesis testing, analysis of variance, and regression techniques. This will basically be a primer on applying inferential statistics to policy problems. The course will also include introductory training in the use of innovative statistical software, as well as Excel statistical functions.
International Politics and Development
This course introduces students to the politics of development, its contemporary debates, agencies and issue-areas. Development is a contested concept and practice that originates from the exercise of power, which is at the core of politics. Governments, International Organizations (IO), Non Governmental Organizations (NGO), and other social actors within Civil Society, have kept alive and thriving the debate on the best development practices that can better the lives of billions of individuals. It is a debate that takes place at multiple spatial and socio-political contexts, within and beyond the institutions of the state, yet its concrete outcomes are located within the boundaries of a specific state, or group of states. It is often assumed that states and societies share common development goals, this is far from being the case, as the key ideas, agencies and practices of development are shaped within domestic and international political systems where political and economic power are far from being distributed equally. Such unequal distribution of power is even greater between states with different levels, or models, of development. Today the economic and political gains from the dominant model of development are also far from being distributed equally. For these reasons it is fundamental that future practitioners recognize the limits and reaches of development models, as these are intricately related to how political power is conceptualized, exercised and distributed through a wide range of social contexts at domestic and international levels.
Indo-Pacific Security and Development
Indo-Pacific is a dynamic region of great importance by virtue of its population size, economic dynamism, and political and security challenges. The region is characterized by diversity in historical, civilizational, and ethno-cultural backgrounds, political systems, levels of economic development, and foreign relations, as well as global impact, making regional relations very complex and their management very difficult. This course will examine a broad range of foreign policy, trade, and (human) security issues that present both opportunities and challenges to the regional countries and the United States. The United States and China stand at the center of the security and development dynamic in Indo-Pacific. What policy moves they adopt in the region will have a profound regional and global influence. This course aims to help students gain an understanding of the state of security issues and development challenges in Indo-Pacific today. Following a brief discussion of Cold War security structures, history and memory, we will then focus on three current policy areas: security challenges in Indo-Pacific, economic development and regional integration and non-traditional security issues such as energy security, migration and environment. This course will engage a diverse array of approaches including a simulation of South China Sea dispute settlement, encouraging students to explore different levels of analysis and paradigmatic approaches to understanding this critical region in global political economy.
Comparative Migration Policies
This course takes various forms, ranging from regular (legal) and irregular (illegal) migration, refugees and asylum-seekers, internally displaced persons (IDP), human trafficking and people smuggling, unskilled and skilled labor to temporary and permanent residency. Migration issues range from migrants' rights, national and human security implications to economic and social impacts in sending and receiving countries. Moreover, immigration policies are the result of domestic forces, including inter and intra-institutional power dynamics, public opinion, national identity considerations, partisan struggles, social and economic requirements, demographic and population changes, national security, and foreign policy. This seminar will focus on the different factors and categories of migration and the state policies that manage and control migration flows. Each student will develop a comparative analysis of two countries' immigration policies that share similar policy challenges. The research will include a description of the shared policy challenges with a policy analysis of the similarities, differences, and effectiveness of their migration policies.
U.S.-Mexico Relations
The United States and Mexico share one of the longest borders in the world; they also have one of the most complex bilateral relationships yet, it is one that is not always understood and explored adequately. In this seminar students will be exposed to the key historical events that have shaped the present relationship. They will explore the similarities and differences of a relationship that makes it one of the toughest to manage. Students will explore the key aspects that make up a bilateral agenda that can be considered one of the most challenging in international policy: An uneasy past, constant immigration pressures, drug trafficking, trade issues, environmental problems, and new security challenges.
Imports/Exports and Trade Law Compliance
This course and associated lab provide participants with instruction in three core trade law compliance disciplines: Trade Law Compliance (International and Domestic), Compliance with Import Procedures, and Compliance with Export Procedures. It will also provide participants with practical, hands-on training in dealing with real-world problems or simulations that give them the opportunity to apply what they have learned and thereby reinforce what they have learned during the instruction period(s). It will provide participants with many of the requisite practical skills necessary to meet a growing need for professionals who possess the requisite background and skills to guide corporations and government agencies through the myriad of laws and regulations dealing with international and domestic trade law compliance. In addition to learning and applying practical skills, participants will be able to participate in long-term research and writing projects to support demands from industry and government for analyses of trade compliance issues.
International Finance
In this course, students will learn to recognize the predisposing factors of a financial crisis and policy options for optimal financial crisis management by looking at historical case studies. But first, we will look at how the ForEx (foreign exchange) market works, who are the different players, how are typical transactions structured, different exchange rate regimes (e.g. pegs, crawling bands, free floats, monetary union), factors influencing exchange rate determination, balance of payments, and sovereign debt sustainability. Students will parse multiple financial crises from both emerging markets and OECD economies. In addition to readings related to cases, students will also have regular reading assignments of current events.
Applied Conservation Science and Policy
This course is about saving life on earth. It provides the scientific foundation required to formulate sound environmental policies capable of addressing human population growth, habitat destruction, resource overexploitation, and other anthropogenic factors that continue to undermine the earth's ecological systems. The course focuses on scientific underpinnings of conserving the world's remaining biological diversity (aka "biodiversity"). It draws from biology, ecology, and other natural sciences to deliver the broad scientific training that future policymakers need. As a short survey course, the goal is not to transform you into a biologist or an ecologist, but rather to equip you with the basic knowledge you need to understand how the natural world works, speak the language with confidence, and use science to develop sound environmental policy.
International Environmental Policy (all courses)
All of the courses in our IEP program are available as learning path courses for nondegree students. Available courses include Public Policy and the Environment, Research Strategies for Environmental Policy, Governing the Global Commons, Environmental & Natural Resource Economics, Geographic Information Systems (GIS), Data Analysis for Public Policy, and more. Learn more.
Localization Learning Path Courses
Build your expertise in specific localization areas like project management, program management, internationalization engineering, media localization, and more through a wide range of courses grouped into learning paths. Learn more.
Other course descriptions will be added soon.
Costs
Nondegree students in our learning paths pay the same per-credit price as our degree-seeking students. 
The per credit rate is $1,600 for the 2022–23 academic year.
Many employers have tuition assistance programs to help cover the costs of professional development opportunities like these courses so we encourage you to reach out to the appropriate contact at your organization to see if tuition assistance is available.
How to Apply
We encourage you to apply at your earliest opportunity, as a limited number of nondegree seats are available for each course. In your application, choose the corresponding program that houses your course(s) of interest. If your application is approved, you will be introduced to your advisor(s) and register for your course(s) during orientation.
Start Term
You can take classes in the fall, summer, or spring semester.
Admission Prerequisites
These courses are designed for both U.S.-based and international professionals who either:
Hold a bachelor's degree OR
are current undergraduate students at Middlebury College or one of our partner colleges/universities.
Please note that our localization learning path courses have different admission requirements.
Application Checklist
The online application requires the following information:
Personal information
Financial support
Education background
Professional background
Career goals
Proof of English proficiency
$65 application fee: waived for Institute alumni and employees of our partner organizations
Select Non-Degree or Certificate in the key questions section
Select the appropriate program for your course(s) of interest
International Students
Please be advised that the Learning Paths do not make international students eligible to obtain a visa to study in person in the U.S.
Convert to Degree-Seeking
As your career goals evolve, you may decide you would benefit from a full master's program. As a degree-seeking student, you will have access to the Institute's full range of resources, including professional development and career fairs. Once you have taken a nondegree course, you will have a simplified application process to enter the degree program. You will receive credit for any nondegree courses that you have taken, allowing you to waive those classes. Please visit the How to Apply page for your program of interest to review the degree admission requirements.