Learning Path Courses for Nondegree Students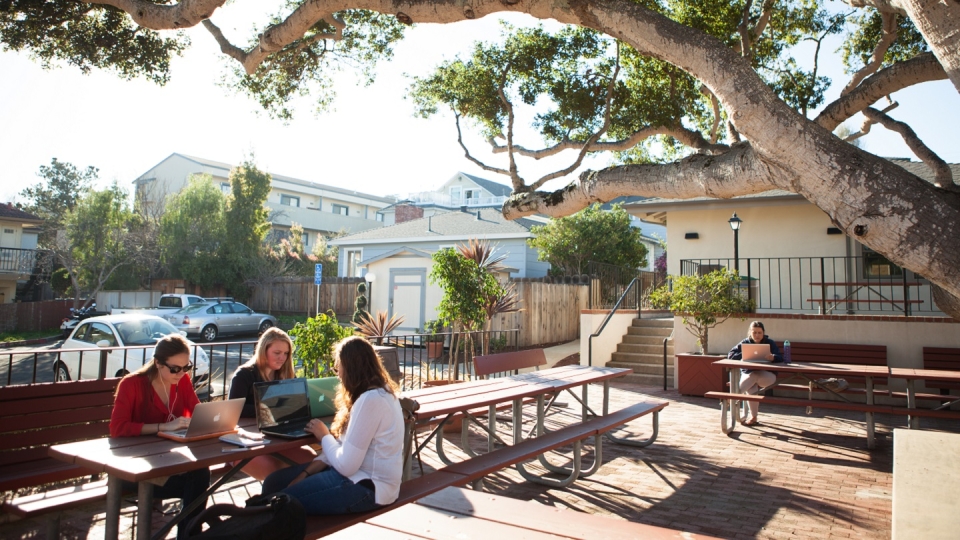 Gain the skills you need by taking one or more master's courses as a nondegree student.
Advance Your Career
Build your expertise in specific high-demand areas through our nondegree learning paths. You will also have the option to apply credits earned in these courses to one of our master's programs in the future. To get personalized advice on applying, financing your education, and your next steps please connect with your enrollment advisor.
"As a foundational step, I am currently enrolled at the Middlebury Institute in Public Policy and the Environment as a learning path course. Taking this course has been an incredible opportunity to introduce myself to the International Environmental Policy program and has further grounded me in my career goals."
—Melissa Ashley (Learning Path Student)
Courses
See what courses you can take as a nondegree student and their corresponding programs. Live class times are all Pacific Time Zone. Learn more about the different course instruction modes.
Language Teaching for Social Justice
Instructor: Netta Avineri
Benefit from the transformative potential of language instruction to eliminate discrimination and to raise social justice and equality at large. This course explores pedagogical principles and practice opportunities for language teachers who would like to integrate social justice issues into their classes. Teachers of all languages are encouraged to enroll. The course will cover the following critical issues:
Immigration and peacebuilding
Environmental education and sustainability
Gender equality
LGBTQ+ inclusive pedagogy
Race and ethnicity
Class and economy
Teaching Language Online
Instructor: Netta Avineri
The course focuses on general approaches to teaching online (as entirely online courses, hybrid/blended models, and online elements for face-to-face classes) as well as specific approaches to teaching languages online. Discussions and class activities will focus on debates around online education; relationships among SLA theories, teaching philosophies, and online teaching; and online language teaching/learning tools. Students will have the opportunity to create and deliver an online lesson and build online language learning units that match their pedagogical and professional interests. Teachers of all languages are encouraged to enroll.
Intro to Language Program Administration
Instructor: Jason Martel
This course provides an overview of the field of language program administration (LPA). It involves not only discussing central issues but also carrying out key performance tasks associated with LPA work. Teachers of all languages are encouraged to enroll. As a result of taking the course, you will be able to: 
analyze leadership skills necessary for working in intercultural settings
articulate coherent and forward-thinking visions for language programs
manage a range of program logistics based on articulated visions
conduct basic program evaluation in conjunction with articulated visions
Localization Learning Path Courses
Build your expertise in specific localization areas like project management, program management, internationalization engineering, media localization, and more through a wide range of courses grouped into learning paths. Learn more.
Costs
Nondegree students in our learning paths pay the same per-credit price as our degree-seeking students. The per-credit rate is available on our tuition page.
Many employers have tuition assistance programs to help cover the costs of professional development opportunities like these courses so we encourage you to reach out to the appropriate contact at your organization to see if tuition assistance is available.
How to Apply
We encourage you to apply at your earliest opportunity, as a limited number of nondegree seats are available for each course. In your application, choose the corresponding program that houses your course(s) of interest. If your application is approved, you will be introduced to your advisor(s) and register for your course(s) during orientation.
Start Term
You can take classes in the fall, summer, or spring semester.
Admission Prerequisites
These courses are designed for both U.S.-based and international professionals who either:
Hold a bachelor's degree OR
are current undergraduate students at Middlebury College or one of our partner colleges/universities.
Please note that our localization learning path courses have different admission requirements.
Application Checklist
The online application requires the following information:
Personal information
Financial support
Education background
Professional background
Career goals
Proof of English proficiency
$65 application fee: waived for Institute alumni and employees of our partner organizations
Select Non-Degree or Certificate in the key questions section
Select the appropriate program for your course(s) of interest
International Students
Please be advised that the Learning Paths do not make international students eligible to obtain a visa to study in person in the U.S.
Convert to Degree-Seeking
As your career goals evolve, you may decide you would benefit from a full master's program. As a degree-seeking student, you will have access to the Institute's full range of resources, including professional development and career fairs. Once you have taken a nondegree course, you will have a simplified application process to enter the degree program. You will receive credit for any nondegree courses that you have taken, allowing you to waive those classes. Please visit the How to Apply page for your program of interest to review the degree admission requirements.