10,000 Futures: Modeling Climate Risk in Monterey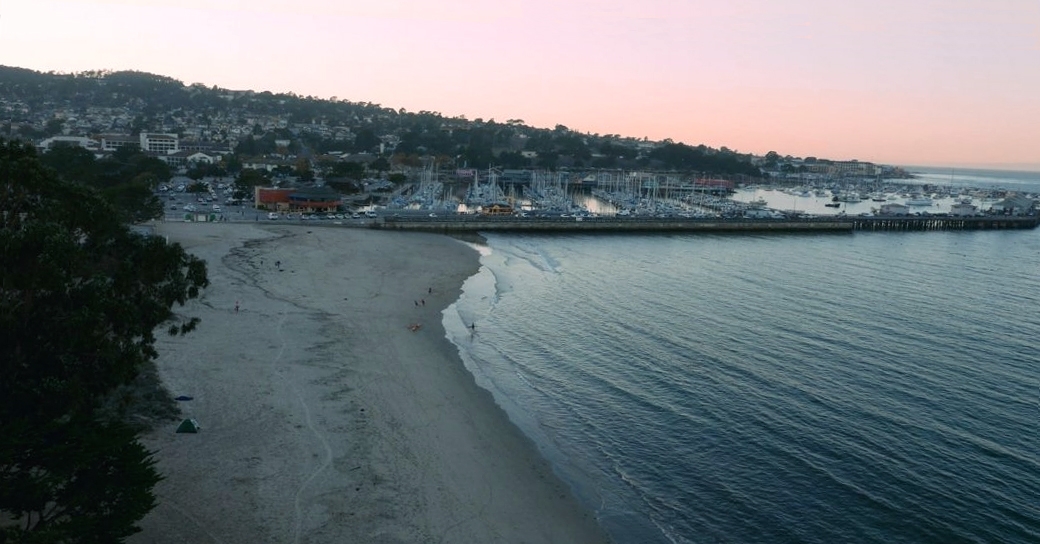 The Center for the Blue Economy has developed pilot software modeling 10,000 possible futures over 80 years to help the City of Monterey adapt to sea level rise. 
Imagine that you are a city manager in coastal California.  Climate scientists are warning that sea level will rise, and coastal cities must prepare for increased storm surge and flooding. However, there is no certainty on how much the sea will rise.  Current best practice is to take three scenarios, with a high, medium, and low prediction, and typically the median is used for planning purposes.  But the world is much more complex than that.  What are the odds that the Antarctic ice sheet will collapse?  How much will various adaptation options cost?  How long will such measures last in the face of increasing storm intensity?  Do you act now, or in the future? 
The Center for the Blue Economy with funding from the NOAA Sea Grant Program developed an interactive software platform to help regional decision makers understand the best bet for the money.  This pilot software models 10,000 possible futures over 80 years, allowing regional leaders to define six to seven inputs, and combining economic data and other data to determine to the maximum benefit of various strategies.  The study used data on sea level rise from Rutgers University that incorporates the most recent science. Monterey's Del Monte Beach and Cannery Row were used to test the model with significant findings. The model will be expanded and used in upcoming research on adaptation strategies for the Highway One corridor at Elkhorn Slough and the protection of water utilities in the state of Maine.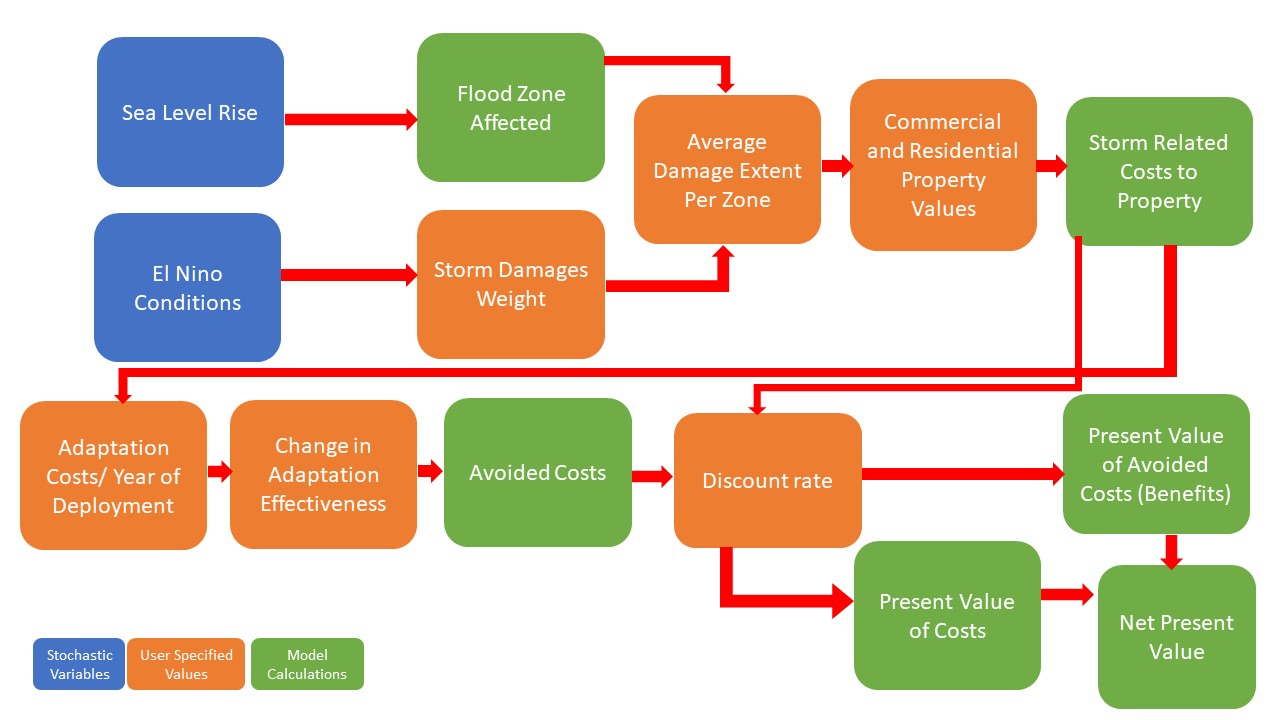 The Center for the Blue Economy interactive computer software has several inputs:
Sea level rise—expressed as probabilities, based on most comprehensive data to date (five causal factors), and then running probabilities over 80 years with 10,000 scenarios.  
Storminess—storms are the driver of majority of damage; this study incorporated El Nino (warmer Pacific)/La Nina (colder Pacific) scenarios
Geography—for this study we used the two areas of Monterey most likely to face flooding—Del Monte Beach and Cannery Row.
Economic value of assets in defined geography
Intergovernmental Panel on Climate Change (IPCC) scenarios—various carbon emissions futures (low, medium, high)
Methodology:  For this study, we calculated the economic costs of sea level rise and flooding with no adaptation, compared to the cost of adaptation.  The difference is the benefit, also known as the "Avoided Cost Strategy." 
Findings:  The Center for the Blue Economy is changing the conversation about what to do about sea level rise.  Right now regional leaders ask: how big is the problem and what should we do?  With this model, we empower them to ask, "What are the probabilities of a little versus a lot of sea level rise, and what are the probabilities that the benefits of any strategy we chose to minimize damages will exceed the costs?"  This requires leaders to decide how much risk they are willing to accept both in the dangers from sea level rise and in the effectiveness of adaptation options.
In Monterey, out to 2040, there is not much change in sea level.  After 2040 things start to change, and after 2050 the high IPCC scenarios give Monterey some very big changes.  Even under the lowest IPCC scenario, Monterey can get up to 2 meters of sea level rise—it's small probability, but it could happen if Antarctic ice sheets melt.  All possible futures are factored into the model.   
This study looked at two scenarios, beach nourishment and hard armoring for Del Monte beach. The results narrowed down a window of time that beach nourishment will yield the most protection for investment.   Coastal armoring was shown to be of no use in the highest sea level rise scenarios, and it deteriorates quickly.
For Cannery Row, the study asked "How much sea level rise are you willing to endure before you take action."  Revetments, groins, reinforce buildings—this line of research did not look at specific adaptation actions, just how much money was on the line, and at what trigger point.   "Median" models use 30cm, however this study found that the trigger point had to come down to 10-20cm for any action to be economically viable.