Finding the $ for Climate Adaptation: ShoreUp Maine 2019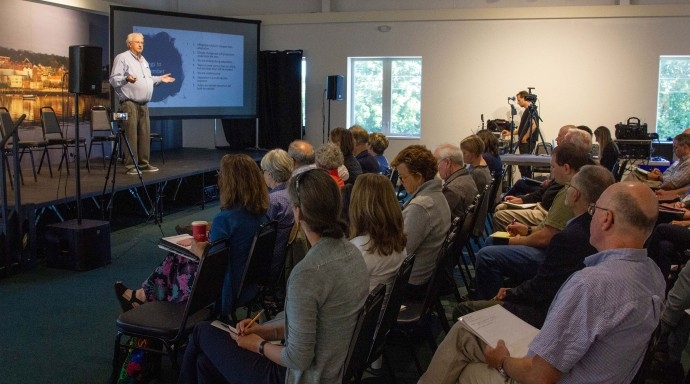 Many Maine communities have identified climate-related vulnerabilities to their homes, businesses and natural areas, due to the impacts of sea level rise and increases in severe storms. Finding funding for adaptation solutions is often a major barrier to addressing these concerns and moving forward.
 
Dr. Charles Colgan, Director of Research at the Center for the Blue Economy has a long history of helping regions, states, and nations understand the value of coastal resources, and adapt to changing needs.   He  innovated the methodology for quantifying the economic contributions of oceans and coasts,  co-founding the National Ocean Economics Program (NOEP), considered by many researchers to be the best source of data on ocean and coastal economics. He also is deeply connected to the state of Maine, making him an ideal keynote speaker for the ShoreUp Maine 2019 Conference held on Friday, September 27th in Belfast, Maine.
His long ties to the state of Maine include roles as Professor of Public Policy and Management at the University of Southern Maine, and Chair of the Muskie School's PhD Program in Public Policy. His long-term economic forecasts are still used by the Maine Department of Transportation and the Economic Development Districts of Maine. He also served in the Maine State Planning Office, was State Economist, and Director of Natural Resource and Economic Policy.
In his keynote at the ShoreUp Maine 2019 conference, Dr. Colgan discussed the climate-related challenges facing our coastal communities and approaches to resilience actions.  He told the crowd there are several things to think about:
1.  Mitigation is MUCH cheaper than adaptation.
2.  Climate change and sea level rise projections understate the risks.
3.  You are already doing adaptation.
4.  There is more money than you think, but less than what will be needed.
5.  You are underinsured.
6.  Adaptation is a multi-decade response.
7.  Public and private resources will both be needed.
Full notes from Dr. Colgan's address are linked below, and you can see video from the panel discussions on the Island Institute Facebook page.