Global Dialogue on Ocean Accounting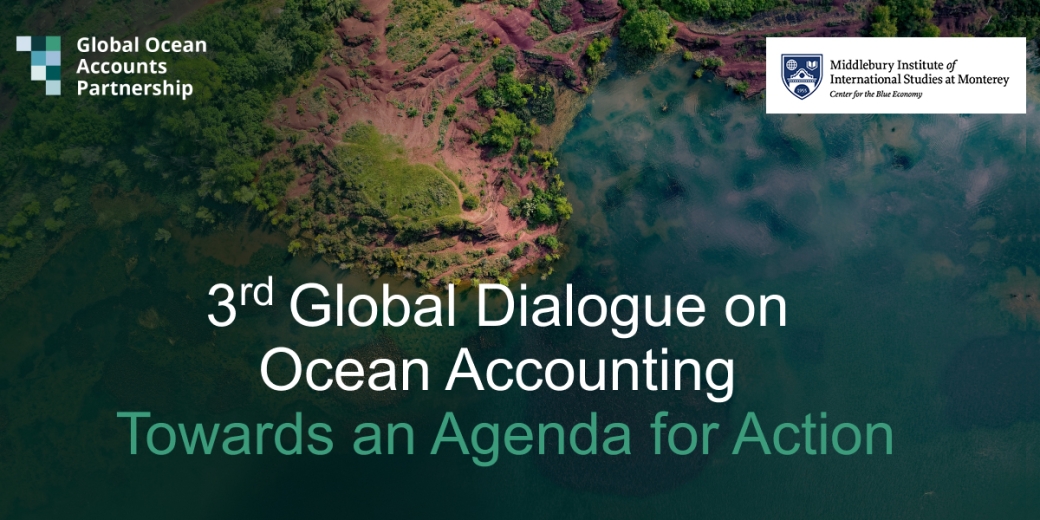 Ocean accounts organise social, economic and environmental information to enable coherent measurement of progress towards sustainable ocean development.
Save the date: March 30th 
Wednesday, March 30th, 2022
Online via Zoom, program begins:
12:30am: Pacific Daylight Time, Monterey (UTC-7)
01:30am: Mountain Daylight Time, Boulder (UTC-6)
03:30am: Eastern Daylight Time, New York (UTC-4)
08:30am: British Summer Time, London (UTC +1)
02:30pm: Western Indonesia Time, Jakarta (UTC +7)
06:30pm: Australia Eastern Daylight Time,Sydney (UTC +11)
Registration required
Free, open to the public
Full agenda is pending 
Description:  The event will bring together governments, international organisations, research institutions, and other stakeholders to discuss the importance of ocean accounts, how they are implemented and what they deliver for countries and coastal communities. The event will also facilitate the creation of an agenda for action to further ocean accounting efforts among a global community of practice. 
The Center for the Blue Economy is pleased to be a supporter and co-sponsor of this event organised by the Global Ocean Accounts Partnership (GOAP).  GOAP is a global, multistakeholder partnership established to enable countries and other stakeholders to go beyond GDP to effectively measure and manage progress towards ocean sustainable development.