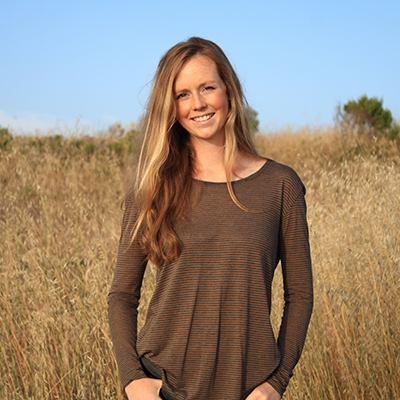 Most tourists come to the Monterey Bay to enjoy the scenery and to enjoy the fresh, local seafood.  Yet not since the early 2000's have consumers been enjoying entirely local or fresh seafood. 
With the collapse of the groundfish fishery – which includes species like sanddabs, petrale sole and rockfish – well-intentioned regulations drove many local fishermen out of the market and forced local catch to be trucked to the San Francisco Bay area for processing.  Today, much of the fish sold in Monterey is likely from Canada or Asia, and even the local catch of the day has roughly 240 food miles before reaching the diner's plate.  
Ms. Oliviya Wyse and the Monterey Bay Fisheries Trust are hoping to heal the supply chain by supporting local fishermen with affordable fishing rights and identifying new market opportunities for local, sustainable, and traceable seafood.  Monterey Bay Fisheries Trust (MBFT) was founded in 2014 with support from the Monterey Bay Aquarium, the Packard Foundation, and the City of Monterey (to name a few). Their work includes acquiring West Coast Groundfish fishing rights (individual fishing quotas and expensive permits) and leasing them at affordable rates to fishermen. Revitalizing the local market is more complex—the capacity to process fish locally depends on the reliability of supply and demand and infrastructure, but the MBFT is trying to address this tangled net.  They connect fishermen to buyers, markets, and restaurants through "old fashioned handshakes and modern technology," and they stoke demand through public education events (Get Hooked Restaurant Week) and build awareness and trust in the sustainability and traceability of local products.   
Oliviya started working with the MBFT in 2018 as a Center for the Blue Economy Fellow, where her work focused on exploring traceability.  She tracked programs around the world that had successful traceability programs in order to recommend what may work in Monterey Bay.  In addition, she helped to expand and coordinate the MBFT's Lost Gear Recovery Program which works with the local fishing community to locate and recover "ghost gear" and derelict Dungeness crab pots.  After graduation, Oliviya was hired as a full-time Program Manager, where she continues her good work on traceability and ghost gear.
Oliviya' s new work is to expand and develop leadership programs for the MBFT, and she coordinates a monthly newsletter for industry folk (the Buoy Bulletin) which tracks current policy, management and science. She is continuously developing resources, identifying opportunities, and facilitating meetings to ensure the fishing community is actively engaged in fisheries management, policy and science.
The Middlebury master's program in International Environmental Policy (IEP) and the Center for the Blue Economy Fellowship was the "foundation" needed to secure Oliviya's position with the MBFT.
"Having a paid summer fellowship is beneficial for both the student and the host organization" says Oliviya, "I gained the skills I needed to succeed through my IEP coursework and applied that directly to my work with the MBFT." Oliviya graduated in May 2019.