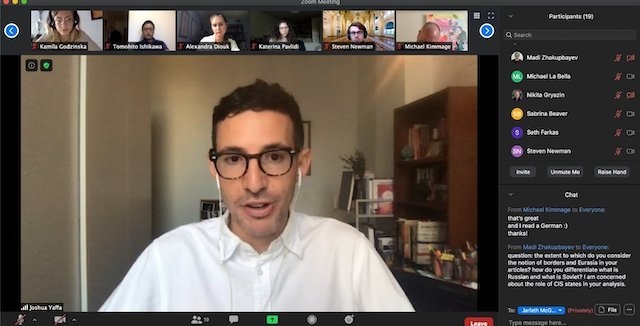 Joshua Yaffa, a Moscow correspondent for The New Yorker, discussed his book, Between Two Fires: Truth, Ambition, and Compromise, with students in 400- and 500-level Russian courses on November 5 in a conversation hosted by the Graduate Initiative in Russian Studies (GIRS).

 
Yaffa described his "accidental" route to Russia as well as the journalistic benefits of being an outsider in Moscow with insider language skills. Students gained a glimpse into long-form, narrative journalism and the nuanced and complex portraits of modern Russia this form allows Yaffa to share with the English-speaking world.
In addition to fielding questions on his interview tactics and Russian reactions to his book, Yaffa spoke about the importance of humanizing the compromises individual Russians make in order to function within the top-down power structure imposed by the Russian government. In Between Two Fires, Yaffa reveals the individual as an active participant in a dynamic Russia, challenging the overly simplistic Western view of Russian people as oppressed and the Russian State as oppressor.
Journalist, author and documentary filmmaker Vladimir Pozner spoke with students in 400- and 500-level Russian courses about the development of mass media in Russia, the deterioration of U.S.-Russia relations, and the changing nature of how information is received through technology.
 
The Graduate Initiative in Russian Studies (GIRS) recently hosted Matthew Rojansky, director of the Kennan Institute at the Woodrow Wilson Center, and Jill Dougherty, former CNN correspondent and instructor at Georgetown University, to lead a workshop entitled "How to Do a Television Interview."
MIR Fellows Megan McCullough and Jacob Dwyer were supported to attend and represent the Initiative and MIIS at conferences focused on the Post-Soviet region.