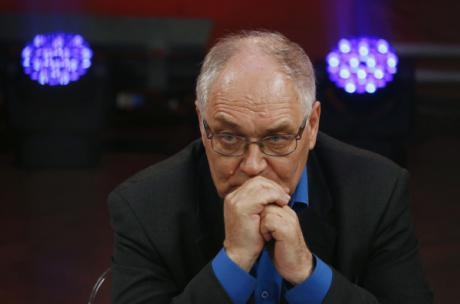 On November 8, Dr. Lev Gudkov, director of the Levada Center, met with MIRS fellows to discuss the image of the "West" in Russian public opinion from the fall of the Soviet Union to today.
The Levada Center is a Russian independent, non-governmental polling and sociological research organization with a network of 67 regional offices that maintains partnerships with centers of public opinion research in the CIS and Baltic countries. MIRS fellows have been responsible for the translation into English of many of the Levada Center's sociological polls over the last several years.
Dr. Gudkov centered his lecture around a series of polls conducted by the Levada Center over the last thirty years that traced Russian public opinion on a variety of questions, such as: whether or not the country was on the right track, Russia's view of itself as a great world power, support for President Putin, whether or not Russia should join the EU, and lastly, Russians' view of the West.
The Levada Center found that Russian public opinion surrounding support for Putin and an overall satisfaction with the direction of the country plummeted during periods of internal unrest over unpopular domestic reforms, specifically Putin's attempts to overhaul the pension system, and conversely peaked during periods of military engagement, which served to unify the country. These peaks likewise coincided with a rise in anti-Western rhetoric and sentiment starting in 2008 with the Russo-Georgian War and speaking sharply during the Crimean mobilization.
This Monday, November 12, Dr. Gudkov will present his lecture entitled "Russian Society Before and After the "Crimean Mobilization" (2013-2018)" in the James Martin Center for Nonproliferation Studies on the Middlebury Institute campus from 12:15 p.m. to 1:50 p.m. This lecture is open to the public.