Next Application Deadline July 1
2022 Symposium On World Language Education (SOWLE)
THANK YOU FOR ATTENDING SOWLE 2022!
The SOWLE Committee is proud to have planned this professional conference, and we hope you enjoyed attending one of our many sessions during the event.
We would like to thank each and every one of you for registering for our conference. We would also like to thank our TESOL/TFL volunteers for helping us piece together our event fluidly, and our Translation and Interpretation student interpreters who offered their services throughout the event.
We would also like to thank the following individuals for their work in helping the SOWLE Committee successfully plan this professional conference: Angie Quesenberry for behind-the-scenes logistics, Stacie Riley at Room Reservations, Mark Basse our Multimedia Producer, Dr. Renee Jourdenais for organizing the Leo van Lier Panel, the Leo van Lier panelists Steve Thorne, Dongping Zheng, Julie Sykes and Glenn Levine-West for enriching Dr. van Lier's impact, and our Faculty Advisor Dr. Kathi Bailey for being an endless resource for all of us.
We hope to see you all at next year's Symposium!
---
SOWLE 2022 (previously known as MIIS's Foreign Language Education Symposium - FLEDS) is an annual conference that provides language teachers with opportunities to discuss current trends and issues in world language education. The Symposium is hosted by the Graduate School of Translation, Interpretation, and Language Education (GSTILE) at the Middlebury Institute of International Studies at Monterey (MIIS). 
The Symposium will be held virtually on February 5th, 11th & 12th, 2022.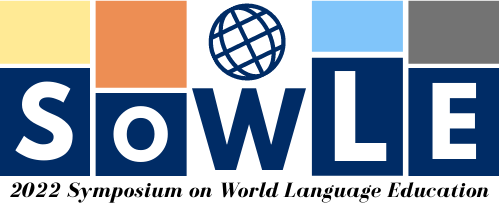 This year's theme: "Promoting Equity and Leadership in the Language Classroom"
The SOWLE Committee believes that in order to promote equity and leadership in the classroom, world language teachers must actively adapt their lessons and classroom communities to better serve the interests and needs of their students. This can be approached through fostering leadership strategies to address inequality still present in our disciplines and institutions.
Mid-Conference Panel on February 11th
Ecology in Language Learning: Identifying Equitable Opportunities
A Panel presentation at the 2022 Symposium on World Language Education
February 11, 2022, 10 AM to 12 PM Pacific Standard Time
Panelists: Steve Thorne, Portland State University; Julie Sykes, University of Oregon; Dongping Zheng, University of Hawaii; Glenn Levine, University of California at Irvine
This panel presentation was motivated as a tribute to the late Professor Leo van Lier, a leading author and researcher in the field of ecological linguistics. Leo joined the MIIS TESOL-TFL Program faculty in 1986, where he subsequently influenced decades of language teachers and researchers as he pushed to broaden the concept of the language learning environment. His work in Britain, Peru, Mexico, Scandinavia, and the Netherlands expanded his impact throughout the applied linguistics field. The panelists, whose work was influenced by Leo's thinking, will share their research and thoughts on "Ecology in Language Learning" and help us trace Leo's influence on the field. 
From 12:00 - 1:00PM PST, participants are welcome to stay after the panel to participate in an informal memory sharing event hosted by Professor Kathi Bailey.