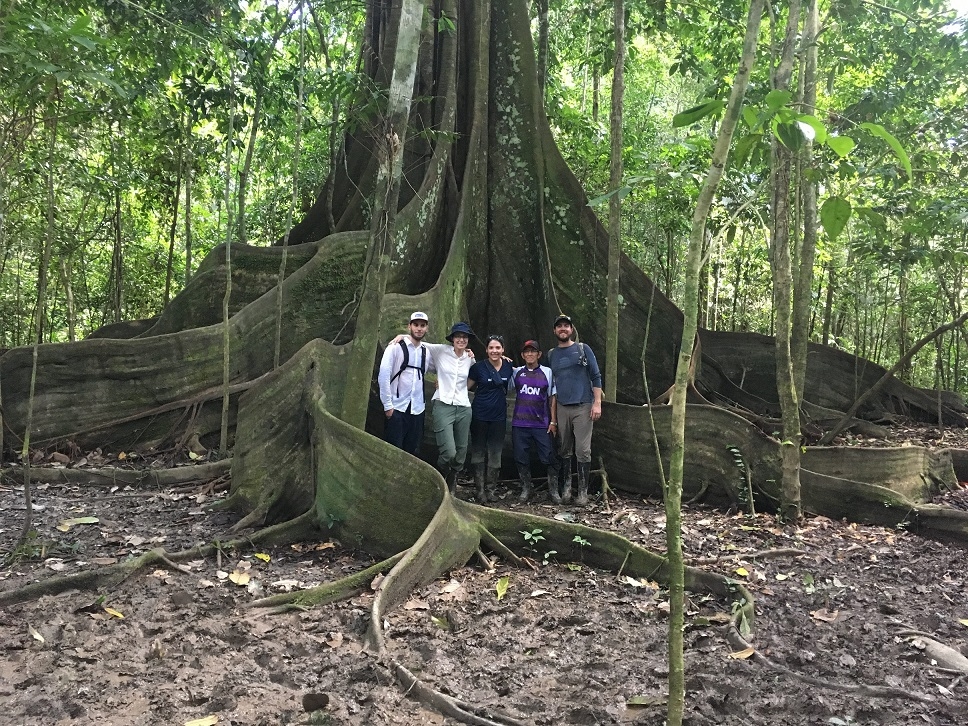 Read Samantha's account of her time spent in the Colombian Amazon where she honed her translation and interpretation skills.
This J-term, I spent two weeks interpreting in the Colombian Amazon for English-speaking tourists. To be more exact, I was based in Puerto Nariño since that is where the main office of Amazonas Jungle Tours Operator is located. Puerto Nariño is a lovely little town set on the banks of the Loretoyaco river, a tributary of the Amazon, and the jungle (an unreal setting). This was the jumping off point for tourists travelling with the agency. Tour groups would arrive to Puerto Nariño by boat from Leticia, where I would meet them with a guide, and then the tour would start. Tours offered by the agency can last for 1-4 days, but 3 and 4 day tours are the bread and butter of Amazonas Jungle Tours Operator. The tours vary of course, but guides and interpreters usually meet with tourists at 8 am for breakfast, head out on activities, have lunch, head out on another activity and then come back for dinner. Activities included jungles walks during the day and at night, dolphin sighting, visiting indigenous communities, piranha fishing, kayaking, interacting with local wildlife, swimming in the river, and going to two local museums. The typical tour day usually comes to an end around 7 or 8 pm. This means that your days as an interpreter are pretty long since you have to be constantly paying attention and ready to interpret whether you're on a hike, have a monkey sitting on your head or you're sitting at dinner. Since days are so long, you also interpret a variety of conversation topics ranging from the flora and fauna of the Amazon to how the cutlery industry in Sheffield, UK flourished, covering local culture, as well as personal stories and anecdotes of both the guides and tourists. As an interpreter, you had to be constantly paying attention, this was exhausting at times, particularly in the Amazonian heat, but making sure that everyone was involved and conversation could flow seamlessly was extremely rewarding.
In interpretation class, we also discuss the importance of placement. Where an interpreter stands or sit can impact how well they are able to hear the speaker and how well the recipients of the interpretation can hear them. This was certainly something to keep in mind during my tours in the Amazon. Particularly when hiking in the jungle, it is extremely important to be right behind the guide. The paths are narrow so if you're caught behind the tourists when the guide starts to give an explanation, it's really difficult to hear or to get closer to the guide. If you're right behind the guide, you'll also be a conduit for tourists to ask questions as soon as they think of them since you'll be right next to the guide. We also spent a lot of time on boats during the tours. Interpreting on a boat had its challenge as well since the motor tends to be loud and you really have to speak up in order to be heard. Usually the guide will slow down when he wants to point something out to the tourists or give an explanation, so it'll be easier to hear, but tourists can ask questions or make comments at any point during the boat ride so you have to be attentive. I usually found that sitting right in front of the guides and behind or next to the tourists (depending on group size) was best for hearing comments and questions and being heard.
Most, if not all, of the guides that work with Amazonas Jungle Tours Operator are accustomed to working with interpreters. They help facilitate interpretation by speaking in short to medium length segments, particularly since it's not really practical to carry a steno pad with you in this environment, and will be happy to repeat or clarify anything that you didn't get at first. During my first tour, I had a bit of difficulty with a few indigenous terms since Tikuna is prevalent in the area, but my guide would repeat the term without me asking to make sure that I explained to the tourists exactly what it meant. This was really helpful and allowed me to remember the terms for my next tour.
My experience as an interpreter in the Colombian Amazon is one that I'll never forget. As I reviewed possible vocabulary on the flight down to Leticia, I was worried that I wouldn't know certain terms in English or that I wasn't prepared. But when I arrived and I started interpreting, I remembered that my primary role as an interpreter is to facilitate understanding and that I was prepared. My job as an interpreter allowed me to help the guides introduce the tourists to the beautiful scenery and amazing wildlife of the Amazon. My interpretation helped the tourists have a memorable time in the Amazon while learning about the local culture. To sum it up, I loved this experience and I would go back to interpret in a heartbeat. Not only did I practice my interpretation, but I learned so much while doing so.
I would recommend this experience to anyone that has an interest in nature. While there is currently no camping component to the tours, there is a lot of hiking and wildlife encounters.