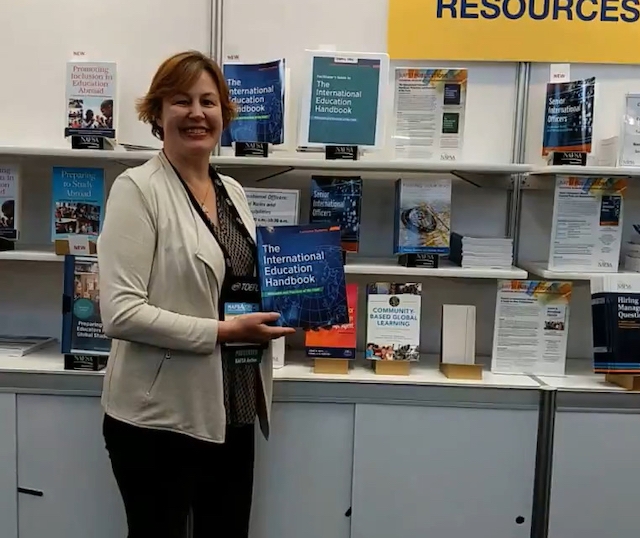 The Association of International Educators (NAFSA) has published The International Education Handbook: Principles and Practices of the Field by Middlebury Institute Professor Katherine Punteney, founder of the Institute's International Education Management Program (IEM).
 
A comprehensive overview of the rapidly growing field and discipline of international education, the book identifies the research, trends, challenges, and expectations of good practice that inform the profession. Punteney says that she has been teaching an introductory course on the field since the IEM program began and found that no textbook really suited. A colleague suggested she was the right person to fix that, and when she was due for a sabbatical she knew what her main project would be. The book was published this spring and is already headed for a second printing.
As a companion to the textbook, Punteney and alumna Jayna Winn MAIEM '14 wrote a facilitator's guide, offering student learning outcomes, discussion and reflection questions as well as classroom and online activities linked to each of the ten chapters. Winn is the associate director of Custom and Faculty-led Program at CEA Study Abroad, where she leads a team that partners with U.S. universities to develop and facilitate high-quality education abroad programs, supporting their specific learning outcomes and student populations.
Punteney is very grateful to alumna Kylee Arnold MAIEM '16 and the graduate research assistants who contributed to the textbook; Lennox Atkinson MPA '19, Harrison Gill MAIEM/MPA '18, Erin Kelly-Weber MAIEM/MPA '19, Amanthi Weerasinghe MAIEM '19, and Elisa Yanagihashi MAIEM '19. "The textbook benefitted from the feedback students have provided on drafts in classes over the past two years," Punteney says, and adds that she also greatly valued the constructive input of fellow faculty in the IEM program.
As the second printing proves, her contribution to the field has been well received, and Punteney says she hopes that the book will be useful to students in graduate programs nationwide, as well as a resource for individuals who are new to the field, or are changing sectors.
Middlebury Institute Professor and International Education Management Program Chair Katherine Punteney was honored with the Service in International Education Award at the Association of International Educators (NAFSA) Region 12 Conference.
Close to 40 Monterey Institute students and faculty members from the International Education Management program attended a recent NAFSA: Association of International Educators conference, with eight presenting there.
Graduates of the Monterey Institute's new Master of Arts in International Education Management program are expected to fill key positions in the growing international education sector.