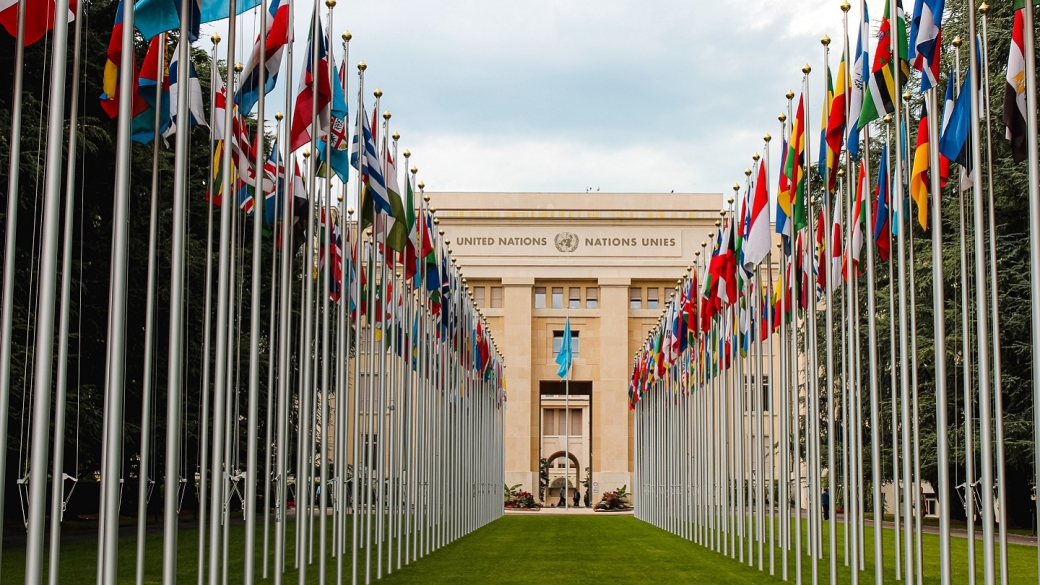 Two alumni, who work as staff interpreters for the United Nations, recently gave virtual presentations for students interested in careers at the UN.
For more than a year, Institute students have been managing the challenges of travel and gathering restrictions during the COVID-19 pandemic. But there has been an unexpected benefit: the increased use of remote communications has made it easier for alumni from around the world to share their expertise with current students.
As an example, two alumni of our translation and interpretation master's programs, who work as staff interpreters for the United Nations, recently conducted free subject-matter workshops (via Zoom) for interpretation students interested in learning more about careers at the UN.
On March 23, Dylan Westfeldt, a 1999 graduate of the MA in Translation and Interpretation degree program, is based in Geneva, Switzerland. Dylan presented a live workshop titled "Disarmament Basics for Translators and Interpreters." In it, he gave an overview of disarmament and offered insights on the immense world of interpreting in D.C. on the military, law enforcement, security, and counterterrorism.
On April 6, Sarah Irene, a 2010 graduate of the MA in Conference Interpretation degree program, is based in Vienna, Austria. She gave a recorded lecture, "UN Conventions against Corruption and Transnational Organized Crime," in which she discussed combating corruption and transnational organized crime, and the impacts such crimes can have on our everyday lives. A live Q&A followed, facilitated by UN staff interpreter and former MIIS professor Sheila Shermet.
Both presenters emphasized the specialized terminology and commonly used abbreviations interpreters need to know for these topics, such as disarmament references to "CBMs" (confidence-building measures) and the "FMCT" (Fissile Materials Cutoff Treaty).
Active Interpretation Practice
Beyond just laying out the types of subject matter UN interpreters might encounter and giving tips on things like how to keep up with the occasional barrage of proper names or entities, the workshops gave students in the Interpretation Practicum active roles: interpreting the presentations as they were delivered. Practicum students are required to interpret a certain number of live events during the semester, taking turns serving as the chief interpreter.
Student interpreters were able to review the presenters' notes and study the topics and terminology in advance, just as they would for an actual UN speech. Student Andrea Goethals said this gave her a sense of how a UN interpreter might get ready. "The speakers provided notes ahead of time, so we also got to experience preparing a document and then managing the document with a real-life speaker (who doesn't always follow what they provided!)."
Professor Julie Johnson, program chair of the Translation, Translation and Interpretation, and Conference Interpretation degree programs, explained that groups of students were interpreting into several languages, with individuals taking 15-minute turns in their target languages. Since the groups were not in a booth together but, like the speakers, working remotely, they communicated with each other privately via secondary devices. This allowed them to coordinate smooth handoffs after their turns, as well as to help one another with things like unfamiliar terminology.
Remote Simultaneous Interpretation
Brendan Nuse said, "While it's been difficult having all online classes for the past year, it has also been a great opportunity to learn how to use more RSI (remote simultaneous interpreting) platforms."
Interpreting the presentations tested the students' abilities to handle specialized subject matter, but without the pressure of a live public event. Fiona Maloney-McCrystle called it "a good chance to practice moderating nerves."
"The great thing about such experiences," said Johnson, "is that (except when the client is using a specialized platform) this mirrors how professional interpreters are performing remote interpretation assignments. So students are getting all of that experience at MIIS and can transition seamlessly to professional work, regardless of the circumstances."
As part of the Middlebury Institute's Leaders in Residence program, Institute alumna Lorena Ortiz Schneider MATI '92 recently presented three sessions for students sharing experiences and insights from her 30-year career in language services.
An integral part of the Middlebury Institute's translation and interpretation degree programs is providing real-world training where students move beyond the process of translation to the product as it is delivered to an actual client.

 
Whether freelancing as conference or medical interpreters or working in-house—for multinational corporations or government agencies, for example—today's interpreters are rising to the challenges of the pandemic and continuing to advance their careers.