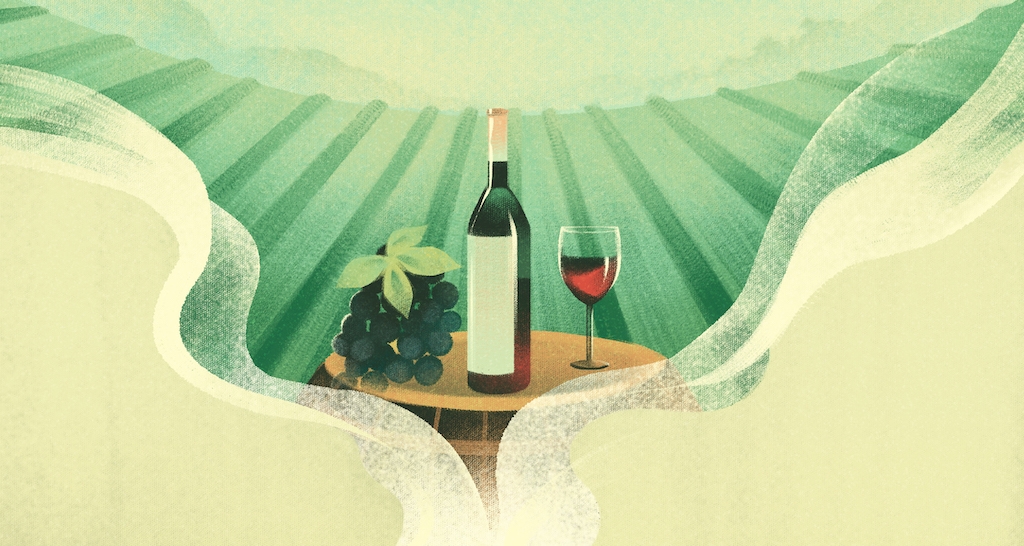 On the first floor of the McGowan Building on Pacific Street, Alicia Brent MATESOL '03 is running what amounts to a start-up incubator; yet, unlike most start-ups, this initiative is actually turning a profit. 
Custom Language Services (CLS) began as a small program specializing in one-on-one language lessons and has expanded into an initiative that offers customized (thus the name) language learning sessions to interested parties around the world. We asked Brent to give us a few examples of current CLS projects.
Language for the Wine Industry
Brent confesses that while the research phase for this newest CLS program has not exactly been drudgery, the idea is to create language programs for people who are truly serious about wine rather than casual sippers - from sommeliers and people involved in import-export to wine investors and aficionados. The pilot program is a collaboration with the University of Rioja, a partner school of the Middlebury Schools Abroad in Spain. Regional content experts have brought a great deal of enthusiasm to this project, according to Brent, who is thrilled with the collaboration. The participants will embark on a two-week Spanish language journey of winemaking with insider perspectives on the industry in Rioja. Through a hands-on approach, experts in viticulture and oenology work hand-in-hand with language faculty while participants network with fellow wine-industry professionals from around the world. "We are talking about a high-quality educational program." Assuming this pilot program is a success, there is a plan to create related programs in other wine-growing areas where Middlebury has partnerships, such as Italy, France, Argentina, and Chile, - and, of course, our very own Monterey, California.
English for Public Diplomacy
Through a partnership with the U.S. Department of State, CLS conducted a needs assessment with several Indian government institutions. This led to the creation of a course called English for Public Diplomacy that Brent teaches regularly at the renowned LBSNAA Civil Service Academy in Mussoorie, India. This partnership followed years of experience creating programs for diplomats and civil servants, as well as another project in India where the Institute created and delivered an online module for training English teachers.
English for Disaster Management
Another project to come out of the needs assessment in India was a hybrid course for the Kerala government Civil Authority in Disaster Management. The 12-week online, five-day face-to-face course was designed to guide participants through various types of English communications in disaster relief, incorporating field specific tasks such as assessing risk, requesting funding, developing partner relationships, and transmitting critical information up the chain of command. Building on the foundation of the program in India, Brent, CLS Curriculum Specialist Lisa Donohoe MATESOL '09, and Brandon Lambert MATESOL '15 delivered a similar program to disaster management professionals from the Association of Southeast Asian Nations (ASEAN) in Indonesia this year and have future sessions planned. "We are very happy with how this program has progressed," Brent says, adding that the hybrid model allows participants to build professional relationships while honing their language skills to handle real-world communications.
Internationalization and Intercultural Communication
Katherine Punteney, Middlebury Institute International Education Management program chair, is working with Donohoe to develop a program designed to help global institutions in higher education integrate an intercultural and global dimension into postsecondary education. CLS hopes to work with Middlebury university partners in Brazil to offer this intensive hybrid program to their faculty and staff. "Our model of creating a foundation for a pilot program and building on that to customize courses to meet the needs of our clients is working really well," Brent says.
CLS is also running multiple programs on campus this year, some lasting several weeks, other the whole semester. These programs include English for journalism and for the energy industry, and intensive training for diplomats in several different language combinations. "The best part about our business model is that build on the strengths, expertise, and networks of our diverse Middlebury community," Brent says, adding, "That also means the possibilities for growth are infinite."