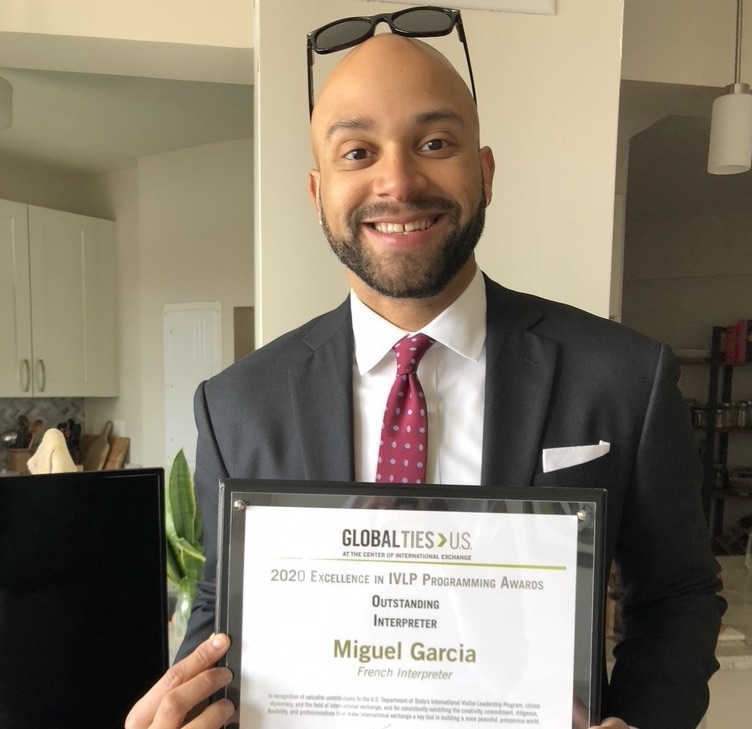 Middlebury Institute Conference Interpretation alumnus Miguel Garcia '14 was awarded the U.S. State Department Interpreter of the Year for 2020.
The award was presented at the annual Global Ties conference. Global Ties provides support for the International Visitor Leadership Program (IVLP), the U.S. Department of State's premier professional exchange program. Every year, exemplary members are presented with Programming Awards. This year, Garcia was recognized as the Interpreter of the Year, across all languages.
Garcia is a freelance conference interpreter with clients including the United States State Department and the Organization of American States (Washington, D.C.).
What does it take to be a translator and interpreter for a drug task force in New York City? Middlebury Institute alumna Lucía Falcón Palomar MATI '17 is featured in the Winter 2020 Communiqué.
Petal Gahlot, a second-year student in the Middlebury Institute's translation and interpretation program recently interpreted at an official meeting of Indian Defense Minister Rajnath Singh and French President Emmanuel Macron.
"Behind every language is a mentality," The Associated Press featured Conference Interpretation alumnus Alexandre Ponomarev MACI '00, chief interpreter at the Tokyo Olympics next year."I believe in acquiring a language you also acquire a certain mentality."