Can Conflict Be Constructive?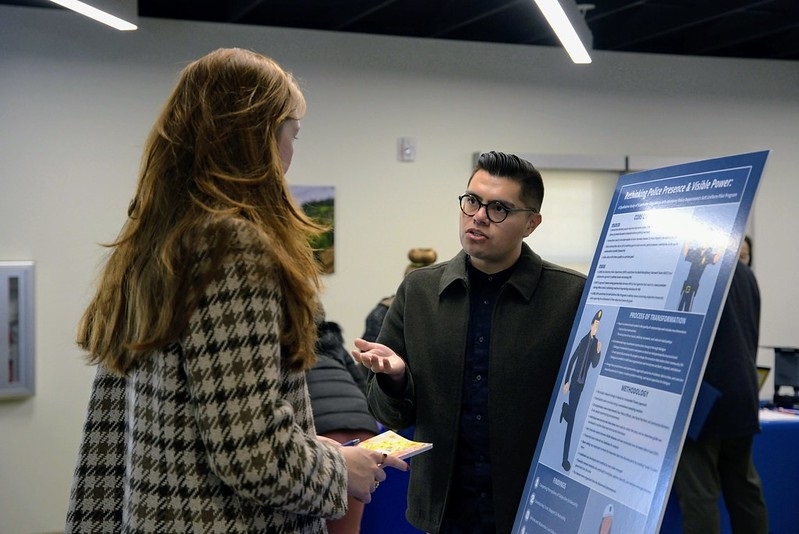 There is no shortage of conflict in our modern world—ranging from a fight with a loved one to the threat of nuclear war.
 
Can these conflicts be shifted from destructive to constructive? How? 
Those questions are at the heart of a seven-year Middlebury initiative, which began in 2022.
In May 2023, the inaugural cohort of over 65 Conflict Transformation Fellows gathered with faculty and staff for a daylong cross-disciplinary conversation. Fellows received grants of $6,000 to $10,000 for their projects, which were diverse in focus and geography.
Lily Edelman-Gold MAIEP '24 tackled a challenge at the intersection of several hot-button issues, including the environment and socioeconomic status. As governments add new electric charging stations, many end up being in affluent neighborhoods, exacerbating existing inequities in transportation access. Working with the city of Monterey, she used data to identify ideal locations for new stations based on housing density, income, government-owned land, and other factors. She hopes this results in new stations that are more accessible to low-income communities.
Defining Conflict Transformation
Netta Avineri, professor and applied linguistic anthropologist, and Jeff Dayton-Johnson, vice president of academic affairs, kicked off the May event.
"Conflict transformation is not a hypothetical, theoretical engagement," said Avineri, who leads graduate training and research for the Davis Collaborative in Conflict Transformation. "We're especially looking at how people conduct themselves to foster this kind of change. The transformations that emerge might happen at the personal level (a change of heart), the structural level (a change in power), or somewhere in between. We need creative solutions to complex problems."
Middlebury has made a commitment to serve as an incubator for research, teaching, and student experiences to address divisiveness in society. Working with more than 100 partner institutions in the United States and around the world, Middlebury aims to embed principles and practices of conflict transformation in the liberal arts from high school to graduate school.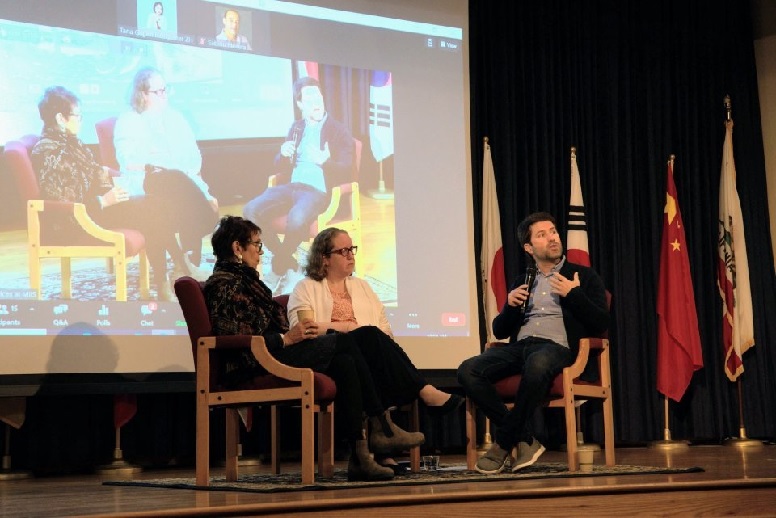 Mining on Indigenous Lands, Emergency Response, and Peace Building
A faculty panel at the event featured an interdisciplinary conversation among Professors Sabino Morera, Lyuba Zarsky, and Philipp Bleek, facilitated by Avineri. All three received grants to develop new courses that integrated conflict transformation.
Morera, who teaches in Language Studies, broke down the differences between peacekeeping, peacemaking (thinking and dialogue), and peace building.
"This may sound a bit idealistic, but if you want to create a culture of peace in the world, sometimes you need to aim high," said Morera, who is from Costa Rica. "My small country abolished the army and was able to reinvest that money in health, education, and sustainable development. Peace building involves everyone—that's how you create lasting peace."
Morera recently co-led an immersive learning trip to Costa Rica focused around peace building. Lyuba Zarsky, a professor in environmental policy and management, also co-led a trip to Colombia, where students connected with coffee farmers and saw the complex impacts of climate change and armed conflict firsthand.
Zarsky pointed out that ‌solutions to some problems create new conflicts to be navigated. For instance, there have been massive federal investments to decarbonize the economy. Switching to electric cars requires mining copper and cobalt, mines which are often located on lands that are important to or that belong to Indigenous groups.
"If people are being impacted, what role do they play in the design of these policies?" said Zarsky.
Philipp Bleek said the Nonproliferation and Terrorism Studies program focuses on hyperviolent conflict, but there might be more connections between disparate topics like climate change than may be immediately apparent.
"Nuclear war is the least healthy form of conflict I can think of," said Bleek. "We're trying to steer from unhealthy to more healthy conflict, hopefully much healthier versions. I think it's critical that some of the worst slices of conflict be part of what we talk about."
Conflict also comes out in the response to emergencies and disasters. He said there has been a lot of focus on the civil-military divide. His most recent project, which was funded by the initiative, focused on ‌bridging the divide between people who work desk jobs and frontline responders. He worked with a student who is also a firefighter to create a short course that let students learn directly from EMTs and police officers and get hands-on experience. 
"The goal is to improve our response to these catastrophic situations," said Bleek.
Projects Going from Theory to Reality
Students shared their projects in poster sessions, then joined conversations in the afternoon that were facilitated by faculty. The projects were incredibly diverse, including topics such as the following:
Binational coordination between the U.S. and Mexico for the Tijuana Estuary.
Police officers wearing softer uniforms for community patrols.
Water conflict between India and China on the Brahmaputra River.
Ending the foster-youth-to-prison pipeline.
Addressing info gaps around women's health and hygiene terms with crowdsourced translation and more.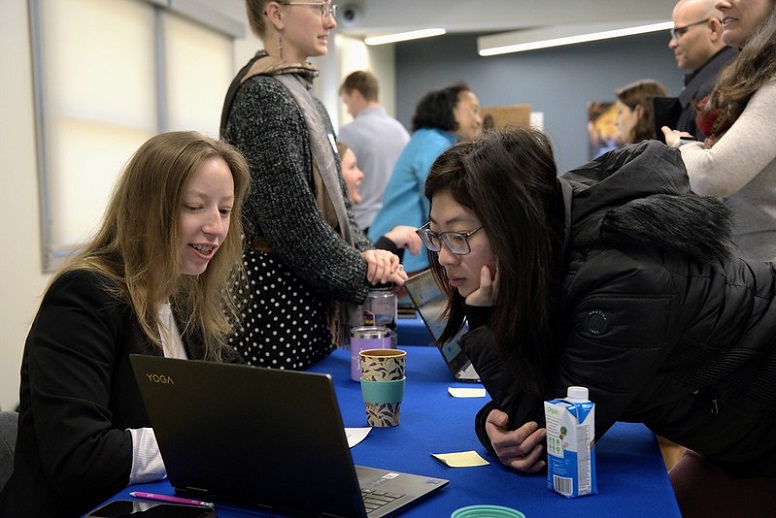 Some themes across conversations included how conflict can break through apathy; the unique role that nongovernmental organizations (NGOs) can play in bringing creative new solutions and brokering new ways of working; and the importance of empathy in engaging with others.
When asked to connect their projects to conflict transformation, Dylan Souquet Moglen MPA/MAIPD '23 paused thoughtfully.
"Conflict transformation is a wonderful concept," said Molgen, who has been working with Indigenous communities in the Amazon for whom the word "transformation" has been synonymous with development. "But what are we transforming towards? To really build, we have to ask ourselves, what is the aim of this transformation and are we building that vision together?"
Learn more about the graduate fellows' conflict transformation projects.