Career Fair Draws Employers from Around the World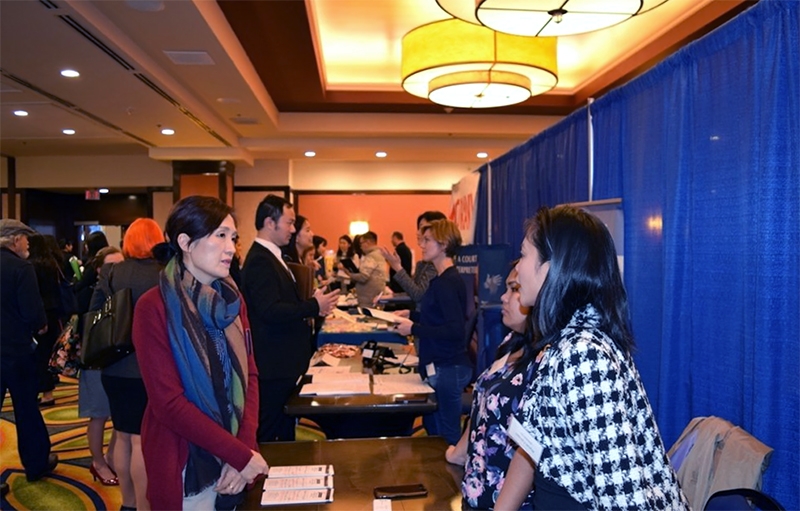 The annual Middlebury Institute Translation, Interpretation and Localization Management (TILM) Career Fair was held at the Marriott Hotel in downtown Monterey on Friday March 9th. Representatives from national and international organizations, large and small companies attended, including over 30 recruiters with degrees from the Institute.
Many of the alumni recruiters are regulars, and have returned to Monterey regularly seeking to hire and mentor students interested in following in the their footsteps. Sally Young MATI '99, who flew in from Geneva, Switzerland, to recruit for the World Intellectual Property Organization (WIPO) says the Institute Career Fair is key to her recruiting cycle. Others, like recent graduate Olga Melnikova MATLM '15, did not have to travel as far. Melnikova works for the Monterey based Morovia, one of the sponsors of the fair. Other sponsors for 2018 are Vaco San Francisco LLC, the Judicial Council of California, MediaLocate and CSOFT. 
Many of the recruiters stay in Monterey late Friday, and even over the weekend to meet with students individually, and this year The Center for Advising and Career Services helped facilitate over 170 recruiter interviews with students on campus. Others, like two experience interpreters and alumni recruiters from the U.S. State Department, Lefteris Kafatos MACI '10, and Lam Chung-Pollpeter MACI '00, hosted career training sessions with students hoping to follow in their footsteps.
"I'm so proud of the way our students prepared and performed," says Bryce Craft, director of employer relations at the Institute. In the weeks leading up to the Career Fair, career advisors reviewed resumes with students and conducted mock interviews. Craft says the results from this "fine tuning" are clear: "Career opportunities and happy employers! With over 40 employers attending Career Fair activities and over 170 interviews, the MIIS TILM Career Fair continues to be one of the premiere recruiting events for the language industry." 
| by Eva Gudbergsdottir

The first-ever Middlebury Institute Community Career Fair connected students with 25 local organizations offering employment and internship opportunities.

| by Eva Gudbergsdottir

Employers ranging from Facebook to the State Department traveled to Monterey to recruit language students from the Middlebury Institute, with many sending Institute alumni as recruiters.