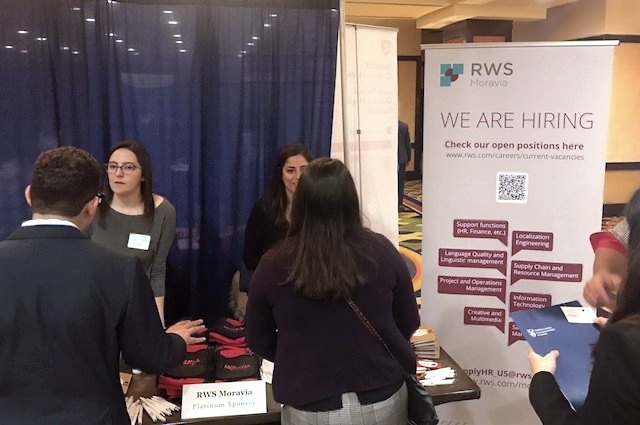 More than 30 companies and organizations attended the Middlebury Institute Translation, Interpretation, and Localization Management (TILM) Career Fair held at the Monterey Marriott on February 15, 2019. The annual event is hosted by the Institute's Center for Advising and Career Services.
At least 20 of the representatives for potential employers were themselves graduates of the Institute, including some who graduated last May and others who have been attending the career fair for years, if not decades. Shauna Kelly MATLM '18 represented Mother Tongue, a language service provider with hubs in London, Los Angeles, and Singapore. "It feels really good to return to Monterey in this role," she shares. She started working for the company in June as account manager. "I am really happy with my career. I have a lot of really interesting clients and love my team."
Pre-fair information sessions hosted by Martha Geller MATI '82, vice president of strategic accounts for major language service provider Transperfect, were very popular with students, as was the opportunity to interact with her at the fair. "The caliber of candidates here is very high," she reports. "They are extremely well prepared and have a clear view of the careers they are seeking and what they bring to the table." She laughingly admits that as an alumna she is a little biased, but then adds on a more serious note that she really appreciates the tremendous amount of positive energy from the students, the diverse group of qualified candidates attending the fair, and the way the Institute's degree programs align perfectly with her business.
Shaobo Jiang MATLM '13 attended to the Career Fair hoping to recruit candidates for two or three full-time positions. He is the assistant manager of interpreter services at Stanford Children's Health/Lucile Packard Children's Hospital in Palo Alto, California. "I attended the fair last year and it is always wonderful to return to Monterey to reconnect with faculty and friends," he said
2019 TILM Career Fair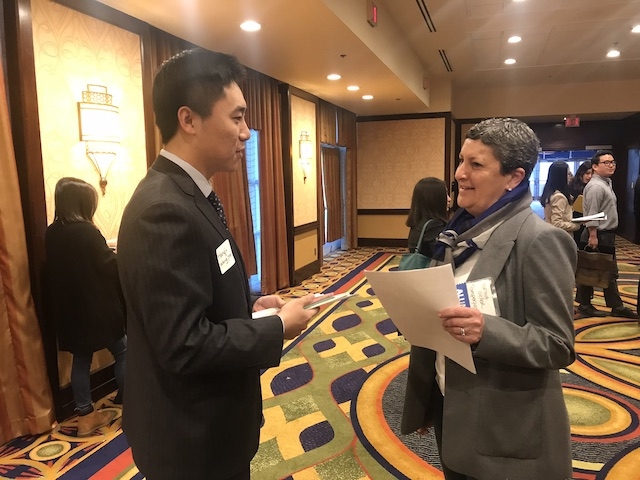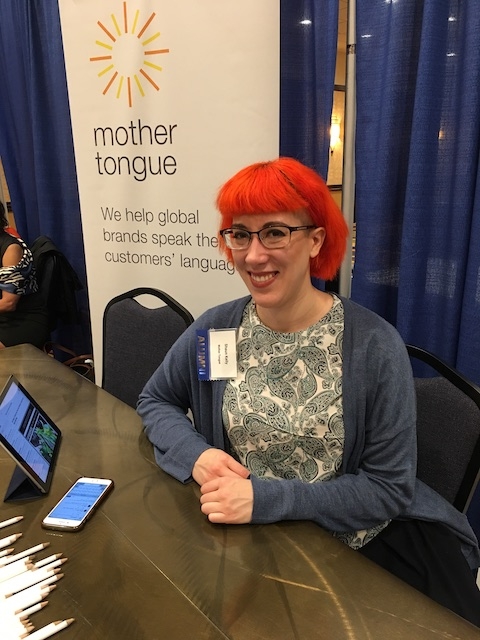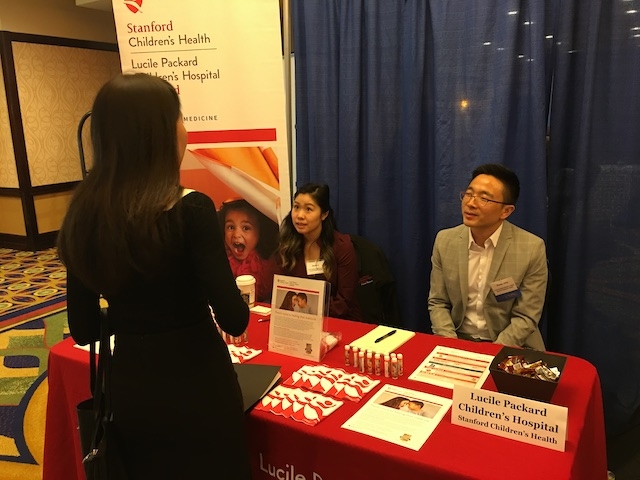 "Our first Japanese English translator was a graduate of the Institute from 1997," says General Manager and CFO of Honda Kaihatsu Americas Masako Yamada. "At that time the Career Fair was a small affair held at the school." The event has expanded greatly since then, Yamada remarks as she observes the bustling activity around her.
First year translation and localization student Juan M. Ortiz MATLM '20 says it was very valuable to him to interact with employers and "to learn what they are looking for in candidates, and possibly to make some changes to my plans to better prepare for next year when I graduate."
"I'm really proud of the way our students prepared and performed," says Bryce Craft, director of employer relations at the Institute. In the weeks leading up to the Career Fair, career advisors reviewed resumes with students and conducted mock interviews. Many of the students put their preparation to the test during the close to 200 job interviews conducted on campus in the days before, during, and after the fair. The fair offers students invaluable access to the industry, Craft says, "and we are thrilled with the participation of so many employers looking to hire our students." He adds, "We are especially grateful to our sponsors: Lilt, RWS Moravia, DS Interpretation, Ad Astra, Medialocate and Jonckers."
Middlebury Institute Career and Academic Advisor Scott Webb tips for those who are planning on attending a career fair published by Devex.
The 2018 Middlebury Institute Translation, Interpretation and Localization Management Career Fair drew employers from international organizations and companies from around the world.
The annual Middlebury Institute Career Exploration Week in Washington, D.C. introduced students to career options, organizations, and new connections.