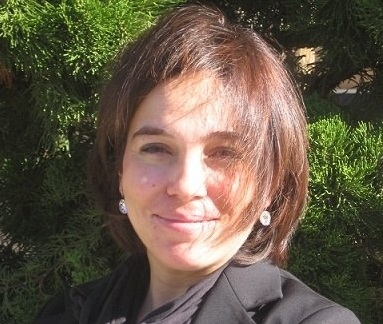 Interpreters play an essential role in making critical interactions possible every single day, whether the venue is a courtroom, a doctor's office, or the United Nations—and sometimes they even facilitate the functioning of democracy itself.
Middlebury Institute of International Studies (MIIS) Professor Leire Carbonell Aguero, a 2003 graduate of the MA in Conference Interpretation program, called it "a once-in-a-lifetime opportunity" when she was recruited by fellow alumna Maureen Sweeney MPA '94 to lead a team providing interpretation support for the Biden-Harris presidential campaign.
According to 2019 Census data, 22 percent of voting-age Americans speak a language other than English at home, with about two-thirds of those speaking Spanish. As a result, without interpreting support, a significant portion of the electorate would be shut out of full participation in the democratic process.
"Members of the Biden campaign reached out to our team at Tiller Language Services," says Sweeney of the firm she co-leads with business partner Todd Dennett, "after learning about our live and remote interpreting services for other high-level clients." Sweeney then connected with colleagues at MIIS.
"It was the beginning of summer 2020 when Maureen and Todd contacted me with the opportunity to be the chief interpreter of the Spanish booth for the Biden campaign," says Carbonell. "From that moment on, I worked to put together a core team of five interpreters to cover weekly assignments for the campaign." Four of these five were Middlebury Institute graduates; two were Carbonell's classmates, one was a former student of hers, and the other was fellow professor Cas Shulman-Mora MATI '95.
"It was a true privilege for me to put together such an amazing and talented team," says Carbonell. "Together, we covered more than 40 assignments for the Biden campaign from August through Election Day. In addition, I helped assemble a team of 44 interpreters for the pre-watch parties for the presidential debate. I'm very happy to report that, out of those 44 interpreters, 29 were MIIS graduates, including a few of my current students!"
In total, Sweeney and Dennett's firm provided interpretation for more than 135 campaign-related events in languages including Chinese, French, Japanese, Korean, and Spanish. "The majority of our interpreters for this project were graduates of the Institute," says Sweeney, who later this month will serve as deputy chief of the interpreting corps for the Tokyo Summer Olympic Games, with fellow MIIS alum Alexandre Ponomarev MACI '00 serving as chief. "We were thrilled to work with so many highly qualified language services professionals and believe this project goes to show the value of high-level interpretation to the successful functioning of democratic institutions."
Carbonell describes it as "the highest honor" of her career to be asked to interpret President Joe Biden's inaugural remarks for Spanish-language media. For the Spain-born Carbonell, though, the stakes were personal as well as professional.
"The inauguration happened in the same year that I became an American citizen," she says. "I came to the U.S. in 2001 for an MA in Conference Interpretation at MIIS. To be part of facilitating conversations that are so important to the functioning of democracy in the U.S. was something I could have never imagined when I arrived here. Thanks to our interpretation, key information was accessible to people who only speak Spanish, who are part of our country and have the right to participate in the political process. Every time I interpreted for the campaign, I felt that, in a way, it was my own story that I was telling. I felt that I was closing the circle and giving back to my new country, a country that has given me so much."
The opportunity was both unique and uniquely meaningful for Carbonell. "I will always treasure it. Paraphrasing Amanda Gorman's words in her inaugural poem for the country, I came out of this experience knowing that together, we will continue to climb the hill, in all languages, cultures, and colors!"
How recent Middlebury Institute graduate Gustavo Mercado MACI '19 passed one of the United Nation's most difficult interpretation examinations.
Alumni Alexandre Ponomarev MACI '00 and Maureen Sweeney MPA '94 will serve as chief and deputy chief of the interpreting staff for the 2020 Summer Olympic Games in Tokyo, Japan.
A pair of Middlebury Institute graduates won a prestigious international interpretation competition, citing the support of professors and fellow classmates as key to their win.