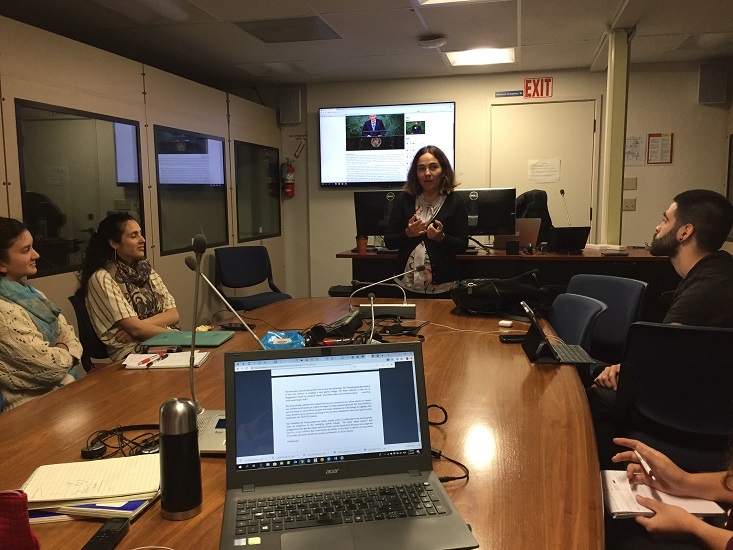 The United Nations has a range of exams that it requires for prospective interpreters, translators, terminologists, and other language specialists. They are notoriously difficult, so much so that it is not uncommon for one to spend up to a decade attempting to pass either the test for freelancers or the even more rigorous examination for a staff position.
So, last spring, when Gustavo Mercado sat for the freelance exam for the English booth just a little more than a year after graduating from the Middlebury Institute with a master's degree in Conference Interpretation, he was under no illusion as to the challenge ahead of him. "I thought it'd take me 10 years or more," Mercado recently told Winnie Heh, a career advisor at the Institute, in a long-ranging interview.
Mercado said he had heard of people committing months, even years of constant study dedicated to passing the exam, which seemed a bit excessive to him, but who was he to argue if that was the case? He thought maybe that'd be the case for him, too, looking ahead to years of juggling work and studying and, preferably, some semblance of social life. But when the pandemic emerged and all of a sudden he was facing "shelter-in-place" orders, he had time on his hands.
"I figured what better time than now to eat, sleep, and breathe this test?" he said. So, for the better part of two months, he did nothing but study. Every day, "for hours on end," Mercado listened to United Nations speeches. He had compiled about 80 of them and he made sure that they covered every country that spoke his languages (English, Spanish, and French), as well as each of the major UN topics at the four duty stations (Nairobi, New York, Vienna, and Geneva).
He listened to these speeches over and over, until he could interpret them as accurately and as quickly as possible. He paid particularly close attention to regional accents, and he studied the UN system "backwards and forwards" so that nothing took him by surprise.
When it came time to sit for the test, he felt he was as prepared as he could be, specifically for what he described as underlying factors that can often trip up test takers.
"The tricky thing with the exam is how comprehensive it is. Yes, the speeches are fast, and the topics can seem obscure—everyone knows to expect that—but I feel that there are underlying factors to watch out for," he explained.
"Agility is key. You must be able to switch from the abstract to the formulaic in a matter of seconds, and you can't let flipping to your second-language combination trip you up, which is tough because it feels like you're attacking the content from a different part of your brain." Further, he cited the importance of mental endurance, specifically the ability to fight through fatigue from interpreting multiple speeches in a row.
In speaking to Heh, Mercado was quick to credit other factors that he believes helped him pass the exam for freelancers. In the 18 months postgraduation, he had been selected for a pair of internships: one in New York with the United Nations English Verbatim Reporting Section and the other in D.C. with the Organization of American States. At each, he said, he performed tasks—such as creating transcript translations of speeches given on the floor of the UN—that while not specifically analogous to the freelance exam, nevertheless prepared him. "I got to listen to the original speeches as well as the interpretations of those speeches from all the booths to help me create my transcripts; listening to those interpreters every single day truly helped to prepare me for the freelance exam down the line."
Gustavo credits the Institute with helping him land both internships, and he also cited specific Institute influences that factored into his success—ranging from encouragement to not put off the exam to mindfulness strategies during test taking—and while Mercado would not single out any one person or piece of advice that served him better than any other, the work of Leire Carbonell, a professor at the Institute, stands out. Carbonell teaches Simultaneous and Consecutive Interpretation into Spanish, and as a professional, she has interpreted at international conferences, for global companies such as Facebook, Google, and Microsoft, and at conferences at universities such as Stanford and Cal-Berkeley.
She also has passed the most arduous version of the interpreting exams, the Language Competitive Examination (LCE) or staff exam, with Spanish as her "A" language. And it took her four attempts over 10 years to do so. 
"It shouldn't take 10 years," Carbonell says, speaking not just of her own experience but also the many experiences of her own students. So, a few years ago, she began researching what, exactly, graduate students were missing in their education when it came to prepping for the United Nations exams. She subsequently developed a pilot workshop dedicated to LCE prep that she conducted in the spring of 2019. Mercado was one of her students in the workshop, and he said that he modeled his own practice regimen on the workshop. "I could hear [Professor Carbonell] telling me to divide everything up by duty station, committee, issue, region, country, and even to specific speakers if necessary," he told Heh.
The workshop was so well received that Carbonell successfully petitioned to inaugurate the effort as a new course, Prep-UN Interpreting LCE Exam, which was added to the curriculum this past year. The class is currently offered to students in the French and Spanish programs because these two languages, along with English, are part of  Carbonell's language combination. But she has designs on expanding to other languages—the UN officially recognizes six languages (Arabic, Chinese, English, French, Russian, Spanish) for simultaneous interpretation—and she has the support of her dean, Laura Burian, who, in a recent email, said that she would very much like to develop more UN-related coursework for all of the UN languages.
As for Mercado, having passed the freelance exam, he has instantly become marketable as a conference interpreter, which was his short-term goal…until he had a taste of examination success. He says he now wants to take the Federal Court Interpreting exam, while also gaining enough conference experience to apply for freelance work with the likes of the World Bank and the International Monetary Fund.
And maybe, in a world that is not too distant, future interpretation grad students who show the same hustle, ingenuity, and preparation as Mercado, will follow in his footsteps.
Mariah Rust MAT '22, a first-year translation student, has won the prose category of World Literature Today's Student Translation Prize for 2021.
A pair of Middlebury Institute graduates won a prestigious international interpretation competition, citing the support of professors and fellow classmates as key to their win.
The increased use of remote communications has made it easier for alumni from around the world to share their expertise with current students. As an example, two alumni who work as staff interpreters for the United Nations recently conducted free subject-matter workshops (via Zoom) for interpretation students interested in learning more about careers at the UN.