Four Alumni Recognized for Achievement at Spring Commencement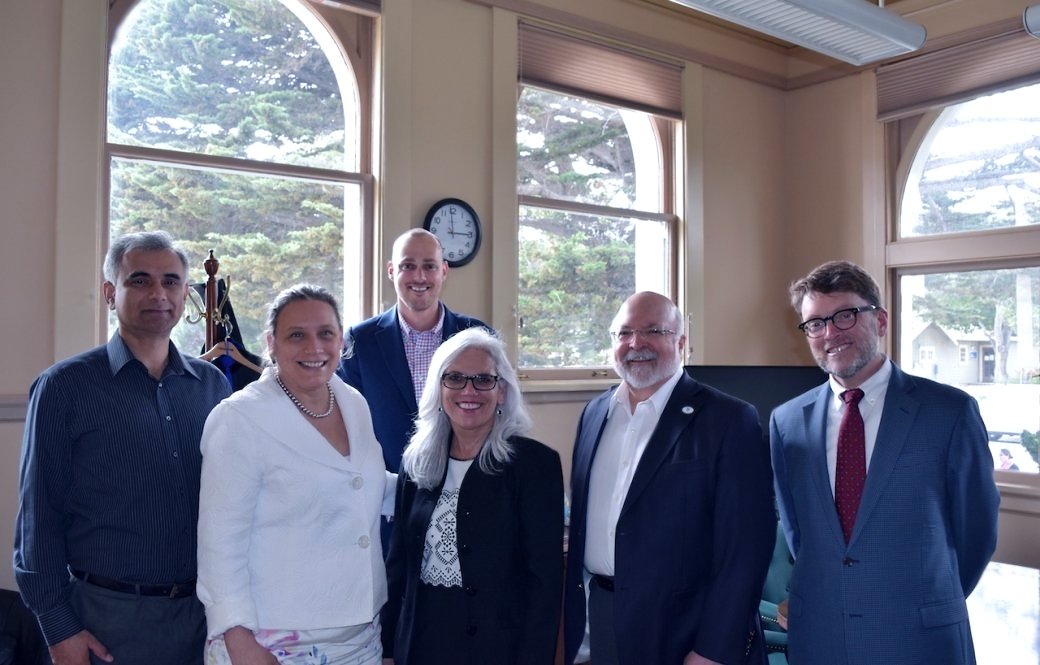 Four Middlebury Institute alumni will be recognized for their achievements and volunteer service at the Spring Commencement on Saturday, May 19th. This year's Distinguished Alumni Award recipient is Dr. Maria dos Anjos Barros-Bailey MPA '90, and the Alumni Service Award goes to Dr. Edward J. Salazar BAIS '78. The 2018 Young Alumni Achievement Award recipient for the Institute's Graduate School of Translation, Interpretation and Language Education is Shahid Abrar-ul-Hassan MATESOL '08 and for the Graduate School of International Policy and Management is David T. Zacks MAIPS '08.
"Many outstanding nominations were submitted representing alumni doing remarkable work in their respective fields and who show ongoing commitment to the Institute," noted Director of Graduate Alumni Engagement Leah Gowron MPA '97.
 
Distinguished Alumni Achievement Award 2018: Dr. Maria dos Anjos Barros-Bailey MPA '90
The parents of Dr. Maria dos Anjos Barros-Bailey—known to friends as Mary Barros-Bailey—had four years of formal schooling each and stressed the importance of education as a vehicle towards options and choices. Barrios-Bailey graduated from Santa Clara University where her father was employed as a painter in the facilities department over his entire career; her mother's main employment was sewing pockets onto jeans at a Levi Strauss factory. After college, Barros-Bailey joined the Peace Corps, where she served until 1987 as a business advisor in the Women in Development program before entering the MPA program at the Monterey Institute. 
Towards the completion of her studies in Monterey, Barros-Bailey became the executive director of the Volunteer Center of Monterey County. She was subsequently recruited to become a rehabilitation counselor working with monolingual Portuguese- or Spanish-speaking injured workers, and delivered services throughout the greater Monterey and South Bay areas, and sometimes in Mexico.
Providing primary care and forensic services to the population of people with disabilities became Mary's passion and life's work. For over two decades, Barros-Bailey has been in private practice in Boise, Idaho with a national (sometimes international) caseload. She served in leadership positions with credentialing, accreditation, and other professional boards in her field. 
"It is very special to receive this award," Barros-Bailey says, adding that it is extra special to do so the year that her daughter Theresa graduates from the Institute with a degree in nonproliferation and terrorism studies. "I had nothing to do with it," she says and laughs. Visiting Gilroy for a wedding, Barros-Bailey and her husband brought Theresa to Monterey to see where they got married and where she got started in her career. They also took a campus tour.
At the time, Theresa was finishing her studies at St. Andrews in Scotland in International Relations and Arabic and exploring a career in terrorism studies. The Institute was the perfect fit. "It was great to see the campus," Barros-Bailey says, "the facilities have tripled since I was a student here." She herself found the perfect fit in the MPA program.
 
Alumni Service Award 2018: Dr. Edward J. Salazar BAIS '78
Dr. Edward J. Salazar is a former career US diplomat with broad foreign policy experience on matters related to Russia, Ukraine, the former Soviet Union, and NATO. He is an independent international affairs and public relations consultant and is currently lecturing at Budapest's National University of Public Service. He has been very involved with the Institute, "practically since the day I graduated," as he explains it himself. Beginning at the U.S. State Department where he worked in the Office of Soviet Affairs and came to be known by the people in language services as a "MIIS liaison," and moving on to building the Institute's presence in the U.S. foreign policy world. "I took great pride in that label," he says with a chuckle. When he was stationed in Moscow he became an active recruiter for the Institute and he has remained a great supporter ever since, often providing advice to student and recent graduates and taking on various positions including sitting on the Board of Trustees and the Board of International Advisors. Like Barros-Bailey, Salazar acknowledges that the campus has grown considerably in size and facilities since he was a student, but says "virtually everything that made this place so special is still here." As for the town itself, "Monterey really doesn't change that much!"
 
GSIPM Young Alumni Achievement Award 2018: David T. Zacks MAIPS '08
David T. Zacks recently relocated to Oslo, Norway where he is head of compliance for Auka, a Norwegian VC-backed technology company that enables retail banks to issue mobile payment products to its private and merchant customers. After graduating with a degree in international policy studies, he served as the liaison to Mexico for the U.S. Treasury Department's Financial Crimes Enforcement Network (FinCEN), later moving on to positions with JPMorgan Chase, Airbnb, and Yapstone. He has stayed in contact with Professor Moyara Ruehsen, whom he credits for introducing him to the field, and has hired several Institute students as interns and alumni for full-time positions. Zacks says that good second-language skills are a great asset and adds that "one thing you can say about MIIS graduates is that they can always be trusted to stand on their own feet as professionals from the first day."
 
GSTILE Young Alumni Achievement Award 2018: Shahid Abrar-ul-Hassan MATESOL '08
Abrar-ul-Hassan's professional work in leadership roles straddles institutions in many regions of the world. He currently teaches at the University of British Columbia, Vancouver, BC, works as an ESOL assessment practitioner, and serves as a subject expert with the British Columbia Ministry of Advanced Education. He has been very active in professional organizations, and is the elected Secretary (2017-18) of TESL Canada Federation, the national association of English language professionals and he provides leadership to this national body. He also chairs (2017-Present) TESL Canadian Educational Foundation, which raises and distributes funds to facilitate professional activities across the country. 
After graduating from the Institute in 2008, Abrar-ul-Hassan accepted an offer to become an international faculty member at Sultan Qaboos University in Muscat, Oman, where he coordinated, designed, and taught academic English courses. At this university, he received the 2010 distinguished instructor award for excellence in research/teaching and the 2012 President's certificate of appreciation for academic excellence. He has also stayed in great contact with some of his mentors among the Institute faculty and had the opportunity to invite Professor Jean Turner to Oman as a keynote speaker of a symposium he organized. "The MIIS community is very special.
The Alumni Achievement Awards Committee met in February to review the nominations and, after careful consideration of these candidates made their selection. The nomination process for the 2019 awards will open in December of 2018.