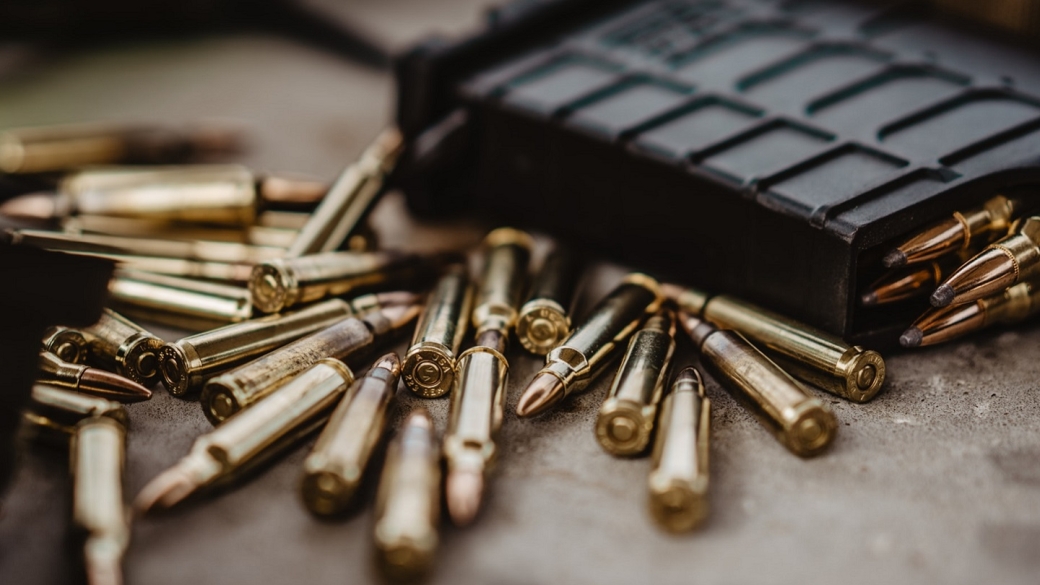 Weapons diversion can lead to a host of troubling issues. Recently, a panel of international security experts—many of whom graduated from the Middlebury Institute—convened to discuss how to mitigate the associated risks.
The Stimson Center, a nonpartisan think tank dedicated to promoting international peace and security, recently hosted a virtual panel discussion in which four of the five featured experts were graduates of the Middlebury Institute. The March 31 panel, "Practical Tools for Addressing the Risk of Weapons Diversion," included presentations by Institute alumni Himayu Shiotani, Jonah Leff, Nicolas Florquin, and Rachel Stohl, along with Emma Tobin of the Department of Foreign Affairs of Ireland.
Shiotani kicked off the event by discussing how weapons diversion can contribute to illicit arms proliferation, organized crime, and violations of international human rights and humanitarian law, among other challenges. Shiotani earned an MA in International Policy Studies and a Certificate in Nonproliferation Studies from the Institute in 2011. He is head of the Conventional Arms Program at the United Nations Institute for Disarmament Research. While he was a student at MIIS, he worked as a research assistant at the James Martin Center for Nonproliferation Studies (CNS), later becoming an associate researcher there.
After remarks by Tobin, Stohl gave an overview of Stimson's new report, "Diversion and the Arms Trade Treaty: Identifying Good Practice and Opportunities for Progress," which offers a compendium of measures to address arms diversion. Stohl graduated from MIIS in 1997 with an MA in International Policy Studies. She spent much of her early career as a senior analyst at the Center for Defense Information and has worked for the past decade at the Stimson Center, where she is now vice president.
Next, Florquin discussed some of the findings from this year's Small Arms Survey Trade Update and Small Arms Trade Transparency Barometer. Florquin graduated from MIIS in 2002 with an MPA, focusing on conflict resolution. Like Shiotani, he got his early experience as a research assistant at the CNS while studying at MIIS. He joined the Small Arms Survey as a researcher shortly after earning his degree. After a stint at the humanitarian organization Geneva Call, where he held roles as program officer for Africa and research officer, he returned to the Small Arms Survey, where he now serves as the head of the Data and Analytics Unit.
The discussion concluded with Leff highlighting the weapon and ammunition management support and solutions his organization, Conflict Armament Research, has designed and implemented in Somalia. He earned an MPA in 2007. He is director of operations at the U.K.-based Conflict Armament Research, which assists governments in identifying and tracking illicit arms flows in conflict and postconflict environments. He has worked on the United Nations Security Council investigating sanctions violations in Darfur, Eritrea, and Somalia. He also worked as a researcher at the Small Arms Survey, where he conducted extensive desk and field research on armed violence. His career has taken him to many countries around the world, including Cambodia, India, Jamaica, Japan, Nepal, Thailand, and more.
Watch the panel discussion "Practical Tools for Addressing the Risk of Weapons Diversion."
My name is Casey Mahoney, and I am a graduate of the MA in Nonproliferation and Terrorism Studies program. I worked at the Department of Defense as a Fellow in Threat Reduction and Arms Control. My Russian language skills were integral to my success in this role.
The new Cyber Collaborative at the Middlebury Institute will serve as a hub for cybersecurity activity across disciplines and degree programs and is led by Nonproliferation and Terrorism Studies Professor Philipp Bleek.
 
Middlebury Institute alumna Rose Tenyotkin MANPTS '18 been selected to be a part of the Pacific Forum's 2021 United States-Australia Next-Generation Leaders Initiative cohort.