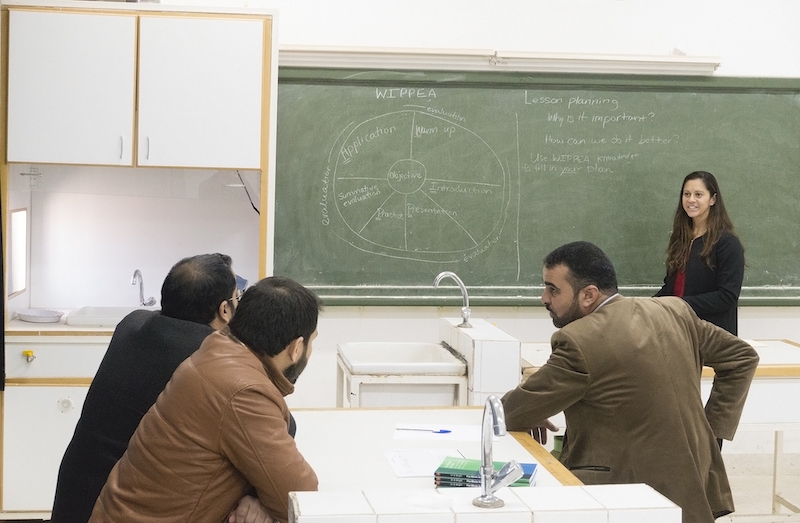 The United States Department of State recognized the Middlebury Institute of International Studies at Monterey with the English Language Fellow Top Producing Institution Award in honor of the English Language Fellow Program 50th Anniversary Celebration, which was held on November 5, 2019, in Washington, D.C.
 
The award recognizes Middlebury Institute's Teaching English to Speakers of Other Languages (MATESOL) outstanding contribution to the program's sustainability and success through their preparation of service-oriented graduates who have gone on to become American cultural ambassadors and international educators as English Language Fellows (ELF).
The Institute has a long history of alumni who become English Language Fellows, in fact, since 2006, 32 MATESOL alumni have served as ELFs around the world in countries as diverse as Moldova, Rwanda, Thailand, and Brazil.  A number of Middlebury Institute ELFs have even continued beyond their initial assignment and have served multiple "tours," sometimes serving up to four times! We currently have six alumni serving in the field; in Poland, China, Vietnam, Montenegro, and South Africa.
"I am so pleased that our program has been recognized in this way. Our graduates who have served as English Language Fellows over the years have been excellent teachers and have been great ambassadors for MIIS," shares Professor and TESOL/TFL Program Chair Kathleen Bailey.
Dr. David Chiesa MATESOL '10 says the MA TESOL program's "commitment to diversity, equity, and inclusion for all learners and teachers of English, aligned admirably with the U.S. Department of State's English Language Fellow Program's ideology of fostering mutual understanding and respect across cultures." It was with this worldview in mind that he joined the Fellow program. "Over the four years in Mainland China (2010-2014), I was able to share my professional expertise I had learned at MIIS, hone my skills as an educator, advocate for diverse communities within multilingual contexts, and establish lifelong relationships – all of which, carry into my career as a professor of Language and Literacy Education at the University of Georgia."
"Being an English Language Fellow remains my best professional experience," shares Jennifer Uhler MATESOL '05. "As a MIIS graduate, I had a great academic foundation, and as a Fellow I had the freedom and opportunity to explore putting theory to practice. My career trajectory as a TESOL professional and U.S. diplomat were profoundly influenced by the English Language Fellow experience. Now, as a Regional English Language Officer with the U.S. Department of State, I have the unique opportunity to pass it forward in creating projects and mentoring Fellows in the program." Uhler served as a Fellow in Estonia from 2006-2008 at the University of Tartu where she created a English as a Medium of Instruction curriculum for faculty teaching in English.
In 2010, Jaala Thibault (now Shaw) MATESOL '07 and Tara Bates MATESOL '07 were the only two English Language Fellows to serve in Afghanistan. Thibault's essays about the experience and the "sweetness at the heart of patience" were published by the New York Times, "A Teacher's Learning Curve in Kabul" and "Changes in Kabul Classrooms." Later, in 2016 she again served as a Fellow in Jordan.
The connection between the Institute and this prestigious program for language educators goes beyond serving as a feeder for excellent candidates. From 2006-2013 the Institute was served as a regional recruiting center for the ELF program, selected through a competitive grant process. Alumna Carly Blanchard Reci MATESOL '07 ran the recruiting center during a large portion of that time.
Professor Reneé Jourdenais accepted the award on behalf of the Institute at a Gala event in Washington D.C. in November. "We were so honored to receive this award.  Of course, all of the credit goes to our amazing network of ELF alumni and all of the incredible work they've done around the world in English language education. We're so proud of them!"  
Professor Kathi Bailey of the Monterey Institute of International Studies was awarded the Heinle Outstanding Achievement Award at the National Teachers of English to Speakers of Other Languages convention in New Orleans last week.
Four Middlebury Institute alumnae will serve as U.S. State Department English Language Fellows in Rwanda, Niger, South Africa, and Thailand in the coming year.
Five Middlebury Institute alumni have been selected for placements around the world as part of the U.S. State Department English Language Fellows program.