Learning in Crisis: How to Teach an Intimate Storytelling Course Online with Dr. Pushpa Iyer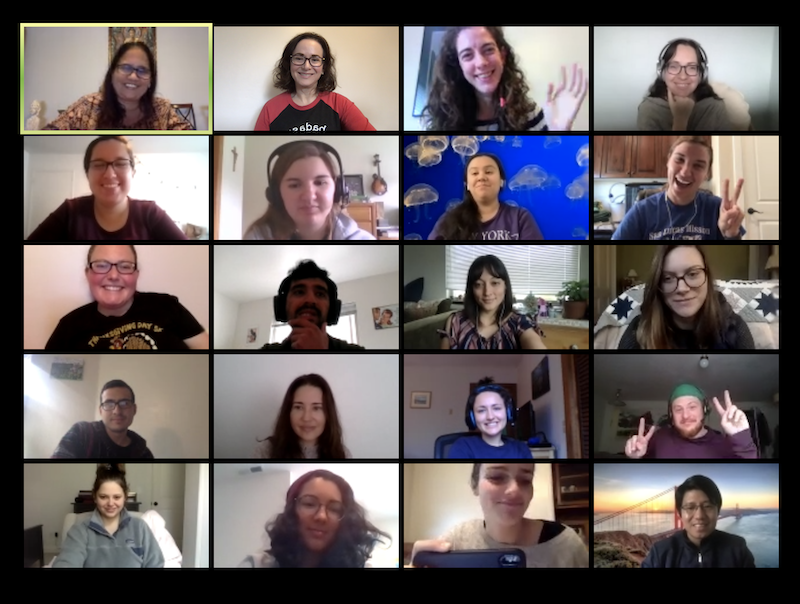 Professor Pushpa Iyer's three-week sprintensive course on Storytelling for Change was slated to begin the first day after spring break, on March 24. This was her fourth year of teaching this course which relies very heavily on building trust as a foundation for storytelling over the 18 hours a week they usually spend together. When the announcement was made on March 10 that all classes would be taught remotely after spring break, she had to completely reimagine this course in only a matter of days. Professor Iyer shares her Learning in Crisis journey.
 
When I first learned at the beginning of spring break that all courses were to move to a remote teaching format, my immediate feeling (which lasted one full day) was self-pity. If only I had taught in the first or second module before spring break, I would have had to put little effort into teaching the Storytelling for Change class for the fourth time. Now, I had to review my syllabus, assignments, and the criteria for grading as if it were a new course. Given the intense personal sharing required in this course, I did not think I could run it in the same format as I would have in a face-to-face class. I next looked at the roster to see if I knew the students in this class because if I did have a relationship with them, sharing and listening to personal stories would be much more comfortable. It turned out that I knew less than half the class. I considered my options for another two days, and despite all the reasons to revise the course, I felt the best approach would be for me to stick to what I had tried and tested for three years. I would offer the same course, with the same assignments and grading criteria as I had done in previous years, just with a minor difference—I would be doing it online.
I spent the next week (spring break) learning, developing, and building the platforms I needed to run this course. Canvas, Slack, Google Sheets, and WordPress blog sites were the platforms I used to work with students. I was also using Panopto and Qualtrics to present materials on Canvas and Slack. I had re-discovered Canvas, and I was impressed. A massive amount of gratitude to Bob Cole, Justin Hitt, and the others at DLINQ, and Media Services for their support with the technical support. 
Setting up discussion forums for each story for 19 students, assignments forums, uploading class materials took me over 50 to 60 hours on Canvas alone. 
Remote teaching this class was a unique experience, because of the critical dimensions mentioned below:
Building Trust: It was important to build trust between the 20 of us in class because there was no way we could share our personal stories of values, food, family, and more if we could not trust that our stories would not be shared outside of the class. We had ground rules but every single person contributed to building and maintaining trust. Each one of us (me included) shared stories - usually painful ones - which required a considerable leap of faith in 19 other individuals. As the stories got more personal, it was clear that we trusted one another.
Building Community: Another way of building trust is building a community. Slack played a significant role in keeping people connected at all times. We had some course content-related conversations but also created many channels to have fun discussing weather, pet pictures, and even learn a word in a different language every day. I know it worked when students concurred. "Even though this course relies a lot on creating community and building trust which is more suited to a face to face environment, we were able to successfully create that in the online space through assignments, interactions, and student/professor engagement." - Karen Terkel
Daily Check-ins: I asked students to complete a questionnaire every day. There were three questions: 1. Something related to the readings and class materials 2. A question they were starting the day with 3. A personal question. For example, How are you doing? What did you do over the weekend? What is the one thing making you anxious? What do you miss doing because of social isolation? What is your favorite spot on the MIIS campus? What do they like about MIIS? What do you not like about the institute? It was my way of sensing the mood of every individual student and knowing where I needed to step in. I checked in with students based on my assessment of their answers. I am very wary of the fact that I cannot be the de facto therapist and while I wanted students to process their feelings (positive and negative), all I could do was be the listener. I also had many individual conversations and used the opportunity to check in with them one-on-one. It also helped me having the human connection and helped me keep my sanity. 
Required Feedback on Stories: The class was structured that we were sharing many stories - on average, one every two days. Providing feedback on most stories figured into students' grades. Giving feedback online was an exercise in actively listening, and the back and forth discussions on Canvas built community. 
Daily Agenda to Reduce Stress: There was a Google sheet for each student listing daily tasks to complete. It was an excellent way for me to keep track of progress, but it also reduced the stress of remembering due dates when we didn't have regular classes to remind each other of what was coming the next day. 
It seemed that despite misgivings, most students were happy about the structure and delivery of this course. "The in person-exercises were a core component of the success of this class," shared Alexandre Dumouza MAIPD '21, "so I was extremely interested in how it was going to play out. It was challenging being glued to our phones and laptops throughout the day as there was constantly new material and posts which we would have to comment on, but it made the class more engaged."
"Zoom meetings actually gave me social interaction I needed during this shelter in place time," said Zau Lawt MAIPD ´21. "Storytelling exercises and all the class discussions actually made bonds between students and professor." 
The topic of storytelling became incredibly relevant as we continued to socially isolate. This pandemic has forever changed the world we know. Jane Eklund MAIPD ´21 brings this down to a personal level, and her self-reflection captures the purpose of this course: "This class has also brought to mind a question I don't know how to approach: How will I tell my own story of the pandemic? What message will I share with my own children? How will our world's trauma be interpreted 30 years from now? It's so hard to plan the way you will tell a story when it is still being written right in front of you. I know that my story is not developing in a way that I would like at the moment, but at the same time, I know this is a period of character development. Change occurs when we face challenges, and I hope that in my stories, I will be able to say that this pandemic changed me for the better."
What a journey it has been!