MIIS Students: Using Stay-at-Home Time to Develop 3-D Protective Masks
Middlebury Institute students Kat Farnam MAIPD '21 and Adam Eldin MANPTS '21 have teamed up with Eldin's brother Aiman Hussein, an undergraduate student at North Carolina State University (NCSU), to develop 3-D printed protective masks.
 
Farnam and Eldin returned home to North Carolina when the Institute moved to remote learning on March 23. While staying at home as part of their quarantine, the three students soon began thinking of ways to help healthcare workers on the frontline of the pandemic, such as the brothers' father, a physician. They soon focused on solutions to address the dire shortage of personal protective gear. Their 3-D printed respirator face masks are now being shipped to healthcare providers in Western, NC. To help pay for production costs, the team is now also making the masks available for purchase by the general public through their website.
Eldin, a Nonproliferation and Terrorism Studies student specializing in financial crime management is in charge of research and development, fundraising, and public relations. Website design and management as well as business logistics and accounting rests in the hands of International Policy and Development student Farnam. Hussein, an engineering major, is responsible for the design.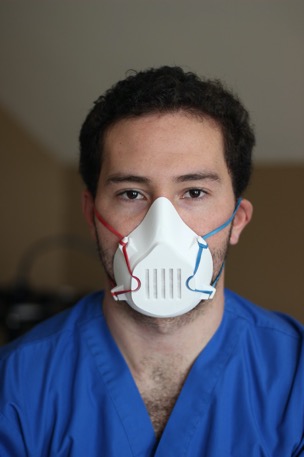 "The ADH Initiative has raised over $3,500 which has allowed us to purchase more printers, and thereby print more masks," Farnam says. The mask is equipped with an interchangeable filtration system that's intended to reduce exposure and molds to the facial contours of each individual user, allowing for a tight seal. They are currently working around the clock to produce as many masks as possible, in a retrofitted robotics room within the Hussein household.