Student Wins United Nations Translation Contest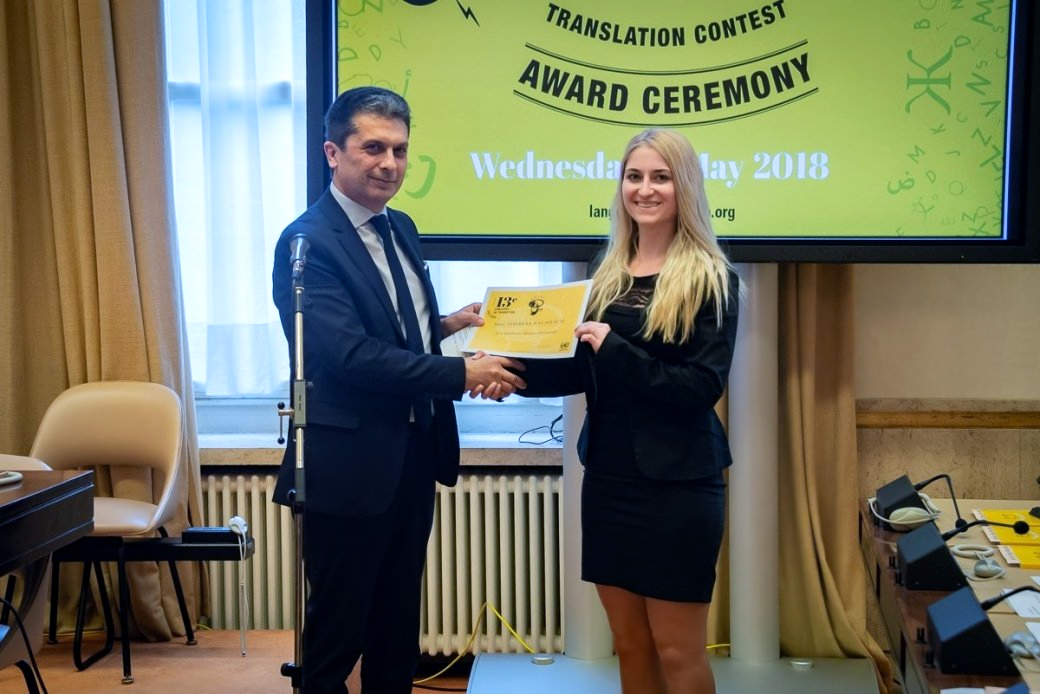 First-year Translation and Interpretation student Theresa Waldhäusl MACI '19 won the United Nations' annual St. Jerome Translation Contest in the English into German category, traveling to Switzerland to accept her award at the UN's Geneva headquarters on May 9.
"When I read the words 'Congratulations! You are the winner of…' I first thought there must have been some sort of mistake," said Waldhäusl. "I never expected to win, I just participated for fun and practice."
The annual St. Jerome Translation Contest was launched in 2005 by the UN's English Translation Service, and "celebrates multilingualism within the United Nations, and highlights the important role of translators and other language professionals in multilateral diplomacy in general, and multilateral diplomacy at the United Nations in particular." St. Jerome is considered the patron saint of translators.
The contest includes both general and student categories in seven languages—Arabic, Chinese, English, French, German, Russian, and Spanish—and is open to both current and former UN staff members (in the general category), and students from "partner universities" that maintain memoranda of understanding with the UN. The Institute is a UN partner school, and many UN translators and interpreters hold master's degrees from the Institute.
Waldhäusl enjoyed the experience thoroughly. "The whole award ceremony was special. Since I am studying conference interpretation, I especially enjoyed listening to the simultaneous interpretation of the UN interpreters. It was also great to see my mum and aunt again, who came to Geneva to attend the ceremony with me, which made it even more memorable."
"Theresa is a first-year student who has learned a lot since she came to us," said German Translation and Interpretation professor Andrea Hofmann-Miller, "and winning the award is not only a great honor for her, it also speaks to the quality of our German translation program."
Waldhäusl says she wants to be "a sought-after interpreter and translator like my professors," and hopes that the award will help her to secure an internship or job placement to start off her postgraduate career.
Last year, Institute students won the contest in two language categories: Chinese (Shuai (Ivy) Wang MATLM '17) and English (Amy Mendenhall MACI '18).