FMS Spotlight: Jillian Flavin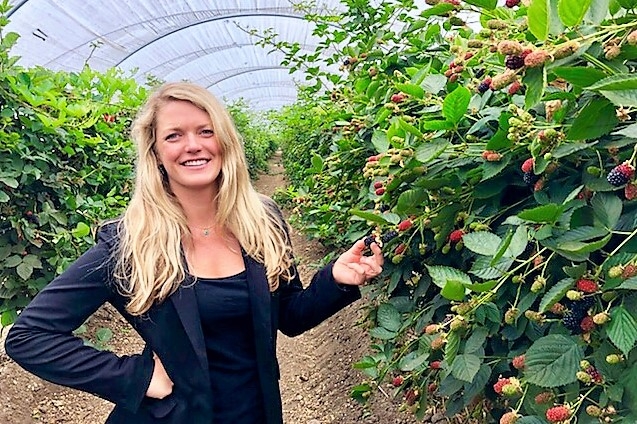 As I wrap the final weeks of my Frontier Market Scouts (FMS) fellowship with Driscoll's, a global berry producer located in Watsonville, California, I am utilizing the skills and tools I've learned in the FMS training and through my studies in the MBA / MA in International Environmental Policy programs at the Middlebury Institute of International Studies to create a robust final deliverable for faculty and the Driscoll's team.
My internship and FMS placement at Driscoll's is a collaborative effort between the Global Social and Environmental Impact / Entomology teams to better understand Driscoll's resource use and to identify ways to improve the impact they have on their growers, communities and the environment. The project includes developing a baseline assessment, data collection and management, research, stakeholder interviews and impact mapping.
I've enjoyed the thoroughness of the project and I've been fortunate enough to speak with Driscoll's employees working in all company departments to understand how they're impacted by different practices. I have also really enjoyed learning about Driscoll's research and development department, which facilitates the utilization of Integrated Pest Management (IPM) techniques and ground-breaking plant breeding to reduce the need of excessive inputs (pesticides, fertilizer, etc.) into plant production. These techniques help produce more resilient fruit, extra delicious berries and stronger communities.
Working to understand the impact of a multinational organization like Driscoll's is difficult, but well worth the task. Driscoll's works with over 700 independent growing partners in 30 countries, and although engaging these growers and their communities is challenging, Driscoll's is committed to understanding the needs of their partners and working to support them. This type of engagement provides a huge opportunity to accelerate positive change in the supply chain by fostering partnerships, identifying needs and facilitating collaborative solutions.
I will continue working within Driscoll's once I graduate at the end of August, and am excited to continue working alongside an inspiring group who are helping improve the impact of the world's berry company.